Stilt swimming: why Finland competes in the risky sport of pole rowing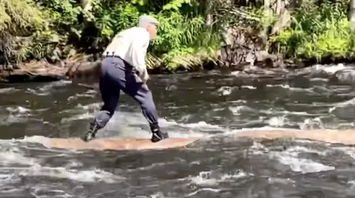 In Finland, they compete in pole rowing. Source: Kati Solmu/Instagram EarthPix
Finland can boast of loggers who can float down rivers on logs like a surfboard. In the old days, it was a necessity, and later, dangerous maneuvers on wood turned into a sport.
These people are not deterred by rough water or possible obstacles. Finns who know how to keep their balance can swim from one shore to the other, holding only a stick, writes Explorersweb.
For Scandinavian lumberjacks, many years ago, floating down rivers on logs was a routine aspect of their profession. Over time, it became a form of entertainment and a sporting competition.
When there was no way to transport fallen logs, people realized that wood does not sink and therefore could replace a boat or a surfboard.
After training, the Finns realized that with sufficient balance and coordination skills, a trunk could not only carry a person but also maneuver over obstacles.
The loggers stood on top of the heavy tree with a stick in their hands, which they sometimes used to direct the direction of the pole, and reached the desired shore, staying dry.
Competitions in log swimming were held as early as 1949, but continue to this day.