Skiing: why ski passes are better than individual lift tickets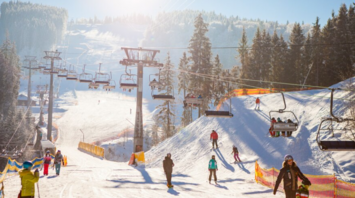 Ski resort. Source: Freepic
If you're already dreaming about the winter slopes, it's time to start saving your money now. Check out the prices of ski passes before the price hike starts.
People often decide to go skiing but don't think about cheap tickets. Lifehacker explains why it is better to buy a ski pass than a separate lift ticket.
The most popular ski passes in the United States are the Ikon Pass and the Epic Pass. They allow you to ski at many resorts.
It has become known that Ikon has just shown its prices for the upcoming 2023-2024 season. At the same time, prices for other Epic Passes went up on September 4.
If you plan to save money, you need to buy a pass now to lock in the current prices. According to the terms and conditions, the more days you buy, the better the price for 1 day.
Thanks to ski passes, you can save money even if you plan to ski only one day, as they often offer a variety of options.
Epic Pass conditions 2023-2024
The option of a ski pass depends on your location, whether you plan to travel to ski or not, and how often you plan to ski.
The most popular options:
Epic Local Pass: This pass is a great choice for travelers and locals alike. Its special feature is the ability to avoid the busiest days, such as holidays and peak periods (November 24-25, 2023; December 26-31, 2023; January 13, 2024 and February 17-18, 2024). The Epic Local Pass provides unlimited access to numerous mountains in the United States and some abroad. Prices: $705 for adults, $367 for children ages 5-12, and $570 for teens ages 13-18.
Epic Pass: The Epic Pass opens up endless possibilities for you. You get access to the largest selection of resorts and mountains, with no limit on the number of days. Pass price: $949 for people 13 years and older, $483 for children 5 to 12 years old, and children under 4 years old ski free.
Pick specific mountains: If you live near specific mountains and don't plan to travel to other regions this winter, it's a good idea to purchase a pass for those places. There are also regional passes for those who plan to ski within a certain region. Prices vary depending on the resort and region. For $579, you will have access to skiing in all 21 northeastern mountains throughout the season.
Epic Day Pass: If you are not a dedicated skier but want to take advantage of the favorable prices, the day pass is the best choice. You can choose the number of ski days you want and pay for them only. Single-day tickets start at $50 for a limited number of ski resorts (Midwest, New Hampshire, and Pennsylvania). If that's too restrictive, you can pay $82 per day for more ski resorts or $107 per day to get access to all Vail Resorts slopes and their partner resorts.
Ikon Pass conditions 2023-2024
For your information, the initial prices are subject to change. You can purchase up to 5 days out of 39 and are limited to 14 destinations:
Adults: $929
Ages 13-22: $669 USD
Students/nurses/military: $659
Children 5-12 years old: $349
Children under 4 years old: $99 (free on many mountains)
The pass is limited to 16 destinations. You can choose up to seven days from 39 additional mountains:
Adults: $1259 USD
Ages 13-22: $939 USD
Students/nurses/military: $899
Children 5-12 years old: $419
Children under 4 years old: US$149 (free on many mountains)
You are limited to 4 days at 40 destinations:
Adults: $469 for four days, $389 for three days, $279 for two days
Ages 13-22: $389 for four days, $319 for three days, $239 for two days
Students/nurses/military: $389 for four days, $319 for three days, $239 for two days
Children from 0 to 12 years old: US$279 for four days, US$229 for three days, US$179 for two days (free for four to five year olds in many mountains)
You can see all possible ski destinations with the Ikon Pass here.
Conclusions
The Epic Pass proves to be a good choice for those who intend to ski extensively. A one-day pass at some resorts can cost you more than $200, which is a pretty substantial amount. With the Epic Pass, you save a lot of money because it gives you unlimited access to numerous resorts.
It's also important to consider other options for getting discounts. For example, students, active, retired, and military personnel, as well as the elderly and disabled, have additional privileges. Careful research can lead to additional significant discounts and savings.