Segregation of duties: How pilots define roles in a particular flight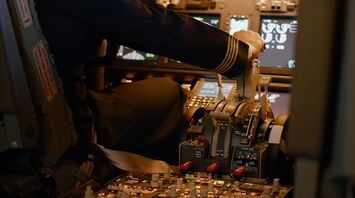 The cockpit. Source: Freepic
When travelling on board an airplane, passengers do not think about the crew that serves the aircraft. Tourists admire the views from the window and taste the food served on board.
However, the composition of the airline crew is chosen for a reason and it usually depends on many factors from the complexity and range of the flight to the special skills of each crew member, the article by Simpleflying says.
Crew members during a flight often take turns performing certain technical roles. It all depends on the flight itself and the qualifications of the pilots.
The crew usually consists of the captain and the senior pilot. Occasionally, two captains may work together on a flight at the same time, for example, when the number of personnel is limited or a new captain is undergoing "line training".
The crew's flight assignment usually implies that the pilots distribute certain responsibilities evenly. They also agree on who will fly the following sectors at the beginning of the flight.
This depends on the route and the pilots' skills. For example, one pilot has landed and taken off at the same airport every time. Therefore, he is familiar with it and will be trusted to land the aircraft here again.
It is well known that some airports are characterized by difficult languages to approach. This may be due to the proximity of mountain peaks or climatic conditions. Therefore, the more experience a pilot has in working at such airports, the more likely he or she is to be entrusted with landing the plane there.
In addition, it is also possible to meet so-called enlarged crews, when the number of pilots is not the standard pair, but three or even four. Such cases occur on long-haul routes and the explanation is simple. Different pilots distribute the hours-long workload among themselves, thus allowing their colleagues to rest.
For example, a crew of three pilots can travel from Leipzig to Hong Kong, Hong Kong to Delhi, and Delhi back to Leipzig. A three-pilot crew in most airlines consists of two first pilots and a captain. The captain is in charge of one part of the crew, and the other pilots decide who will fulfill the other roles. At the same time, some pilots prefer to be the third pilot, as it gives them a better schedule depending on their seniority.