Romania to receive €52 million in EU aid on railways modernization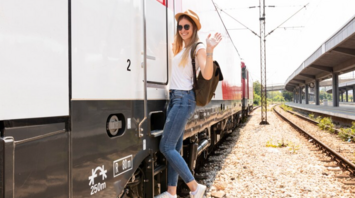 Woman taking a train. Source: Freepic
The European Commission has allocated 52 million euros for Romania. The decision was made on Monday, August 28.
The funds will be used to purchase electric trains to serve 13 interregional routes in Romania, Romania-insider reports.
It is noted that Romania will receive funds from the Cohesion Fund. Such assistance will affect Romania's railroad connection.
"The new trains will have a positive impact on the entire railway network in Romania," said Commissioner for Cohesion and Reforms Elisa Ferreira.
She also noted that state-of-the-art electric trains will reduce transport emissions.
"Increasing the frequency and comfort of travel, as well as encouraging the use of trains, is important for territorial and social cohesion, making it easier for everyone to access work and public services. The introduction of these state-of-the-art electric trains will improve passenger connectivity and comfort and reduce transport emissions," she said.
It is planned that the capacity will be 300 passengers per train.
The new assistance will significantly improve the quality of rail services on the main electrified interregional rail corridors connecting Bucharest with regional cities such as Arad, Cluj-Napoca, Constanța, Brașov, Timișoara, Iași, Galați, Craiova, Petroșani and Suceava