Pilot gives sensible and simple advice to those afraid of turbulence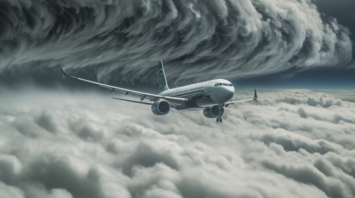 An airplane in a turbulence zone. Source: pihabay.com.
Australian pilot Jimmy Nicholson has revealed how to survive turbulence, which can sometimes be terrifying. He emphasized that it is technically just a sudden change in airflow.
In his TikTok video, he showed some of the worst turbulence he has ever experienced. While the pilot was only confused while talking on camera, the people around him were squealing in fear.
"Terrible turbulence on our flight today," he captioned the video.
Nicholson said fresh air and looking out the window can really help during turbulence. A bottle of water can also help.
Nicholson picked up the water bottle to prove how stationary the plane really is.
"The trick with the water bottle: water hardly moves at all, does it?" - he said.
Indeed, the water inside the plastic bottle only swayed slightly.
"We are in the back of the airplane, so the turbulence is stronger here. It's not comfortable. It's probably one of the worst places I've been. But there's nothing to worry about either. Airplanes are built to withstand much worse. Obviously it's not fun, but it's completely normal," the pilot added.