North Korea plans to restore tourism industry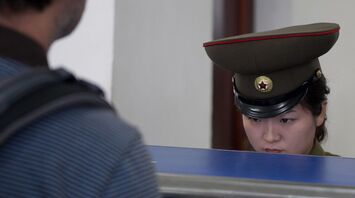 Document verification in North Korea. Source: wikipedia
The regime in North Korea remains one of the most oppressive in the world. The country demonstrates the worst examples of disregard for human rights and international norms, as it remains one of the few countries where people are banned from traveling abroad.
For decades, the DPRK has been an example of a so-called island of unfreedom, frightening the world with nuclear threats and brutally exploiting its own enslaved people. Particularly harsh conditions were imposed during the coronavirus pandemic, according to the DailyCourier.
The North Korean regime demonstrates particular hatred for the United States and its citizens. There is a well-known case of a 22-year-old University of Virginia student, Otto Warmbier, who was arrested at the Pyongyang airport after a gang attack in 2016 and imprisoned for 17 months. He was eventually returned to the United States and died of a brain injury sustained during his detention.
This was one of the reasons why US citizens were banned from using US passports to enter the DPRK. In addition, many other countries around the world also advise their citizens to avoid any travel to North Korea due to the lack of an embassy and difficulties in providing assistance in case of arbitrariness of the local regime.
However, after years of draconian restrictions, South Korea is finally starting to show signs of reopening ties with the world. After all, the North Korean national carrier Air Koryo has begun operating some flights between Pyongyang and Beijing in China and Vladivostok in Russia.
According to analysts, the resumption of flights is a sign that North Korea may want to revive its rather primitive tourism industry. It is emphasized that there is no Ministry of Tourism in the DPRK, and all ties with the outside world are strictly regulated by repressive authorities.
According to official North Korean sources, the Standing Committee of the Supreme People's Assembly of North Korea intends to discuss the resumption of travel. In late August, the government also passed a new law aimed at "revitalizing domestic tourism and expanding international tourism at the same time."
At the same time, any trips conducted by Koryo Tours or any other DPRK agency will remain prohibited for American citizens. In August, the Biden administration extended the Trump-era travel ban on North Korea for another year.
"The Department of State has determined that there continues to be a serious risk of arrest and prolonged detention for U.S. citizens and nationals, posing an immediate threat to their physical safety," reads the notice signed by Secretary of State Anthony Blinken.