Massive dolphin die-off in Brazil due to record high water temperature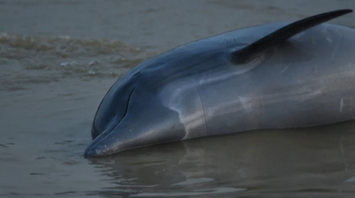 A massive dolphin plague has occurred in Brazil. Source: André Zumack/Instituto Mamiraua
More than 100 dolphins have been found dead in the Brazilian Amazon amid a historic drought and record high water temperatures that in some places exceeded 102 degrees Fahrenheit.
All of the dead dolphins were found in Lake Tefe over the past seven days, according to the Mamiraua Institute, a research institution funded by the Brazilian Ministry of Science. According to them, this number of dead dolphins is unusual, CNN reports.
It is noted that it has not yet been possible to determine the cause of this phenomenon, but it is definitely related to a period of drought and record high water temperatures, which in some areas exceeded 39 degrees Celsius.
The Amazon River, the largest waterway in the world, is currently in the dry season. Therefore, researchers and activists are trying to save the surviving dolphins by moving them from lagoons and ponds on the outskirts to the main riverbed, where the water is cooler. However, the operation is not easy due to the remoteness of the area.
Several other species of river fauna also suffer from high temperatures.