Loch Ness monster: the clearest evidence of its existence caught on camera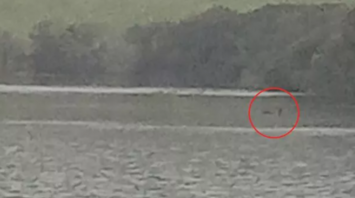 The last sighting occurred on October 8. Source: John Hoey / Loch Ness Center / SWNS
John Hoey photographed a Nessie-like figure in the famous Loch Ness lake. As a result, experts from the Loch Ness Center said that this sighting is the clearest proof of the existence of the beast.
This is reported by ... Howie took the photo on October 8. Then the figure abruptly disappeared into the water.
The man said the figure, estimated to be about 15 feet long, moved slowly toward the tree line. He said he was able to take several photos before the creature disappeared into the depths of Loch Ness Lake.
"At Loch Ness Center, we love hearing about these Nessie sightings. The phenomenon boasts over 1,000 eyewitness accounts and recorded sightings, as well as a wealth of unexplained evidence. Guests can hear stories from real people, discover artifacts, and listen to scientific debates about Nessie's existence to help them form their own opinions about these images. John Howie, filmed on Sunday, October 8, around 5:00 p.m., spotted something mysterious in the lake, moving slowly toward the tree line before it disappeared, and estimates its length to be about 12-15 feet! This is the eighth high-profile sighting of Nessie in 2023," said Loch Ness Center CEO Paul Nixon.