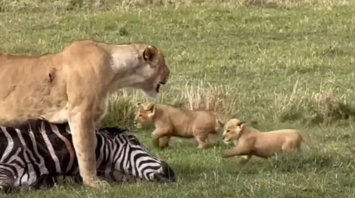 Lion cubs eat their first meat. Source: Screenshot from the video
The footage of a lioness and her cubs tasting the meat of prey for the first time in their lives - in this case, a zebra hunted by a mother - was taken during a wildlife observation.
The video was published on the Maasai Sightings YouTube channel. It was filmed in the Maasai Mara National Park, which is located in southwestern Kenya in the Great Rift Valley, 275 km from Nairobi.
It is noted that lion cubs are usually breastfed for six months, but they also start eating meat at three months of age.
Due to dangers, including starvation during food shortages and attacks by male lions who take over a pride (family lion pack), up to 80 percent of lion cubs die within the first two years of life.