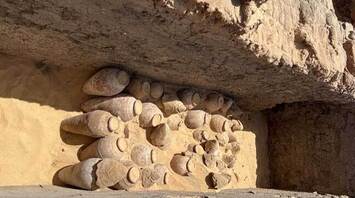 Jars of wine. Source: Ahram Online
Wine jugs 5,000 years old have been found in Abydos, Sohag Province, Egypt. The containers are completely intact.
The discovery belongs to the Egyptian-German-Austrian archaeological mission working in the tomb of Meret-Neit, who is considered an important woman of the I Dynasty. Ahram Online reported that.
Secretary General of the Supreme Council of Antiquities Mostafa Waziri said that the archaeological team found several funerary objects. Among them were hundreds of large wine jugs, some of which had intact corks and contained well-preserved remnants of 5,000-year-old wine.
Inscriptions found by archaeologists indicate that Meret-Neith was in charge of central government offices such as the treasury.
She was the only woman with her own monumental tomb in Egypt's first royal cemetery at Abydos and probably the most influential woman of her era. Her true identity, however, remains a mystery.