Italians are preparing for mass evacuation due to growing number of volcano eruptions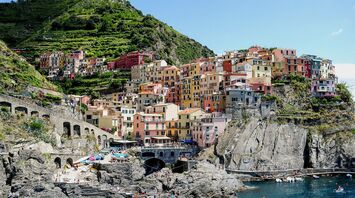 Italian landscapes. Source: Freepic
Volcanic eruptions have intensified in southern Italy, threatening people living around the area. Dangerous natural phenomena are observed in the Campi Flegrei area near Naples.
This area is known as the caldera of a dormant supervolcano, and today it is already part of Naples. It is located 20 kilometers from Vesuvius on the shores of the Gulf of Pozzuoli, according to the Guardian.
The volcanic caldera is located mostly underwater; it consists of 24 craters and volcanic hills. In just one month, more than 1,100 earthquakes occurred here.
The activation of the supervolcano has forced local authorities to take emergency measures: they have announced the intention to massively evacuate tens of thousands of people living around Campi Flegrei near Naples. In addition, they also announced their intention to check the strength of buildings in the area, as the volcanic eruption is accompanied by significant earthquakes.
It is reported that the total population to the west of Naples, including towns and villages at risk, exceeds 500,000 people. It is emphasized that over the past month, an earthquake with a magnitude of 4.2 points has been felt here, which is the strongest in this region in four decades.
Experts warn that the number of earthquakes may increase, as volcanic eruptions are accompanied by the emptying of underground magma chambers, which eventually causes the ground above them to rise or fall depending on the cycle.
The vast majority of experts also do not rule out that despite minimal changes in the ground level, there is a real threat to the houses where people live. In turn, the Minister of Civil Defense Nello Musumeci said this week that evacuations would be launched only in case of "extreme necessity."
According to local journalists, a group of hospitals in the area will begin testing evacuations in the coming days to make sure they are ready to withstand stronger earthquakes or eruptions.
It should be added that this is not the first time large-scale eruptions have occurred here. After all, the last time Campi Flegrei experienced a similar earthquake surge was in the 1980s, when 40,000 people were temporarily evacuated. The last large-scale eruption took place in 1538. However, the most destructive eruption occurred 39,000 years ago and could have led to catastrophic consequences, the extinction of the Neanderthals.