Is it possible to travel from India to the United States in a direct line? An unexpected discovery sets Twitter abuzz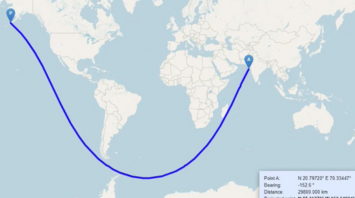 You can get from India to the USA in a direct line. Source: Twitter Epic Maps
A map that shows that it is possible to sail from India to the United States in a straight line has caused a real stir online and even impressed Elon Musk.
The photo of the two-dimensional map, which has received 6 million views since it was posted on X (formerly Twitter), shows a curved blue line between the two countries.
"Without touching any land, you can sail from India to the United States in a completely straight line," the post reads.
Theoretically, one could leave Mumbai, pass Madagascar, and arrive in Alaska without touching land.
The owner of the social network, Elon Musk, reacted to this discovery with a comment, "Wow!".
However, some users could not understand why the line in the picture was curved and stated that "it's a semicircle, and the line is far from straight". Therefore, one of the social media users recreated the trajectory on a 3D globe to help them. After that, all doubts were dispelled.