In Ukraine, a unique herd of breeding Azov sturgeon was destroyed due to an environmental disaster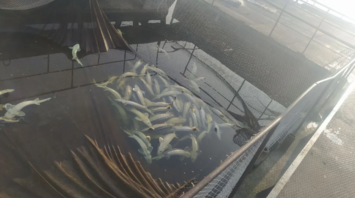 Unique herd of breeding Azov sturgeon dies in Ukraine. Source: Facebook Ukrainian Caviar Berry
In one night, 9 tons of sturgeon species, which were raised in an open reservoir by the First Aquaculture Company, died in the Ladyzhyn reservoir of the Southern Bug River.
"The life of all sturgeons stopped overnight. We cannot stop the water pollution in the Southern Bug River. The huge reservoir on the river where our sturgeons grew up now looks like a drainage pit. The release of an incredibly large amount of harmful substances into the water led to the instant death of 9 tons of Red Book fish - beluga, Lena, Azov sturgeon, and a hybrid of beluga (bester). Today, the only unique herd of breeding Azov sturgeon has been destroyed," the company said on Facebook.
The State Fisheries Agency confirmed this information: "During the inspection of the water body, fisheries experts found the death of 9 tons (about 3,000 individuals) of sturgeon species, including beluga, Lena sturgeon, bester, as well as the unique breeding stock of Russian sturgeon from the Sea of Azov."
To determine the causes of the death of aquatic bioresources, specialists from the State Environmental Inspectorate in Vinnytsia Oblast took water samples to analyze them for pollutants.