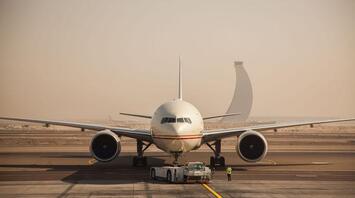 It will be 8 million feet in size. Source: Graham Jepson/Alamy Stock Photo
Abu Dhabi International Airport (AUH) will open a huge new terminal in November. Its area will be 8 million feet.
According to Aviation Week, AUH says that the new facility, which will be called Terminal A and will be able to handle 45 million passengers a year. That's more than double the number of passengers AUH plans to serve this year.
The terminal was originally scheduled to open in 2017, but due to the coronavirus pandemic, construction has been delayed until 2023.
"Equipped with the latest technology, Terminal A boasts a range of interconnected biometric systems that will allow passengers to enjoy the speed and comfort of a seamless digital journey from pre-trip to boarding, facilitated by self-service kiosks and optimized checkpoints and state-of-the-art baggage handling systems," AUH said in a statement.
The terminal will have 163 food and beverage outlets, as well as "relaxation areas" and spas.
"The opening of the facility breaks new ground in Abu Dhabi's 55-year aviation history. A beacon of modernity and sophistication, it will be a key driver of growth for our emirate, boosting tourism and trade," said AUH chief Mohammed bin Hamad bin Tahnoon Al Nahyan.