How to avoid additional fees during the flight: traveler's tips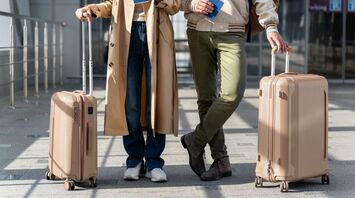 A couple with suitcases. Source: Freepic
When traveling on long trips, travelers usually take a lot of things with them and try to pack them in their luggage. But strict flight rules limit the weight of passengers' luggage.
That's why digital luggage scales can come in handy. They will accurately determine the maximum allowable weight of your luggage and you will not have any unnecessary questions with the airport services during check-in, according to the article by TheScottishSun.
In addition, travel experts also recommend the best time to depart for the convenience of travel. According to them, you shouldn't plan to fly at night. After all, during such flights, most passengers try to relax with alcohol, which often leads to quarrels and scandals on board.
In addition, passengers are also advised to pay attention to the need to pack their luggage carefully to fit all their belongings into their suitcases. Experts recommend that a smart three-layer packing system can also save passengers money on carry-on luggage.
As a reminder, airlines are increasingly increasing their revenues by charging customers extra for larger luggage. Therefore, passengers are encouraged to be more attentive to the careful packing of their belongings.
Among the useful tips is to try to pack your suitcases in layers to maximize the space available for your luggage and reduce the likelihood of wrinkling your clothes. In addition, careful folding and arranging things in layers can evenly distribute the weight of the suitcase.
In turn, this will prevent it from tipping over. In this way, you can protect your delicate items, such as necklaces, earrings and other accessories, from damage.
Experts advise paying attention to special carry-on bags that can hold up to 20 liters of luggage. They also have adjustable straps, a fixing sleeve on the back of the bag to prevent slipping through the trolley handle, and several compartments.
Many passengers have posted viral videos on TikTok of themselves using similar suitcases. According to them, the bag can hold a week's worth of clothes and still fit in the cabin as carry-on luggage.