From Russia to Israel: Red Wings resumes regular flights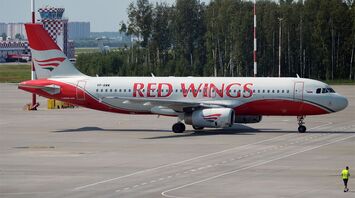 Airbus A320-200 Red Wings. Source: wikipedia
The Russian regional tourist airline based at Moscow's Domodedovo Airport is returning to flights to Israel. This is reported on the company's website.
As it became known, the route will run between Russian cities and Tel Aviv (Ben Gurion Airport). The planes began operating flights on October 9, Red Wings said.
According to the report, the airline will operate the following routes:
- WZ4311/WZ4312 (Sochi - Tel Aviv) - flight from Sochi departed on October 9 at 12:54
- WZ025/WZ026 (Zhukovsky - Mineralnye Vody - Tel Aviv) - from October 11
- WZ4727/WZ4728 (Makhachkala - Tel Aviv) - from October 11
- WZ015/WZ016 (Domodedovo - Mineralnye Vody - Tel Aviv) - from October 12
"We operate these routes during the day in accordance with the recommendations of the state regulator. All passengers receive timely information about departure times. Regardless of the level of demand for flights to Israel, we are continuing the program for the benefit of Russian citizens and all other passengers wishing to return from Israel to Russia," the airline said in a statement.
In addition, Red Wings clarified how the company will act in the event of risks and asked passengers to be understanding.
"The airline continuously monitors the situation with the safety of air traffic on these routes. If the risks increase, the program will be temporarily suspended. We ask passengers to understand the current situation," they said.
A day earlier, on October 8, Red Wings decided to postpone several flights to Tel Aviv from Sunday to Monday due to the dangerous situation on the border between Israel and Palestine. In addition to this airline, flights to Tel Aviv are operated by the Russian airline Azimut.
Reference
Red Wings was founded in 1999 under the name VARZ-400 in honor of the Russian abbreviation for the Vnukovo Aircraft Repair Plant. In 2001, it was renamed Airlines 400, and in 2007 received its current name.
As of May 2023, the Red Wings fleet consists of the following aircraft: Airbus A320-200, Airbus A321-200, Boeing 777-200ER, Irkut MC-21-300, Sukhoi Superjet 100-95, Tupolev Tu-204 Tu-204-300.