From now on, Michelin evaluates not only restaurants but also hotels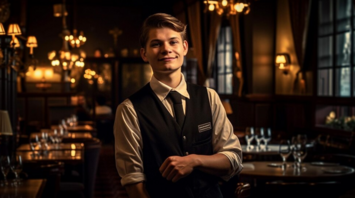 Waiter in a restaurant. Source: Freepic
The popular Michelin guidebook creates a new distinction for choosing hotels - the Michelin Key. It will be useful for travelers from all over the world. As you know, the Michelin Red Guide is the most famous and influential of the modern restaurant ratings, published by the Michelin tire company since the beginning of the 20th century.
From now on, Michelin also publishes a travel guide called the Green Guide. From now on, the company has decided to recognize hotels worthy of visiting in addition to restaurants, Michelin said in a statement.
The French company has decided to mark hotels not with stars, as in the case of restaurants, but with so-called "keys". "The Michelin key is a clear and reliable guide for travelers," the authors of the new rating emphasize.
According to them, just as the Michelin star distinguishes restaurants that are at the peak of their craftsmanship, the Michelin key marks the most worthy hotels around the world. The authors of the project note that their goal was also to recognize the teamwork of dedicated hospitality professionals.
For those hotels that rightfully deserve the highest rating, the authors of the rating intend to assign keys that will indicate the high class of the studied apartments. This will allow customers to better navigate the variety of hotel options.
Michelin also announced that the first edition of the best hotels is planned to be released in 2024. The rating will include 5,000 leading hotels from around the world.
In particular, the authors of the Green Guide will assign keys based on five criteria
local flavor
individuality
superiority in architecture and interior design;
first-class service and comfort;
good value for money.