Free hand luggage: MEPs propose changes to air travel rules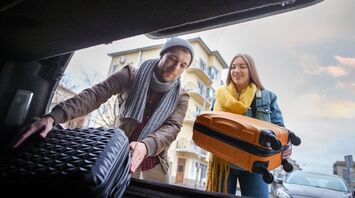 Baggage transportation. Source: freepic
MEPs are seeking to overcome the deception of some low-cost airlines. When purchasing tickets, they hide fees for baggage transportation, its weight and size, offering "favorable prices".
According to some MEPs, this is done intentionally. The corresponding resolution, which guarantees passengers the opportunity to carry hand luggage free of charge, was adopted today, Euronews reports.
The European Union seeks to simplify airfare pricing by calling on the 27 EU member states to comply with a European Court of Justice ruling that was made in 2014.
Back then, the court ruled that hand luggage that meets "reasonable" size and weight requirements is an integral part of air travel. However, the resolution was never adopted.
The new resolution states that passengers should be free from additional fees for the transportation of hand luggage. In addition, the service representative is obliged to explain what exactly constitutes a "reasonable" size and weight.
The vote on this important decision is expected to take place in October. In this way, Brussels wants to solve two problems:
- unclear advertising that hides the real conditions of baggage transportation;
- unclear rules of airlines regarding hand luggage.
In addition, airlines are urged to provide truthful information to passengers about additional costs, such as seat selection fees.
Earlier this year, the Spanish Ministry of Consumer Affairs launched an investigation into several low-cost airlines regarding hand luggage tariffs.
According to Spanish officials, air carriers mislead customers by advertising ultra-low fares, hiding the real price of additional baggage fees.