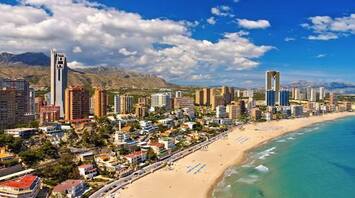 Benidorm. Source: Wikipedia
Thousands of Brits travel to Benidorm, Alicante, Spain, every year, and some even decide to move there permanently.
But they all make the same mistakes. Esteban Tuma, a Babbel Live teacher and cultural expert at Babbel, told the Daily Star.
"One common mistake you can make is to rely solely on your native language and not try to learn or use Spanish. This can create barriers to communication and limit a person's ability to connect with locals," he says.
According to him, you shouldn't avoid participating in local events and activities either, as you can practice speaking Spanish and make friends with the locals.
It's easy to see why Benidorm is so successful among Brits looking to move to sunnier shores. Esteban explains: "Benidorm's picturesque beaches and coastal landscapes provide a tranquil backdrop for everyday life. Spain's rich history, culture and culinary offerings attract many expats."
In addition, compared to the UK and other parts of Western Europe, the cost of living in Benidorm is more affordable, including lower housing, utility and even food costs.
However, the expert cautions: "It is important to recognize and respect the cultural differences that exist in Spain. Ignoring or disregarding local customs, traditions, and etiquette can be seen as disrespectful. For example, siesta is an important cultural practice in Spain."
He emphasized that the British do not need to abandon their culture, but adapting to certain Spanish cultural norms is crucial.