Emergency SOS on iPhone saves woman and dog from being killed by floodwaters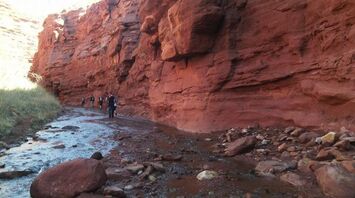 Mary Jane Canyon. Source: pinterest.com.
A 38-year-old American woman and her pet dog were saved from flooding thanks to the Emergency Satellite SOS function on the iPhone. The emergency happened in Mary Jane Canyon in the state of Utah, USA.
Business Insider reports that the woman, whose identity was not disclosed, was walking with her pet about 10 miles east of Arches National Park. Suddenly, she heard the sound of flowing water, signaling an impending flood. Despite her best efforts to reach higher ground, the water began to carry away both the woman and her dog.
Eventually, they were swept 100 to 200 feet into the floodwaters. But thanks to the woman activating the emergency satellite SOS feature on her iPhone during the incident, rescuers recognized the emergency and arrived on the scene in time.
"The service's standard text message simply said the person with the device needed help. It had geographical coordinates," the GCSAR informed.
So, the helicopter found the victims, who were already about two miles downstream, covered in mud from head to toe.