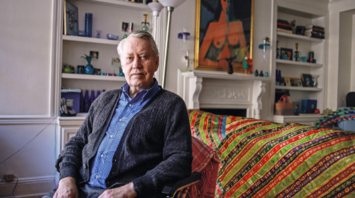 Chuck Feeney. Source: Screenshot from the video
American entrepreneur Chuck Feeney, who founded the Duty Free chain, died at the age of 92 on October 9 in San Francisco.
The Atlantic Philanthropies, the charity foundation he owned, announced his death. As you know, Feeney founded the Duty Free chain of stores in 1960. He was included in the list of the 400 richest billionaires in the United States in 1988, according to Forbes. His fortune was then estimated at $1.3 billion.
A few years later, Forbes reported that it had made a mistake in estimating his capital because the entrepreneur had secretly transferred the lion's share of his wealth to charity. In total, Feeney earned almost $8 billion from Duty Free stores.
Over time, he became one of the founders of the Giving for Life movement. This concept inspired billionaires Bill Gates and Warren Buffett, who launched the Giving Pledge initiative. It was intended to convince the world's richest people to give half of their wealth to charity during their lifetime.
In 2012, Feeney stated that he had left only about $2 million of his fortune for retirement for himself and his wife, and donated the rest to a charitable foundation.
Feeney and his second wife lived in a rented apartment in San Francisco for the last 10 years of his life.