Delta Air Lines turned plane around due to diarrhea attack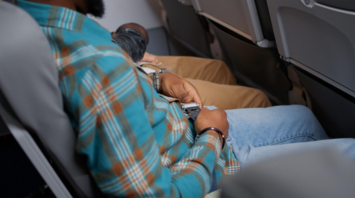 A man on a plane. Source: Freepic
A Delta Air Lines airplane that recently made a transatlantic flight from North America to Europe was forced to turn back for an unusual reason. The fact is that one of the passengers on board became very ill due to a bout of diarrhea.
The Airbus A350 was on a scheduled flight from Atlanta to Barcelona on Friday evening, but was forced to turn around due to acute problems experienced by one of the passengers. There was a real drama on board the plane, which forced the crew to decide to return home, according to CNN.
It is reported that the plane was already in the sky when it had to turn around for emergency reasons. Eventually, the aircraft with 336 passengers on board was forced to turn around over central Virginia.
"It's just a biohazard issue, we had a passenger who had diarrhea all the way on the plane," the pilot of DL 194 told air traffic control about the problematic situation.
According to ground services, the Airbus 350 returned to Atlanta International Airport just over two hours after departure. The most important thing is that the passenger who felt unwell was provided with the necessary assistance on the ground.
In the end, the flight was delayed for a little over eight hours due to the forced delay. However, the plane eventually arrived at its final destination in Barcelona.
"Our teams worked as quickly and safely as possible to get our customers to their final destination. We sincerely apologize to our customers for the delay and inconvenience to their travel plans," the airline's spokesperson commented.
As journalists remind, this is not the first flight this summer when passengers experienced discomfort during the flight. Recently, Air Canada apologized for ordering two passengers to sit on poorly cleaned seats that had been covered with vomit on a previous flight. The incident occurred during a Las Vegas-Montreal flight.
And in June, a traveler on an Air France flight from Paris to Toronto found the foot of his seat still wet with blood and diarrhea from the previous passenger. "We had to sit there smelling blood for the next seven hours," the passenger told CNN.