Condor's flagship A330-900neo to fly to Frankfurt from 12 U.S. cities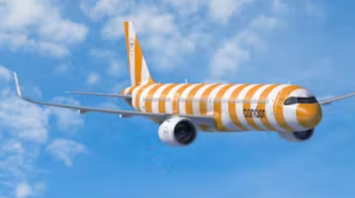 A321neo Sunshine. Source: Condor Airlines
German airline Condor Airlines is launching a new Condor A330-900neo flagship aircraft from May 2024. It will operate flights to Frankfurt, Germany.
The route will be with uninterrupted and convenient connections to more than 100 destinations across the country. The aircraft will feature business class with fully reclining seats and four signature Prime seats with room for two, Aviation Pros said.
"With our growing fleet of A330neo aircraft, we can provide better travel options to more and more Americans each year. I'm especially proud to have Florida return to our network next summer and invite all South Floridians to try out our newest and most luxurious in-flight experiences. Flights from Miami will operate to our hub in Frankfurt, in the heart of Europe, where travellers can enjoy Germany's top tourist attractions or travel beyond in comfort by air, road, or rail," said CEO Ralf Teckentrup.
Condor will be flying to Frankfurt from 12 US cities as early as the summer of 2024. They are New York (JFK), Boston (BOS), Baltimore (BWI), Miami (MIA), Seattle (SEA), Portland (PDX), San Francisco (SFO), Los Angeles (LAX), Minneapolis (MSP), Las Vegas (LAS), Phoenix (PHX), and Anchorage (ANC).
The A330neo offers unrivaled in-flight passenger comfort and seats 310 passengers, including four Prime seats, 26 Business Class seats, 64 Premium Economy seats and 216 Economy seats.
It also features large luggage racks, a new lighting system, and the latest in-flight entertainment and internet connectivity.
A330neo Condor Business Class offers fully reclining seats in a 1-2-1 configuration with direct aisle access for all guests. They conveniently transform into a bed 78 inches long and 19 inches wide.
"All of our guests have access to the latest movies, TV series, podcasts and games available on a 17.3-inch screen in 4K, with touchscreen and remote control. Prime Seats in the front row of Business Class provide our guests with additional space large enough to accommodate two guests if they wish to dine together, as well as an extra large 24-inch entertainment screen. Prime Seats will be equipped with exclusive onboard amenities such as a premium travel kit, pajamas and a premium snack basket," the company added.