Comfort and tranquility in the sky: the world's safest airlines have been rated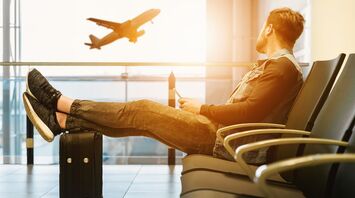 Airport. Source: repubblica.it
Almost everyone is familiar with the fear of flying in an airplane, which may sooner or later become an obstacle to travel. When choosing an airline, you can now rely on the rating of the specialized platform AirlineRatings.com.
Like every year, the site surveyed 385 international carriers on safety, innovation and the introduction of new aircraft into the fleet, Repubblica reports.
Who is on top
Qantas of Australia took the first place. New Zealand's Air New Zealand and Etihad of the Emirates from Abu Dhabi are not far behind. They are the safest companies in the world.
The top ten includes Qatar Airways in fourth place, Singapore Airlines in fifth, and Tap Air Portugal in sixth. Emirates, Alaska Airlines - the only American airline in the top ten - Taiwan's Eva Air, and Virgin Australia/Virgin Atlantic round out the top ten.
The top 20 airlines also include Cathay Pacific Airways (Hong Kong's state-owned carrier), Hawaiian Airlines, Scandinavian SAS, United Airlines, Lufthansa/Swiss Group, Finnair, British Airways, KLM, American Airlines, and Delta Air Lines.
The complete absence of South American, Central American, Russian, Turkish, Canadian, or African companies is striking.
How the rating was compiled
The platform's research took into account the accidents recorded by each individual company in the last five years, accidents defined as "serious" that occurred in the last two years, inspections conducted by state aviation safety authorities and reference associations, as well as important aspects that go some way to underpin these elements, such as the average age of the fleet and the type of training pilots are exposed to. Finally, protocols for Covid were part of the assessment.
"All airlines have accidents every day, and many of them are related to aircraft or engines, not to operational problems of the airlines. However, it's how the flight crew responds to these incidents that makes the difference between a good airline and a dangerous one," explained Jeffrey Thomas, director of AirlineRatings.com. "There has been no shortage of them in the past, there is a century of operating history behind them.