Bus with tourists gets into a large-scale accident in Venice: more than 20 victims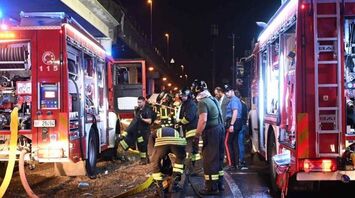 Bus accident in Venice. Source: AFP
More than 20 people were killed in Venice when a bus fell from an overpass.
The accident occurred in Mestri, the mainland quarter of Venice. The bus broke through the fence while descending, flew about 10 meters, fell onto the railroad tracks and burst into flames, Euronews reports.
As a result, at least 21 people died and 18 were injured. The bus was transporting foreign tourists from Venice's Piazzale Roma square to the Hu campsite.
Tourists often stay in areas on the opposite side of the lagoon from the canals of the famous historic center of Venice to find cheaper accommodation.
Venice Mayor Luigi Bruniaro said the crash site was "apocalyptic" and that he had already declared mourning for the "numerous victims" who were on the bus.