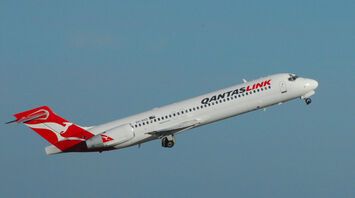 Boeing 717. Source: Wikipedia
The Boeing 717 entered service back in October 1999. Its launch customer was AirTran Airways, which subsequently operated 89 copies of the airplane. As a result, it made the company the largest operator of this type.
It is noteworthy that Boeing did not actually build the Boeing 717. The narrow-body airplane began its life as the McDonnell Douglas MD-95. In 1997, while the airplane was being developed, Boeing purchased an American aerospace manufacturer. Thus, the MD-95 was renamed the 717 and became part of Boeing's line of airplanes, Simple Flying writes.
This airplane never achieved the commercial success of the manufacturer's other narrow-body airplanes, such as the 737 and 757.
Boeing built a total of 156 717 airplanes before production ended in 2006.
By comparison, Boeing has now produced an impressive 11,550 Boeing 737s, while Airbus has built 10,516 A320 family airplanes.