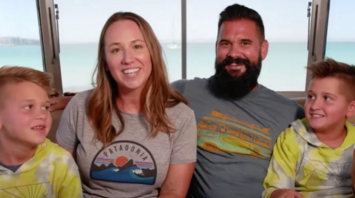 Nascimento's family. Source: Instagram NeverSaySomeday
The Nascimento family (@NeverSaySomeday) is an American family of four who decided to get rid of all their possessions for the sake of a nomadic lifestyle.
Back in 2019, Alexis and Steven Nascimento sold everything they owned to chase their dreams and enjoy the sunsets every day, The Sun reports.
The family spoke about the purchase of their 2017 Flying Cloud Shelter, which cost them $78 thousand, on the popular Tiny House Giant Journey YouTube channel in detail.
At the beginning of their nomadic life, the Nascimentos lived in a van, but quickly outgrew it, as did their children.
They also own a truck, which gives them a little more freedom and allows them to tow their tiny home from any destination.
"We wanted to separate our living space from the vehicle to have a little more flexibility," Stephen said.
They now live in Baja, California, and their temporary home has a permanent view of the ocean.
This updated RV has it all: bedrooms with sleeping areas for all family members and pets, a kitchen, and a bathroom.
In addition, they also have a double fridge and freezer, as well as a pantry to meet all their needs.
Alexis also continues to work remotely. She is in charge of digital marketing, while Stephen is responsible for all matters related to their household and comfortable living, as well as travel.