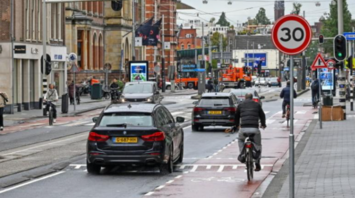 30 km/h road sign in Amsterdam. Source: Municipality of Amsterdam 1 MIN READ
Amsterdam is preparing to reduce the speed of cars to 30 kilometers per hour.
The restrictions will come into effect only on December 8, but starting on Monday, the city will install almost 5,000 new road signs, The Mayor reports.
The new signs will initially have stickers stating that these rules will be in effect from December 8. On the eve of the introduction, the stickers will be removed in the evening.
The new speed limits will apply to more than 80% of the roads. In some places, public transport will also have to travel at 30 kilometers per hour.
Buses and trams that run on a separate track are still allowed to travel at 50 kilometers per hour. The new speed limit should lead to a reduction in serious accidents and noise pollution.