"Age is just a number": 104-year-old American woman parachuted out of a plane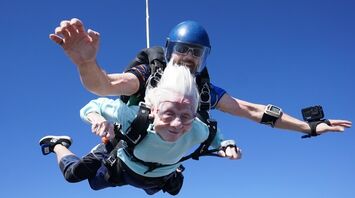 She first went skydiving when she was 100 years old. Source: Brian Cassella/Chicago Tribune
A 104-year-old American woman, Dorothy Hoffner, parachuted out of a plane. She unofficially set a world record with a jump from a height of 4,100 meters.
This is reported by The Guardian. The woman jumped together with an instructor in the Skydive Chicago complex in Illinois.
"Age is just a number," Hoffner said.
She first went skydiving at the age of 100. Then she "had to be pushed" out of the plane.
This time, the woman seemed calm and confident. She spent seven minutes in the sky.
"It was great out there. It was great, it couldn't have been better," Dorothy added. Now she wants to fly in a hot air balloon.