A small town in Minnesota ranked first in the field of art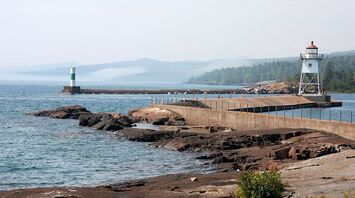 Grand Marais (Minnesota). Source: Freepic
The small town of Grand Marais in Minnesota, a state in the northern Midwest of the United States, has been recognized as the best small lake town in America. The town won this prestigious award among others in the ranking of the Travel + Leisure national publication.
The choice of the editorial board impressed experienced experts, as few expected that a small town in Minnesota, which is known for its lakes, would take first place. The fact that the city was ahead of the recognized giants was even more surprising, according to the article in Granite City Sports.
At the same time, the authors of the ranking reveal one of the reasons why the city of Grand Marais in Minnesota took first place in the prestigious competition. It is noted that the city was recognized as one of the best in the field of art.
According to the results of the rating, experts were impressed not only by the beauty of the surrounding nature but also by the atmosphere of art. It is emphasized that the city received the prestigious award due to its "increasingly rare vintage seaside atmosphere" and art scene.
This is not surprising because the city has an atmosphere of comfort and peace. It is also called a paradise for fine art lovers. This rare combination is the reason for the high rating of Grand Marais.
Describing the attractive sides of Grand Marais, the organizers of the competition emphasize that the city offers tourists discoveries, eclectic redesign and occasional fashion that blends in with the local flavor.
Residents say they are extremely pleased to see this small city, which everyone knows and loves, attracting a lot of attention from tourists. Some people deservedly call Grand Marais one of the best places in the world.
What attracts tourists to Grand Marais
The city is called a fascinating artistic enclave, and this is not surprising. After all, the tiny Grand Marais is full of galleries, local shops and restaurants. You can also find many places to relax by the lakes.
In addition, Grand Marais offers tourists great ideas for places to eat, shop and stay overnight. Thus, the amazing combination of artistic atmosphere and beautiful scenery made Grand Marais a well-deserved leader in the ranking.