A photo from the 1940s with a "time traveler with a cell phone" on the beach stirred up the web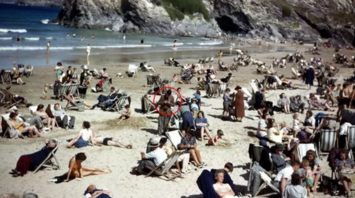 ''Time traveler'' in a photo from the 1940s. Source: Popperfoto Creative
Users on social media were puzzled after they spotted an alleged "time traveler" in a photo taken in the 1940s.
The photo was taken in Cornwall during World War II on a beach where a bunch of vacationers are sunbathing on deckchairs and in the sand, the Mirror writes.
At first, it seems quite ordinary - until you notice a gentleman dressed in a brown suit in the center of the picture.
The image was taken on Tovan Beach, Cornwall, and posted online by Stuart Humphreys. "British soldiers fled to the coast - this Cornish beach was taken in September 1943. (Would be great if any of you could identify which beach!)" he wrote on Twitter.
However, users quickly noticed an unusual detail: the man in the center seems to be looking at an object that looks like a phone. However, skeptics immediately began to deny this theory, saying that he could just be looking at his watch.