A McDonald's with "heavenly cuisine" has opened at Sydney Airport. Video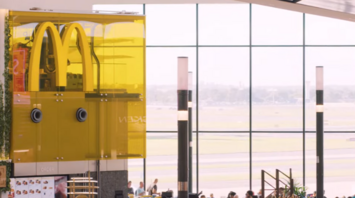 McDonald's with ''heavenly cuisine'' opened at Sydney airport. Source: Screenshot from the video
A technological McDonald's with a "sky kitchen" that sends hamburgers along a suspended conveyor belt has opened at Sydney Airport.
The iconic new design was developed by Landini Associates. The kitchen is located on the second floor and is enclosed by glass, which allows passengers to observe the cooking process, Mashed reports.
In addition, orders are processed using an automated system: burgers and fries are delivered at ground level along a conveyor belt from a light yellow glass cabin.
The whole process looks mesmerizing, passengers say. According to them, the new design of the facility is somewhat reminiscent of a roller coaster - except that instead of thrill-seekers, freshly prepared food is transported in this way.