A man and woman were attacked by bees in Uganda after stealing a cow. Video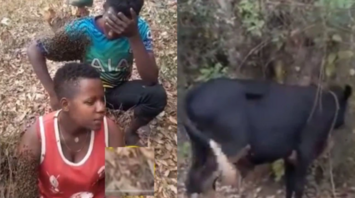 Thieves attacked by bees in Uganda. Source: Screenshot from the video
In Uganda, a man and a woman became victims of a real cloud of bees that attacked them.
The video was published on the page of the independent news channel PSAFLIVE on the social network X (formerly Twitter). The footage shows that the young people were literally covered in insects.
As explained in the video description, these two are the thieves of a cow, which is also shown in the video. It is further shown that the local military intervened in the situation. They most likely came to deal with the cattle theft.
A whole crowd gathered around the two people covered with bees. They were all lively discussing what had happened.