A flight attendant has named the top mistake passengers make when behaving with a luggage tag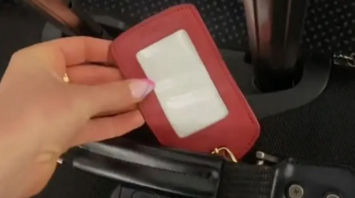 You don't want to reveal a lot of information about yourself. Source: Screenshot from the video
Flight attendant Ellie Rae Case, known on TikTok under the nickname @allycase1 told travelers about a common mistake in baggage tags. According to her, disclosing baggage tag information in the public domain can be very dangerous.
In the video, the flight attendant suggested travelers flip their luggage tags to the other side to hide their contact information from prying eyes.
"I have a piece of advice for you. Always make sure your contact information on your luggage tag is facing the other side," Case said.
She also urged not to reveal all of your coordinates. It is enough to specify one thing - your home address, e-mail or cell phone number.
At the same time, the flight attendant advised travelers not to be afraid of losing their luggage, because it will have a tag with contact information.