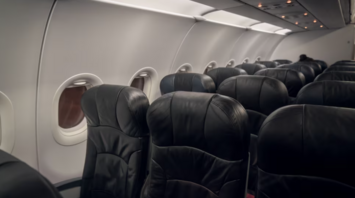 Airplane cabin. Source: Freepik
If you're a nervous traveler, flying can feel like the end of the world. There are a million and one things that can go wrong.
But if you're also a fairly overweight person, then discomfort on board is almost always guaranteed. Of course, you can make your flight easier if you use the tips published by HuffPost.
Requesting a second seat
You can request an extra seat if sitting in just one seat is too uncomfortable for you.
Use a seat belt extension
Low-cost airlines tend to have shorter seat belt lengths than standard options, so if you can get one when you board, ask the staff. Another option is to bring your own seatbelt extension.
Board as early as possible
In narrow aisles, you may bump into people on the way down to your seat, so you should try to get seated earlier than others to avoid any tension.
Choose an airline with larger seats
Seats on TUI planes are generally larger than on some budget airlines, so if you're looking for extra comfort for a small price, it might be worth checking them out.
Wear something comfortable
There's nothing worse than feeling uncomfortable while flying in the clothes you'd like to wear. Therefore, you should choose those things that you will really feel comfortable in.