2 million cubic meters of rock could collapse at any moment: an entire village was evacuated in Switzerland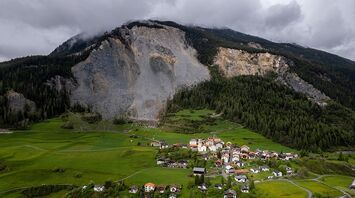 It is very dangerous for all village. Source: Reuters
The Swiss authorities ordered the inhabitants of the mountain village of Brienz in the canton of Graubünden to leave the settlement. There is not a single living soul left in the village, including animals.
The reason for the evacuation is a high probability of 2 million cubic meters of rock falling on the village, which may soon break away from the mountain. The rockfall will fill the entire territory of the village.
Brienz is an ancient settlement with bizarre houses. It is located at an altitude of about 1158 meters. Until now, less than 100 inhabitants lived there.
Local authorities say that the mountain and the rocks on it have been moving since the last ice age. The rock moves at a rate of up to 36 meters per year. But recent measurements have shown a strong acceleration over a large area - up to two million cubic meters of rock material will collapse directly onto the village in the next 7-24 days.
A more favorable outcome is expected only if the rockfall occurs gradually. If it collapses all at once, it will be a disaster for the village.
The cause of the rockfall is climate change. This is what exposes Switzerland to an increased risk of natural disasters, including increased soil erosion due to higher temperatures.