Top 14 beaches in Los Angeles: sports, beach activities and attractions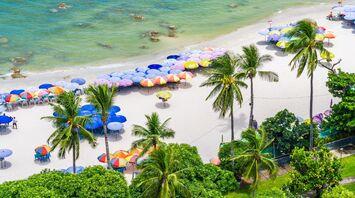 Beaches in LA are public property by law, so they are all free. Source: Image lifeforstock/Freepik
Beaches in Los Angeles are the best place to enjoy the endless California summer. The variety of local places allows you to travel from beach to beach all year round, changing the bohemian atmosphere of Venice Beach for the entertainment of Santa Monica, and after playing on the waves in one of the favourite surfer havens of Huntington Beach, relax in the quiet of Topanga Bay.
Beaches in LA are public property by law, so they are all free. But many of them charge for parking. There are also places that only locals have access to, and some sections of the beaches are limited by houses and fences.
In this list, we've compiled the best beaches in Los Angeles so you can choose the perfect spot for your California holiday, and we've added tips on how to make the most of each option.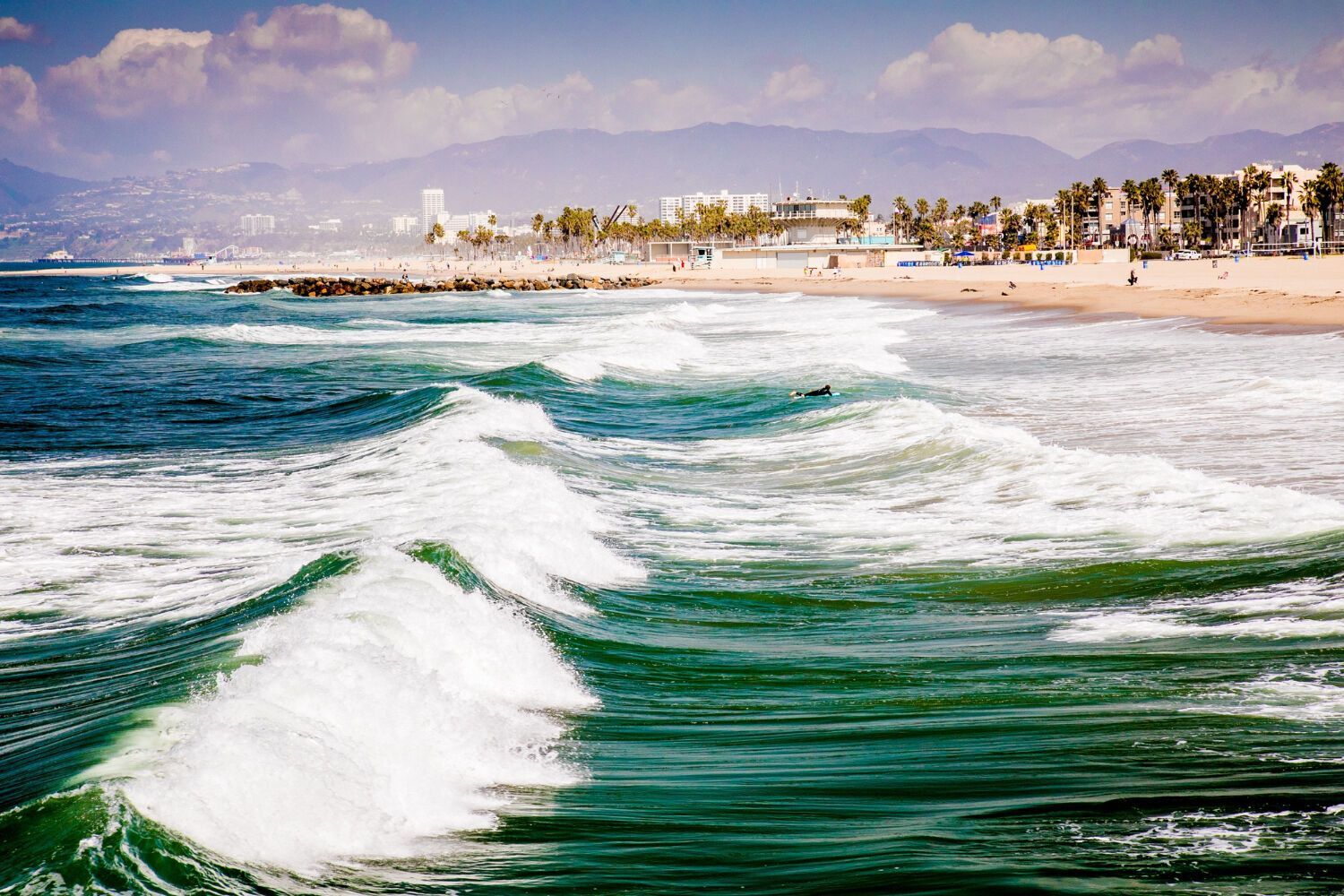 1. Santa Monica
This is the famous beach in LA, where every member of the family will find something to their liking. The beach is equipped with volleyball courts, you can rent segways, go bodybuilding, surfing, or just swim and sunbathe on the white sand. And, of course, you can't miss the legendary pier with its roller coaster, carnival-style shops and aquarium hidden under the carousel building, and the iconic "end of the trail" sign on historic Route 66. The three-mile coastline is perfect for jogging and hiking.
Santa Monica's beaches are an example of a classic East Coast beach: wide, equipped with bike paths and sports fields, playgrounds, including barrier-free ones. There is a fairly wide range of accommodation in the area, from inexpensive motels to luxury resorts. To the north of the pier is the public beach of Villa Rogers with amenities and eateries. Parking here is paid. To the south of the pier are recreational areas with green spaces, several cafes and a bicycle rental service. A couple of blocks from
The Santa Monica Place shopping centre with luxury brand boutiques and trendy cafes is located on the beach.
2. Malibu
The city of Malibu stretches for 20 miles along the California coast north of Santa Monica. There are many beautiful beaches, both spacious and crowded, and secluded places in coves surrounded by cliffs and cliffs. These popular beaches in Los Angeles are located at the confluence of the Malibu Creek and the Pacific Ocean and are surrounded by a pier to the east and a picnic area to the west. They are popular not only with swimmers and sunbathers, but also surfers, birdwatchers and history buffs. Excursions to the area offer sightings of more than 200 species of birds in their natural habitat and a history of the Chuvash Indian tribe. Also visit the Malibu Lagoon Museum at the Adamson House.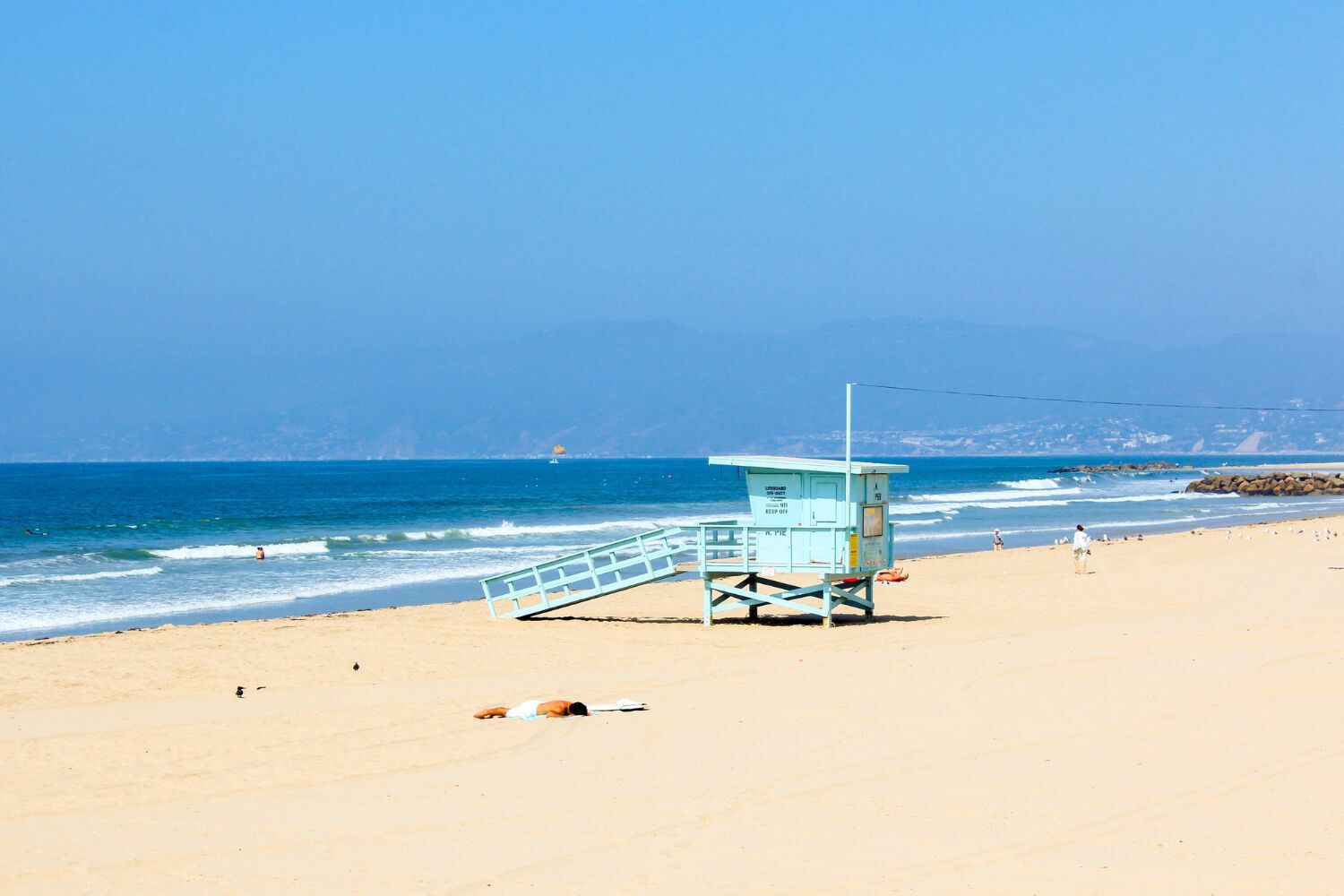 Some beaches can only be reached by a path leading down from the cliff, and the car must be left in the car park at the top. One of the most famous of these remote places is the mile-wide Topanga Beach in Los Angeles. It's rocky and equipped with showers and picnic areas, popular with surfers, diving and water sports enthusiasts, and the local scenery is often seen in films. There is a public transport stop close to the beach.
If you're looking for a romantic weekend getaway and something a little more luxurious, visit Paradise Cove Beach with its eponymous restaurant next to Malibu Pier. There are changing cabins and sun loungers with waiter service. This is a semi-private beach, there are areas only for Paradise Cove guests.
In the northern part of Malibu, the wide, flat Zuma Beach stretches for three small areas with lifeguard towers, eateries and a strip of dunes between the beach line and paths for cyclists and pedestrians. It has the best water quality in the area, and there is a restaurant right on the beach, so you can enjoy fresh seafood and amazing sunsets at the same time.
3. Huntington Beach
Huntington is nicknamed the "Surf City of the USA" thanks to some of the roughest waves in Southern California. It's a hotbed of nightlife and surf culture, so it's quite expected to see surf-themed shops, hotels and even the International Surf Museum. Huntington Beach, the best beach in Los Angeles for surfers, is located within the park and is an iconic spot in the area. Wide sandy expanses go for almost 10 miles in both directions from the large pier. Bars, a restaurant, and a craft brewery add to the liveliness of the area. The beach is very crowded on holiday weekends, and especially many holidaymakers come to the beach in the last week of August during the annual professional surfing tournament.
You don't have to look far for accommodation: the Kimpton Shorebreak Huntington Beach Resort is a boutique hotel just a few minutes' walk from the pier. You can also stay here with your pets, as there is one of the few off-leash Huntington Dog beaches nearby.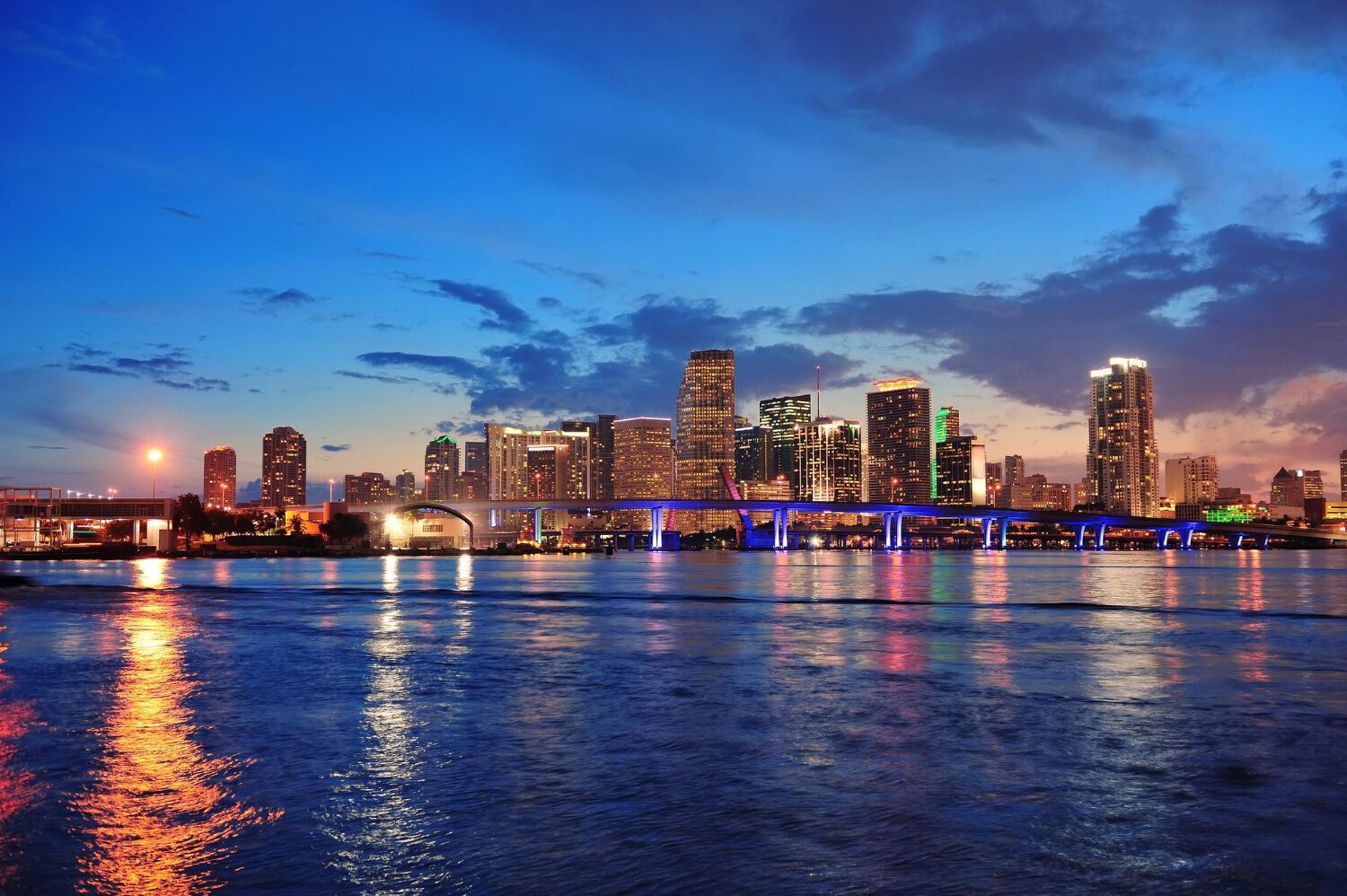 4. Redondo Beach
The original horseshoe-shaped pier will not allow you to confuse this place with any other. Around the pier is a clean, wide beach with a bike path along the edge. Redondo Beach is the best beach to visit in Los Angeles for a relaxing family holiday, not without opportunities for active leisure and entertainment. Surfing and especially beach volleyball are popular here. You can have an interesting time in a small fishing village with restaurants or take a walk on the large King Harbour pier. You can also go on a whale watching cruise from here. There is a water sports equipment rental shop here, from surfboards to sea kayaks.
The advantage of this beach is that it is easily accessible by public transport, as Redondo is located at the end of the Green Metro Line. There are several new or renovated hotels nearby.
5. Playa del Rey
This small beach town is not as well known as the more popular beach holiday destinations, but it boasts two beaches: probably the best beaches in Los Angeles, California among the state-owned Dockweiler and Playa del Rey Beach, which is less crowded, with high sand dunes and miles of white sand.
These places are distinguished by good infrastructure, plenty of convenient parking, equipped volleyball courts, fire pits and a bike path on the beach. You can visit here even on your way to another place: it takes only 10 minutes from the airport to the beach, so if you have a lot of time before your transfer and don't know how to kill it, spend it on a beautiful beach. Due to its proximity to the airport, plane watching is another popular pastime here.
Away from the beach is the boutique hotel The Inn at Playa del Rey, and there is an opportunity to camp on Doeweiler Beach. About a hundred hook-up sites are available, but reservations are required.
6. Venice Beach
The most popular beach in Los Angeles, attracting visitors from all over the world. Venice Beach is a mile and a half of silky white sand, a 2.5 km pedestrian promenade with many bars, restaurants and colourful shops, street performers and meeting places for representatives of various subcultures. In addition to swimming and surfing, you can rent a bike and ride along the bike paths that run from Santa Monica to Redondo Beach, and see original street art on the buildings and walls in the area.
Venice Beach is also home to a world-famous skateboarding area, children's playgrounds, a pier and the Venice Beach Recreation Centre with the Muscle Beach Venice gym, where the world's most famous bodybuilders train.
7. Manhattan Beach
This place embodies a typical Californian lifestyle, a colourful picture on TV: a sandy strip, holidaymakers with a perfect tan, the oldest volleyball tournament in the United States and cute family restaurants. Manhattan Beach is one of the most fashionable areas with a corresponding price tag, but the service here is much better. The beaches are not as crowded as those closer to the centre of Los Angeles, and the coastline is much cleaner. But there are some difficulties with finding a parking space. But this beach is easily accessible by bike from Redondo or even Santa Monica, turning the trip into a tour of the coast.
This famous beach in Los Angeles, California is located around the municipal pier, at the end of which there is an aquarium. After spending the day on the soft sand, it is ideal to end it in one of the nearby restaurants and pubs. There are both expensive resorts and more budget hotels in the area. The proximity to the 105 and 405 freeways makes it possible to explore other areas and attractions of Los Angeles.
8. Long Beach
These are the best beaches near Los Angeles, CA, where you can always find your own space, even on a holiday weekend. The beach, located an hour's drive from LA, got its name from its length. Almost 8.5 miles of wide, sandy shoreline with good infrastructure, lifeguard towers that work from 9am to sunset, and a few blocks away, there are busy shops, hotels and cosy cafes.
The beaches are quite crowded, but it is easy to find quieter places - the Alamitos area with a low beach and cliff houses or a semi-hidden cove near Villa Riviera, or for even more privacy, take the ferry to Catalina Island, 22 miles off the coast. The streets of Long Beach are home to the annual IndyCar Grand Prix race in April, and there are also museums, an aquarium and other attractions.
9. Palos Verdes
This is a neighbourhood of expensive mansions and the exquisite 5-star Terranea Resort, which has good beaches close to LA. Pelican Cove Beach can be reached by a steep path, enjoying the panorama of Catalina Island along the way. The beach is rocky, not quite suitable for lounging in the sun. But it is cosy due to its seclusion and beautiful views of the coast. You can leave your car in the large car park along the road, which also has basic amenities. This is an ideal place for scuba diving and walking by the water. The Point Vincent Park and the lighthouse of the same name are worth a visit in the area.
There is one beach on the Palos Verdes Peninsula in Abalone Bay Park. This is a wild beach where people come to watch the tides or explore the hiking trails along the dunes. A special spectacle opens from the top of Cape Portugal: from December to March there is a chance to watch whales.
The best hotel in the area is, of course, the luxurious Terranea Resort, located on its own small peninsula and offering suites, bungalows or villas, gourmet restaurants and a spa.
10. Marina del Rey
A place for a relaxing family holiday and kayaking, as there are no too strong waves and currents. These are good beaches near LA for water sports and visiting with small children. For example, the compact Mother's Beach with shallow depth and warm water. There is also a playground on site.
The coast of the large sandy bay is equipped with playgrounds for team games and special picnic areas. It is also a good place to learn how to kayak. Equipment for many water sports can be rented here: boating, parasailing, water skiing or windsurfing, as well as deep-sea fishing.
There are several good hotels on the harbourfront, such as the only beach hotel in Los Angeles, Jamaica Bay, or the luxurious The Ritz-Carlton, as well as several restaurants and shops.
11. Hermosa Beach
The name of the beach means "beautiful" in Spanish, and this place lives up to its name. Hermosa Beach is one of the most beautiful beaches near Los Angeles, just a 10-minute drive from the city, so it has a lively nightlife and a relaxed atmosphere. Hermosa Beach hosts professional and amateur volleyball tournaments, concerts, and festivals.
The flat, sandy beach is two miles long and is connected by a pedestrian and cycling path to Redondo Beach and Manhattan Beach. The beach is equipped with showers, toilets, lifeguard stations, equipment and bike rentals, a large municipal pier and a boardwalk along the beach.
Two streets with major entertainment and shopping areas intersect near the beach - Hermosa Drive and Pierre Avenue. The newly renovated Hermosa Hotel is located 30 minutes from the pier on a hill with magnificent ocean views.
12. Leo Carrillo State Beach
This beach is located in Leo Carrillo State Park, which attracts travellers with its rocky cliffs, hiking in the mountains and many sea caves. It was named after the American actor and conservationist Leo Carrillo.
Its coastline has a very distinctive look, which is why it is also in demand among filmmakers. The 2.5-mile beach is dotted with tide pools and reefs. Children will love exploring them to see starfish, crabs and mussels. Like many other beaches in LA, it is ideal for surfers, windsurfers, fishermen and those who enjoy a relaxing beach holiday.
The beach is very easy to get to and is located next to the Pacific Coast Highway and Mulholland Highway. The park offers camping on the beach in the shade of giant plane trees. There are showers, bathrooms and parking on site. This is also one of the few places where dogs are not required to be on a leash on the beach.
13. El Matador State Beach
A real gem consisting of three secluded coves at the foot of a cliff 10 miles from Malibu. These are the most beautiful beaches in Los Angeles, and it will be difficult to find a more romantic place on our list. It is a secluded, compact rocky beach with very clean, clear water (which makes it a favourite for photographers and wedding photo shoots) and strong waves.
El Matador is one of the three beaches of the Robert G. Meyer Memorial State Beach, along with El Pescador and La Piedra beaches. You can get down to the beach by steep stairs. Parking is located on a cliff, there are picnic tables and a great panoramic view. If you're lucky and visit during the season, you can watch migrating whales.
There are no facilities below, so bring everything with you. There are many secret caves and rocks to explore on the beach, but make sure you wear appropriate footwear.
14. Lane County Beach
This is the most authentic and most uncrowded beach in LA. It is located north of Malibu and borders Ventura County. It is easy to get here due to the close proximity to Highway 1.
The coastline is spacious, wide, with turquoise water and golden sand. It is quite windy here, which attracts surfers and kitesurfers to these places. Fishing and scuba diving are also popular in these places. When many of the best beaches in Los Angeles are crowded, there are no crowds here, even on holidays.
The beach also belongs to Leo Carillo State Park. There are changing rooms, showers and toilets, and a lifeguard is on duty during the season. A local attraction is the Neptune's Net seafood restaurant, which has been featured in several major films. It is a popular destination for bikers, including celebrities.