Top 10 beaches in Key West: where to relax in the warmest corner of Florida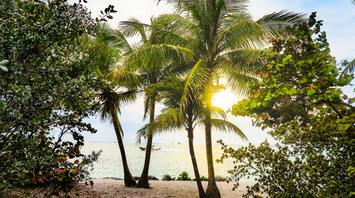 Clean white sand and azure water of the Atlantic Ocean on the beaches of Florida. Source: Pexels
Key West, Florida, is considered the warmest, southernmost and sunniest city in the United States. And all because it has the best beaches of the Atlantic Ocean with white sand, bright blue water and picturesque landscapes. The air temperature in Key West has never dropped below freezing, even in winter it stays around 20 degrees Celsius. Therefore, both Americans and other tourists are happy to come to rest in this mild climate. The city itself is located at the end of the Florida Keys archipelago, which unites more than 160 islands.
The beaches in Key West, Florida are famous for their reefs, rich underwater world, and stunning sunsets. The coast is a great place to enjoy the views and take unforgettable photos. The city has a relaxed and tranquil atmosphere. Tourists enjoy the island lifestyle in the atmosphere of a resort town.
Key West is more popular with travellers on a budget than with the rich, as there are beaches available for free. There are various options for cheap accommodation in Key West, including hostels, motels and guesthouses. That is why we suggest paying attention to the 10 best beaches in Key West, Florida.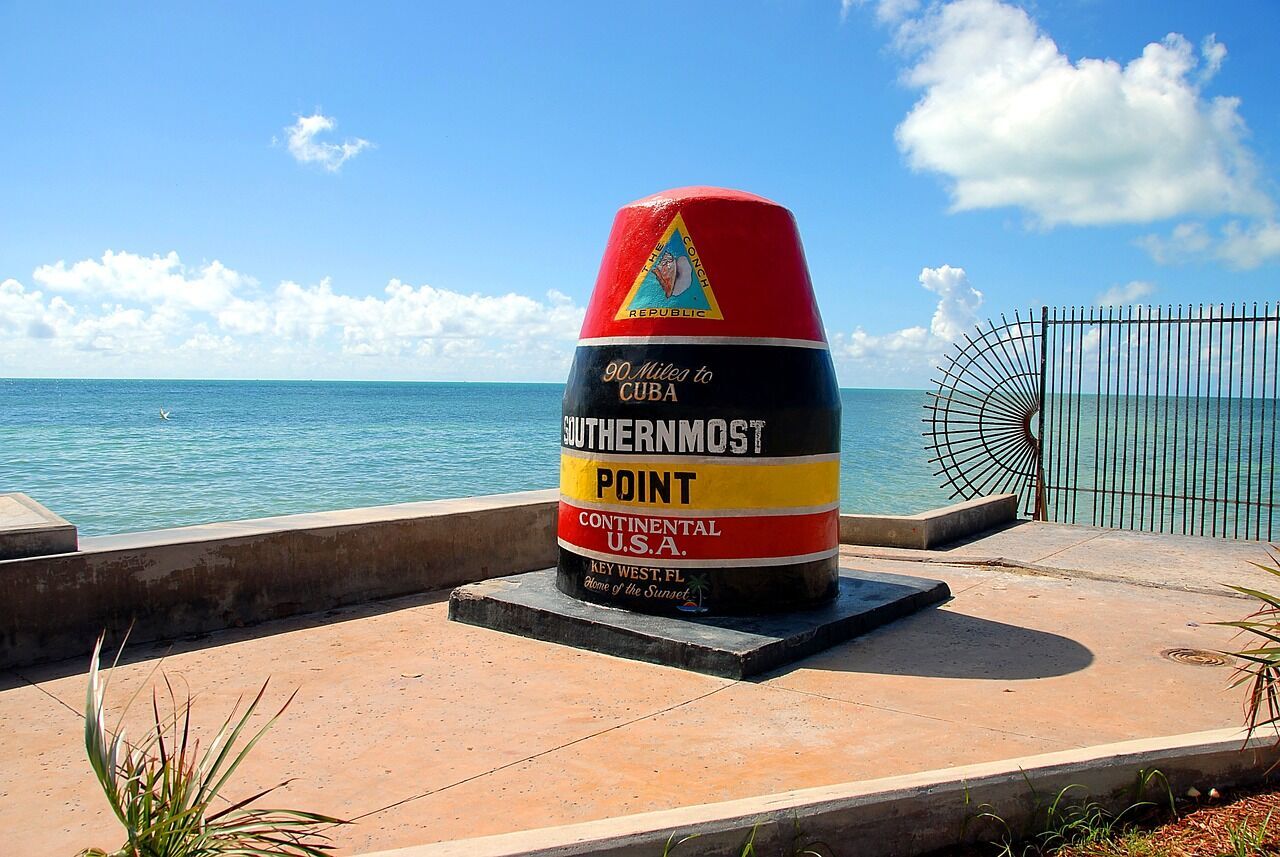 Southernmost Point is an iconic spot marked by a buoy-shaped monument that reads "90 miles to Cuba" and is often a popular destination for tourists who want to visit the southernmost point of the continental United States.
The beaches in Key West are crowded all year round, but there is a place for everyone to swim and sunbathe. Sunbeds on South Beach are rented for $5, and comfortable beach beds for $10. The sand is clean, white and crumbly, so travellers often choose to soak up the sun on it rather than on a plastic sunbed. There are several cafes, umbrellas and palm trees on site to help you hide in the shade from the scorching sun.
Due to the large number of visitors, there may be traffic jams and parking problems in the South Beach area. It is better to come to the beach by public transport, as parking is not cheap: $5 per hour.
Smithers is one of the largest beaches in Key West. Its spacious area allows visitors to find a comfortable place to relax and have fun. The beach is known for its clean, white sand and warm waters. This creates ideal conditions for swimming, water sports and just relaxing by the sea.
Smithers Beach offers a variety of entertainment options: water scooters, kayaks, mattresses and other water props. Volleyball courts, bicycle and rollerblading rentals are also available. Smithers Beach offers magnificent ocean views that can be enjoyed while walking along the shore or lying on a sun lounger. The sunsets on the beach are considered particularly spectacular.
Smithers has a well-developed infrastructure for visitors. There are free public toilets, showers and restaurants within walking distance. In addition, it is possible to rent sun loungers and beach umbrellas. The beach is free to use daily from sunrise to sunset, but parking costs $5 per hour.
Clarence S.Higgs Memorial Beach Park
Higgs Park is a beautiful Key West beach offering tourists natural beauty with a rich variety of flora and fauna. Activities available include swimming, snorkelling, beach volleyball, tennis and a children's playground. The area is home to the only underwater marine park in the United States, featuring a variety of hard and soft corals, seagrasses and fish. Both entrance and parking are free at Higgs Park.
Higgs Park can be visited by many tourists, especially during the peak season. There are often problems with finding a parking space due to the large number of visitors. It is recommended to arrive in advance or use public transport.
Simonton Beach is known for its convenient location and fewer tourists compared to other most popular beaches in Key West. The quiet atmosphere creates a private and peaceful setting for relaxation. The ocean water here is usually warm and clear, which is ideal for swimming.
There are opportunities for various types of entertainment on the beach: volleyball, kayaking or water rope swimming. Simonton is close to restaurants and grocery stores. Many water sports for rent are available on site, including jet skis, boats, sunset cruises, charter snorkelling, fishing, dolphin watching and island tours.
Simonton is a public beach, so the entrance is free. Tourists can visit the beach and enjoy all its benefits without having to pay an entrance fee.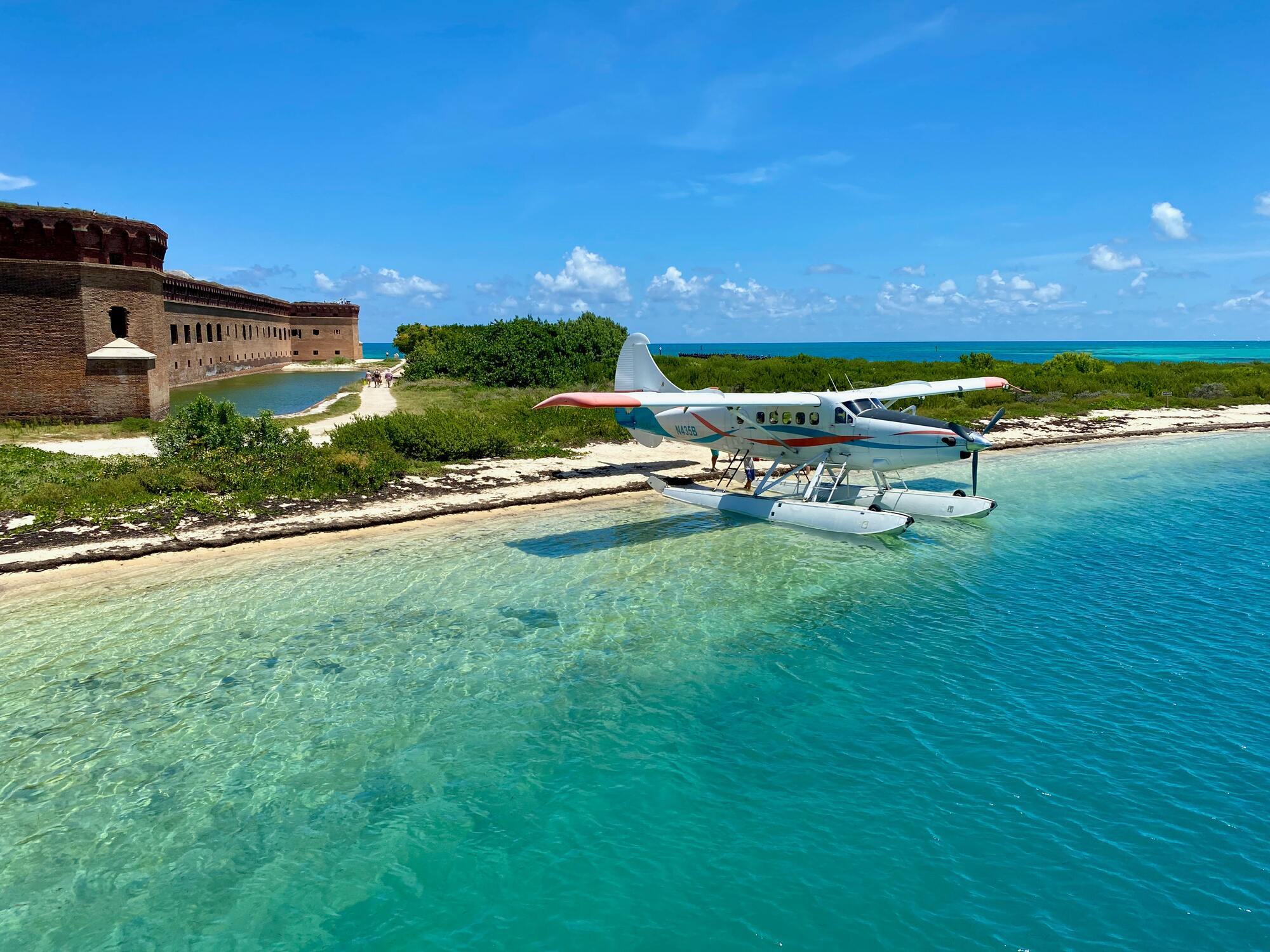 The Dog Beach is loved by pet owners who live in or visit Key West. It is the only beach that allows dogs to run freely, large and small breeds can frolic in the water in search of hidden treasures. Their owners do not need to worry that their four-legged friends can splash salt water on sunbathers or destroy a child's sandcastle.
The dog beach has enough space for pets to move around and feel the free atmosphere. This allows them to play and interact with other dogs without restrictions. Visitors should be responsible for their dogs and ensure that they are under control. They should follow safety rules, clean up after their dog and maintain a calm atmosphere on the beach.
Louis Bécart Beach is located next door to the dog beach and has a restaurant and bar where you can have a cold drink and a snack. Entrance to the beach is free.
Fort Zachary Taylor Beach
The beach is located next to Fort Zachary Taylor, which is a national monument and historical site. Tourists can visit the fort and learn more about its role in American history. There is an opportunity to take a guided tour of the historic fort to explore the Civil War fortifications.
Fort Zachary Taylor is often considered the most authentic and one of the most beautiful beaches in Key West, thanks to its natural shoreline, which consists of ground coral rather than imported sand. It is one of the best places for snorkelling thanks to the flora and fauna both in the ocean and on land.
Entrance to the fort costs $7.5 for a full ticket, children aged 6 to 15 years old - $3 per person, children under 5 years old are free. The entrance fee to the beach also includes a visit to the fort itself. Entrance to the car park costs $7.
Rest Beach is the perfect place to spend your holidays in Key West. Its special feature is its location, which allows visitors to enjoy the best views of sunrises and sunsets. Rest Beach has a special yoga platform where visitors can take part in morning and evening yoga classes to welcome the new day or night.
Entrance to Rest Park is free as it is a public beach available for general use. The park is just a short drive from the central part of Key West.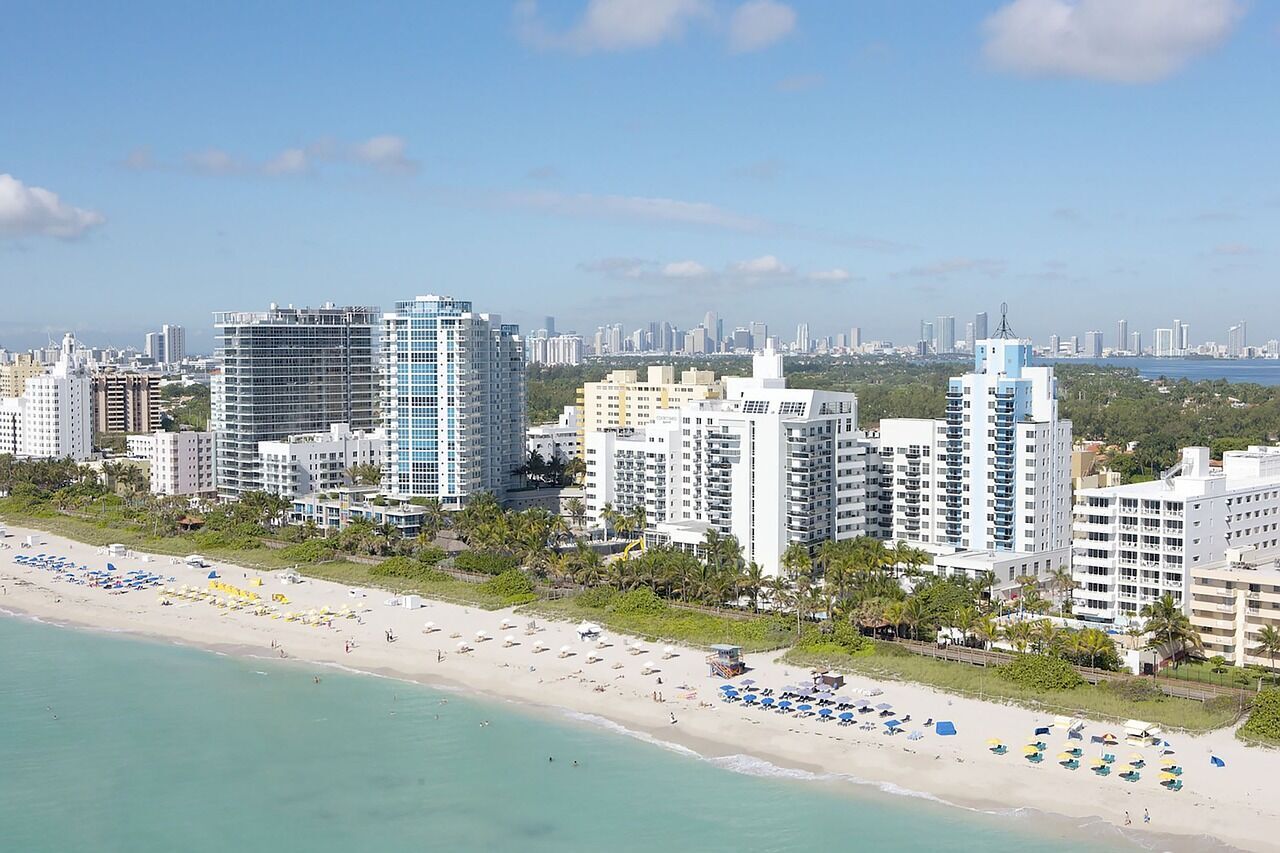 Bahia Honda Key Beach is 50 minutes from Key West by car and an hour and a half by bus for $4. However, the journey is definitely worth it.
Bahia Honda Key is the best beach near Key West in the Florida Keys. The north beach offers a beautiful view of the old bridge. The south beach is longer with a shallow area where it is comfortable to swim even with small children. The shore and bottom are sandy. The weather here is always great, but the water is warm enough from March to November.
Tourists by car must pay an entrance fee of $8. A maximum of 8 people can be in a car, and $2 for each additional person. Pedestrians and cyclists also pay $2 for entry.
The best beach in the Key West area for camping is at Bahia Honda State Park, located about 45 minutes by car from Key West. It is also accessible by boat. The campground has fresh water, electricity, and a store. Visitors come here to enjoy the soft white sand, safe shallow waters, and natural beauty of the park.
It is home to nurse sharks, stingrays, barracuda and other fish. That is why this coast is popular for snorkelling. There are camping sites in Bahia Honda Park where you can pitch your tent or park your trailer. Prices for overnight accommodation depend on the type of site and season. The cost of camping is approximately $36 to $48 per night.
Dry Tortugas National Park
Dry Tortugas National Park is famous for its pristine beaches. Its crystal clear water, white sandy shores and abundant marine life make it a paradise for beachcombers and snorkellers. The park offers exceptional snorkelling and diving opportunities. Vibrant coral reefs teeming with colourful fish provide an unforgettable underwater experience.
The park's remote location and limited access make it the perfect place to get away from the crowds. Due to its remote location and minimal light at night, Dry Tortugas Park has a uniquely bright night sky.
It's important to note that visiting Dry Tortugas National Park requires planning, as transport options are limited. The park is only accessible by seaplane or ferry, and due to the small number of seats, reservations are recommended.
Ferry travel to Dry Tortugas varies depending on the company you choose and the type of package. The Yankee Freedom III Ferry is the only authorised ferry service that provides transport to the National Park. Prices for adults are approximately $180-190 per person, and for children 4-16 years old are approximately $125-135. This includes transportation to the park, lunch, amenities, and a guided tour of the fort.