An Englishwoman travelled to three countries for less than £50: what's the trick of an avid traveller?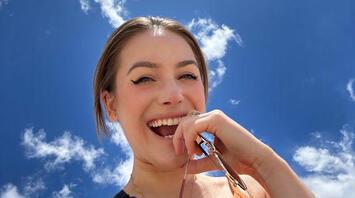 Sabina Troyanova, a savvy traveller . Source: msn.com
Sabina Troyanova, 29, from East London, managed to get herself a trip to three different European cities for less than £50 and revealed her interesting tactics for getting cheap tickets.
First, she found a flight to Dublin from London for just £12.99 on Tuesday, May 9, and flew the next morning. After spending a couple of days in the Irish capital, Sabina flew to Marseille, France for just £17.38 and then flew to Palma in Spain for her third destination. The last leg of the flight cost her £16, MSN reports.
The woman set out to take the cheapest flight to a new country. She said she booked each flight the night before to find out the next destination. And she explored each new city on foot.
The traveller used a mobile app to find the cheapest flight to her next destination. She set herself four tasks for each country she visited, saying: "I had to eat a national or regional traditional dish. Next was something sweet - again from the region. Then I had to find an interesting woman from history and finally a book by a local author."
Sabine stayed in a £88.88 hostel in Dublin and ate a traditional Irish stew in a pub with a pint of Guinness, then found a traditional scone and spent time with friends who live in the city.
In Marseille, Sabine stayed for £94.26 and found a regional seafood stew.
Her last stop was in Palma, where she stayed in a hostel for £80.36 for two nights with a rooftop pool.
Sabina speaks Spanish and French, but insists it would have been easy enough to get around without her language skills.
"The point of this was to show how affordable travelling can be. If you did this every week, it would have a huge impact on the environment," she added.