Top 15 hotels with in-room pools. Unique apartments for a romantic weekend for just the two of us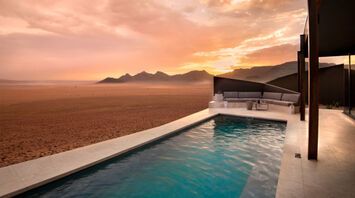 Private pools in hotels around the globe. Source: https://www.andbeyond.com/
Candles and dimmed lights aren't enough for true stirring romance. If you want real passionate feelings add a pool to your vacation. And we don't mean lagoons for everyone. What will make your vacation special and sexy should be in your private suite. We've scouted out the best hotel options with in-room pools for you, in many different parts of the world. Your in-room oasis will be perfect when you use our unique list of private pools in hotels around the world.
1. Royal Mansour Marrakech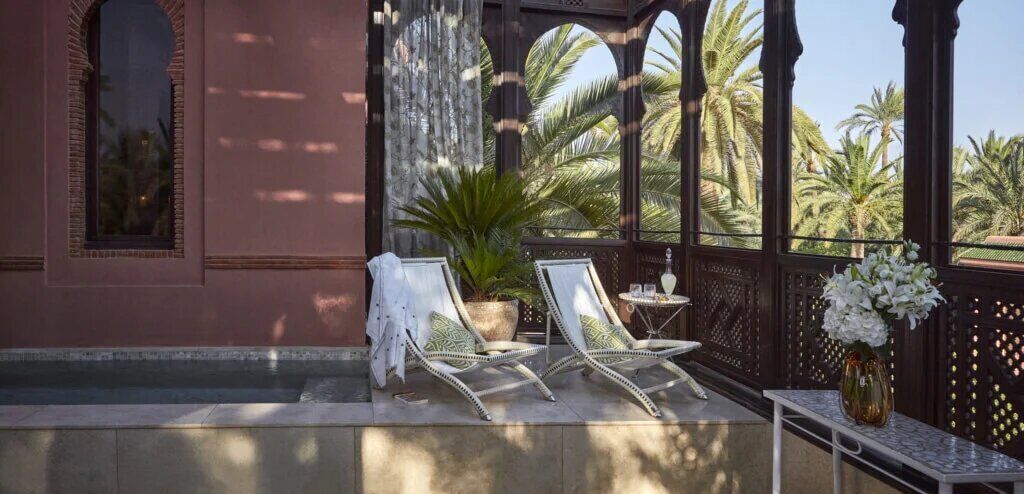 Morocco's capital city will pleasantly surprise you with its gem Royal Mansour estate. Enjoy one of the 53 three-story riads. The more than luxurious grand riad with roof terrace will give you an extraordinary relaxation in the large private outdoor swimming pool. The picturesque panorama of the Atlas Mountains and the cool water are just what you need to awaken your incredibly sweet senses in the Moroccan heat.
You can always enjoy a healing spa treatment right by the pool or start your day with breakfast beside the water coolness. Under the starry night sky, you can break free of your swimsuits for a nude evening.
2. Waldorf Astoria Los Cabos Pedregal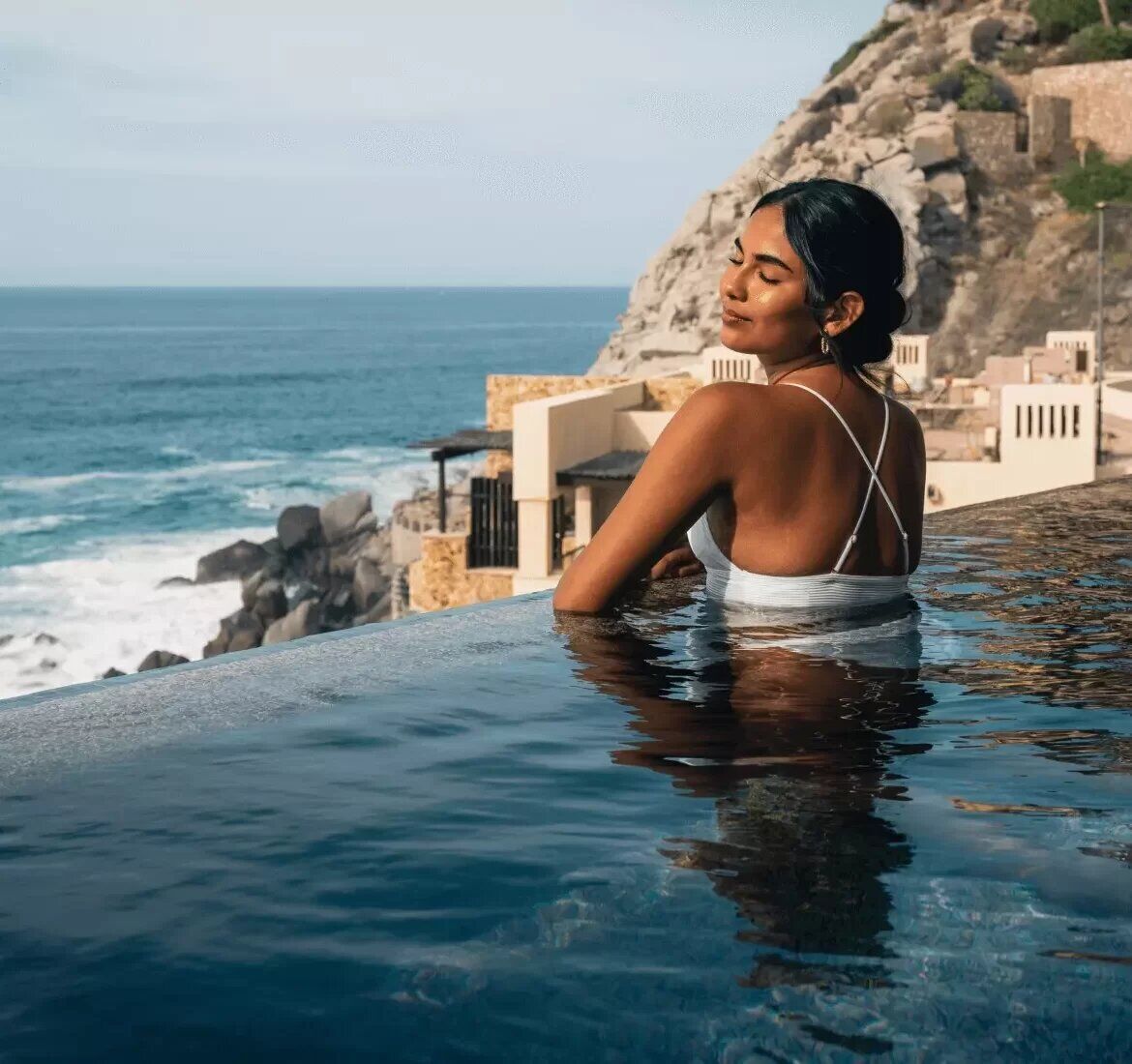 If you love unique amazing places Baja California in Mexico offers a very beautiful location with amazing opportunities. The Waldorf Astoria Los Cabos Pedregal Hotel, among its other luxury rooms and suites, offers an unforgettable stay in one of Pedregal's private homes. The spacious house has several bedrooms and a living room with three glass doors leading directly onto the lounge terrace. A smooth stepped entrance to the blue waters of the pool and cushioned loungers will make your swim languid and relaxing. Drinks and food will be served directly to the pool, so you'll have no reason to be distracted by trivia.
3. Waldorf Astoria Maldives Itaafushi
The tropical islands are wrapped up in one vast oasis. A piece of it will be right in your bungalow if you make a stop at the private pool villa of Astoria Resort, Maldives. It's simply paradise in pictures. By the pool you'll find a rocking couch, a lounge area for your colorful cocktails and snacks, and floating in your own oasis your gaze will be drawn to the ocean panorama. Romance on such a landscaped location is not the atmosphere, it's the very essence. You can expand your horizons and book a private island, then your paradise will become more secluded and exhilarating. With Waldorf Astoria Maldives Ithaafushi, your tropical paradise will stay with you for a long time.
4. & Beyond Sossusvlei Desert Lodge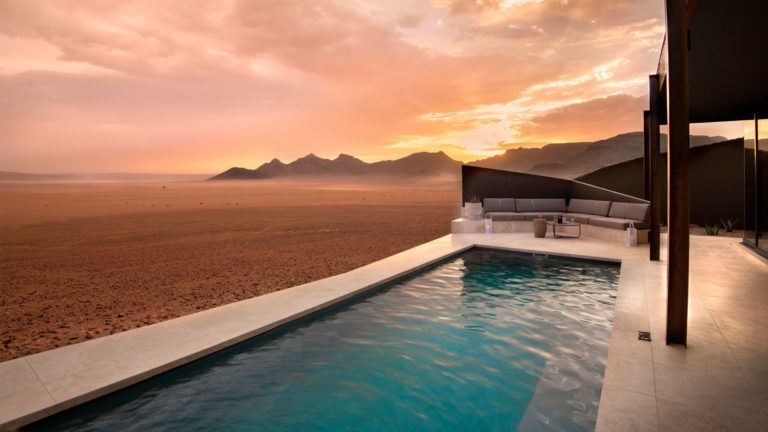 The Namibian desert has an enchanting magnetism and Bedouin romance. Boundless dunes like sea waves on the horizon line beckon travelers who want to experience completely new and unexplored feelings. And on all this tantalizing picture you will look smoothly moving by the waters of the private pool in your lodge.
You will always have something to do in the desert. Helicopter rides, camel or ATV rides, stargazing through a powerful telescope, or hotel amenities such as a fitness center, spa and sleek bar will take you on a long stay at the best hotel with private pool at the & Beyond Sossusvlei Desert Lodge.
5. Christopher St. Barth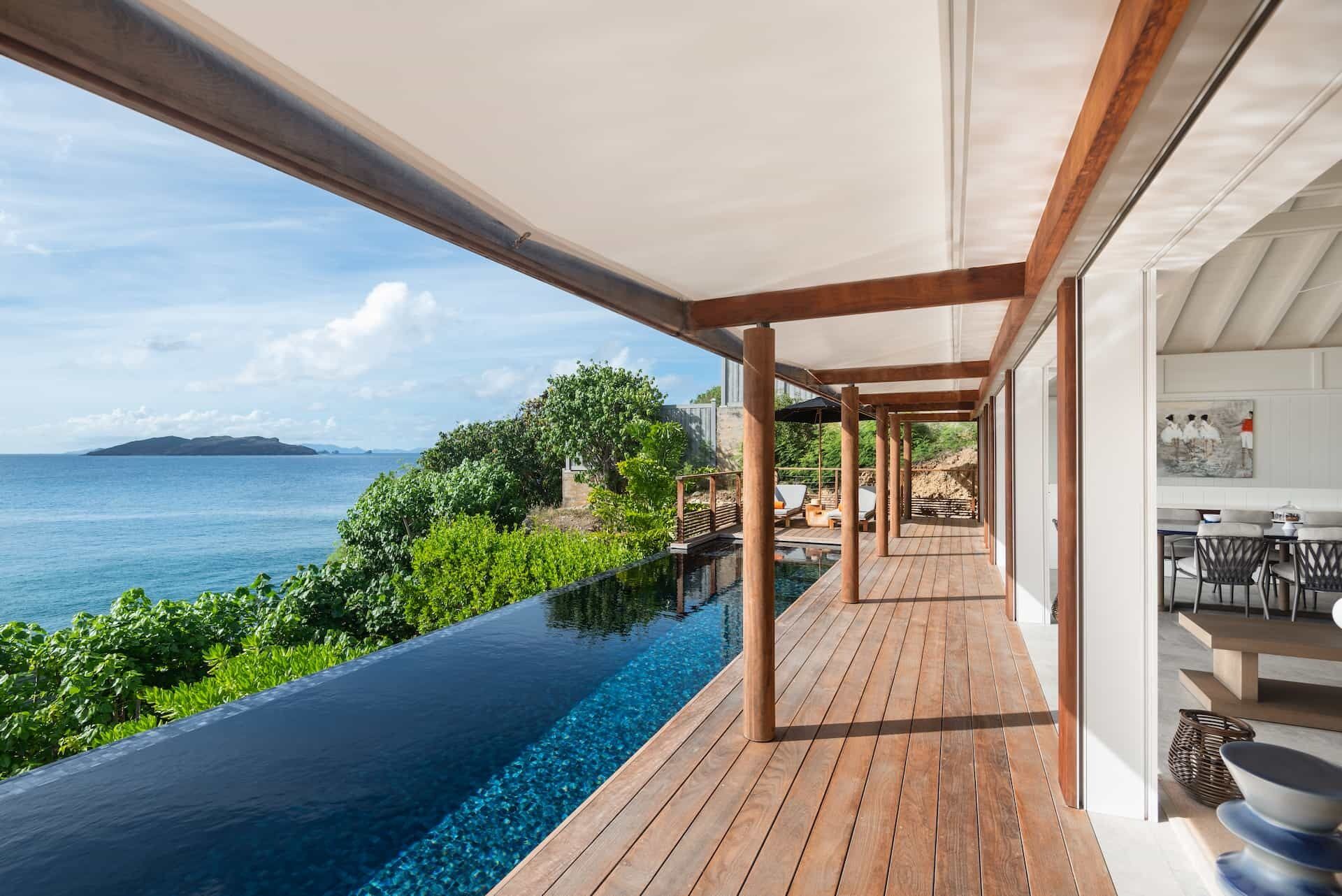 More than just stunning four-bedroom villas, a large terrace with sea views and a heavenly private pool await you on St. Barth. Christopher's luxury goes far beyond imagination and dreams. Wrapped in green palms and hills flowing gently into the sea, the resort offers its guests a blissful experience with spa treatments right on their own terrace. Therapeutic and revitalizing treatments can be booked for two and you can share the feeling of contentment and harmony with a loved one.
Christopher will give you a new level of amenities and service to create the perfect romance.
6. Viceroy Resort, Sugar Beach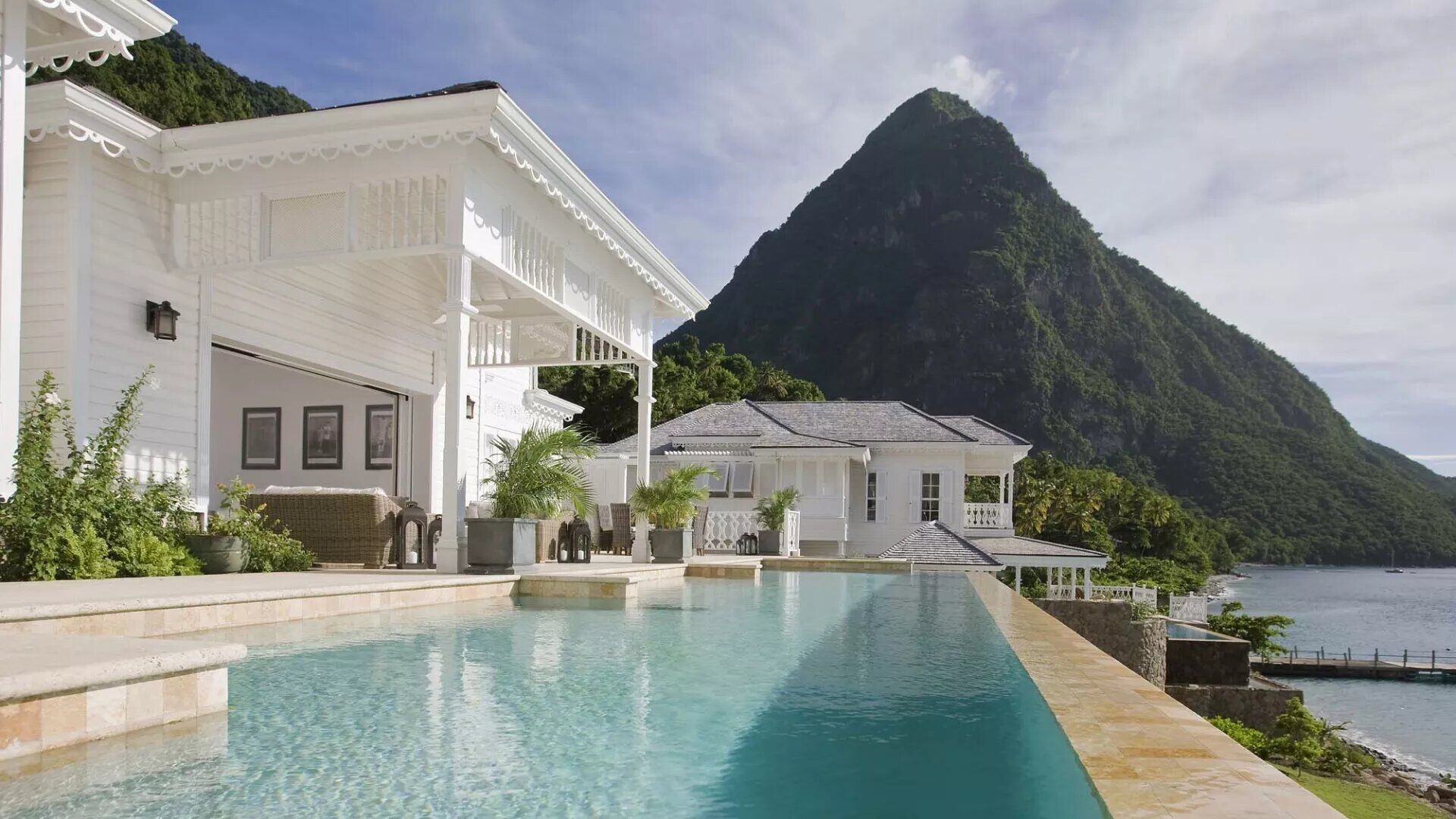 On the western side of the island of St. Lucia, in the coastal town of Soufriere you will find a choice of 96 rooms each with a private pool. Whatever you choose cottage or bungalow your panorama of the Caribbean Sea will always be before your eyes.
Enjoy your lagoon at any time of the day or night by ordering in-room meals and treatments. But don't forget that the island is filled with many interesting locations to add to your enchanting vacation for two.
Sugar Beach, A Viceroy Resort offers the most romantic vacations in its luxurious accommodations with private pools.
7. Nayara Tented Camp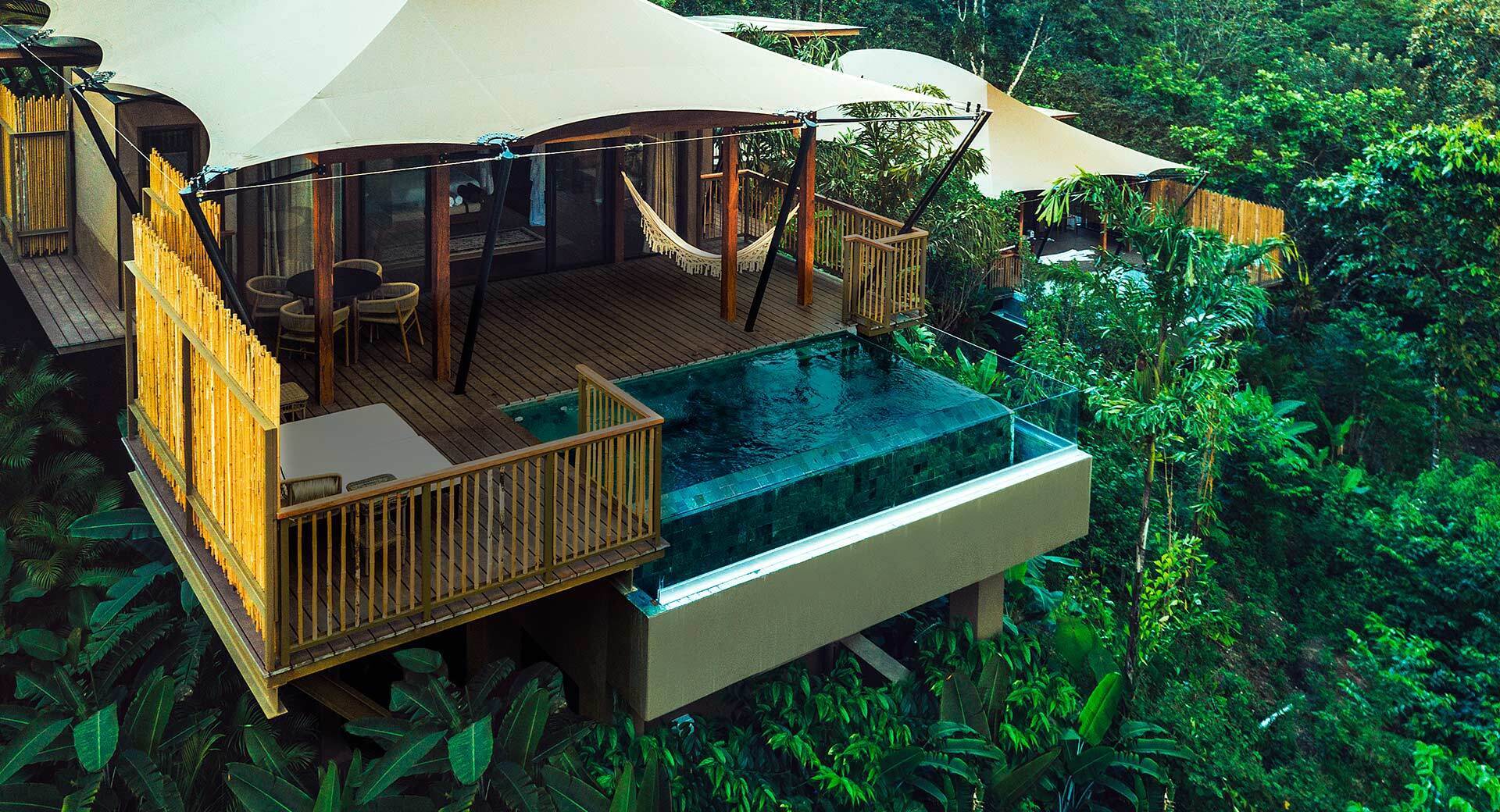 An authentic vacation overlooking Arenal Volcano offers one of the best tented camps with a private pool at Nayara Tented Camp accommodation. These are not just private oases, but true mineral baths, a stay in which has profound healing and therapeutic properties.
The stunning location on elevated terraced hills, in the middle of the Central American jungle, stirs deep feelings and emotions. To have such an experience is to be inspired for a long time and to forget about the world for a while. The only world that will come in contact with you is the animal world. You will be able to watch hummingbirds, enjoy colorful arahs and fall into bliss like a sloth in a nearby tree.
8. Chilino Bay Resort and Residences, Auberge Resorts Collection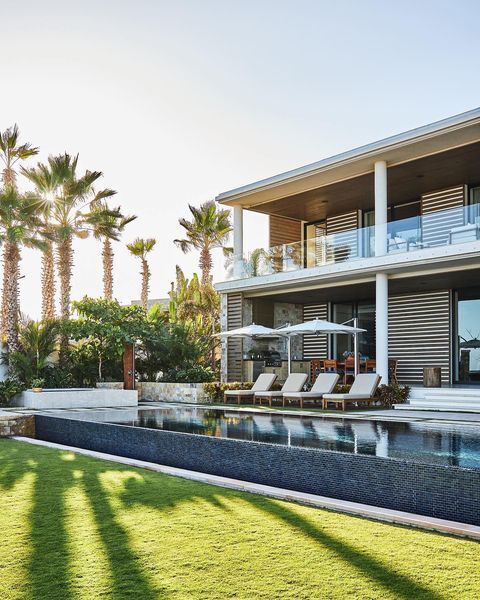 Perfect romantic destinations for couples are located on the Gulf of California. Los Cabos has become home to a gem of villas and spa suites. Each location features a private pool that vary in size, but not in beauty.
Staying at a Brisa Del Mar landscape villa means not only access to 24,000 square feet of picturesque grounds, but also mastering your own access to the beach.
Chilino Bay Resort is a jewel of Western Mexico and the best solution for your vacation for two with your own private pool. The sky villas have plenty of amenities for romance, including lounges by the fire pit, cushioned lounge chairs with tables by the oasis, and outdoor showers. This is a very popular hotel with a private in-room pool to create the perfect moment.
9. Mombo and Little Mombo Camp.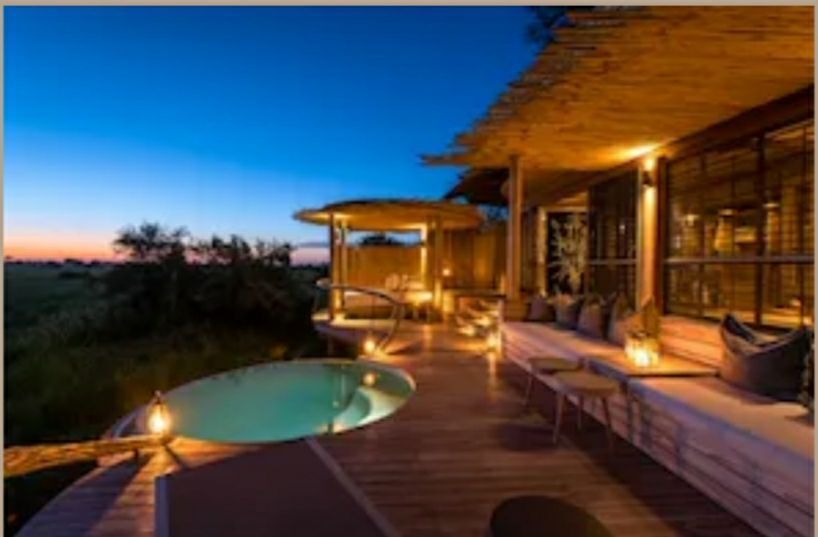 The southern part of the African continent has its own unrivaled romantic charm and its own hotels with private in-room pools. A few such masterpieces can be found in the Okavango Delta, in Botswana. Mombo and Little Mombo Camps are a lagoon in the middle of the savannah. Being at arm's length from the local animal world is simply breathtaking. Don't worry, the camps are equipped with systems and safety measures to ensure that you get nothing but enjoyment and satisfaction from your stay.
Safari camps in Botswana have modern amenities and game hunter design. Massive furniture, viewing terraces and blue pools as you step out of your private hotel room. Have an exhilarating wildlife photo hunt and experience the pleasurable adrenaline of being close to the wildlife masters.
10. Hotel Principe di Savoia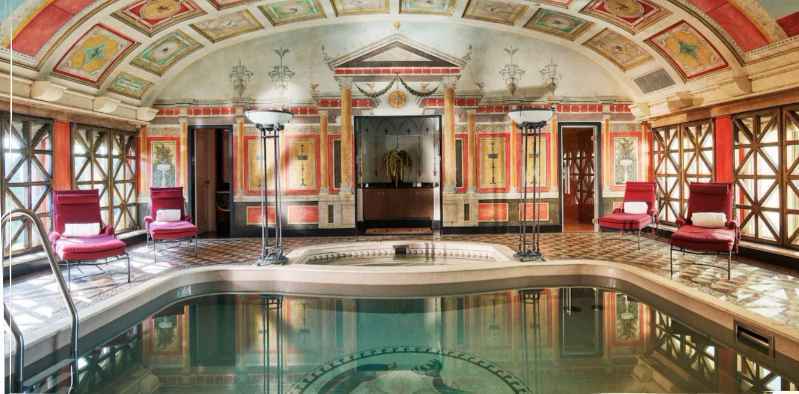 Italian luxury is a world apart with more than the comforts and scope of ancient Roman rulers. Hotel Principe di Savoia invites you to experience power and uplifting romance in its Presidential Suite. Ascend to the tenth floor level, where you'll experience a world of diverse bedrooms and divine bathrooms. The Pompeii-style swimming pool will be a special experience. Its blue waters, painted walls are equipped with secret rooms to the sauna and Turkish bath.
Remember that you are in the capital, which is a trendsetter, so when you come to Milan seek to get the best, whether it is a hotel with a private pool in the room, the most fashionable restaurant or the heart of your partner. With this short list you can put together a spectacular couples weekend in Milan.
11 Hotel Fermont Mayakoba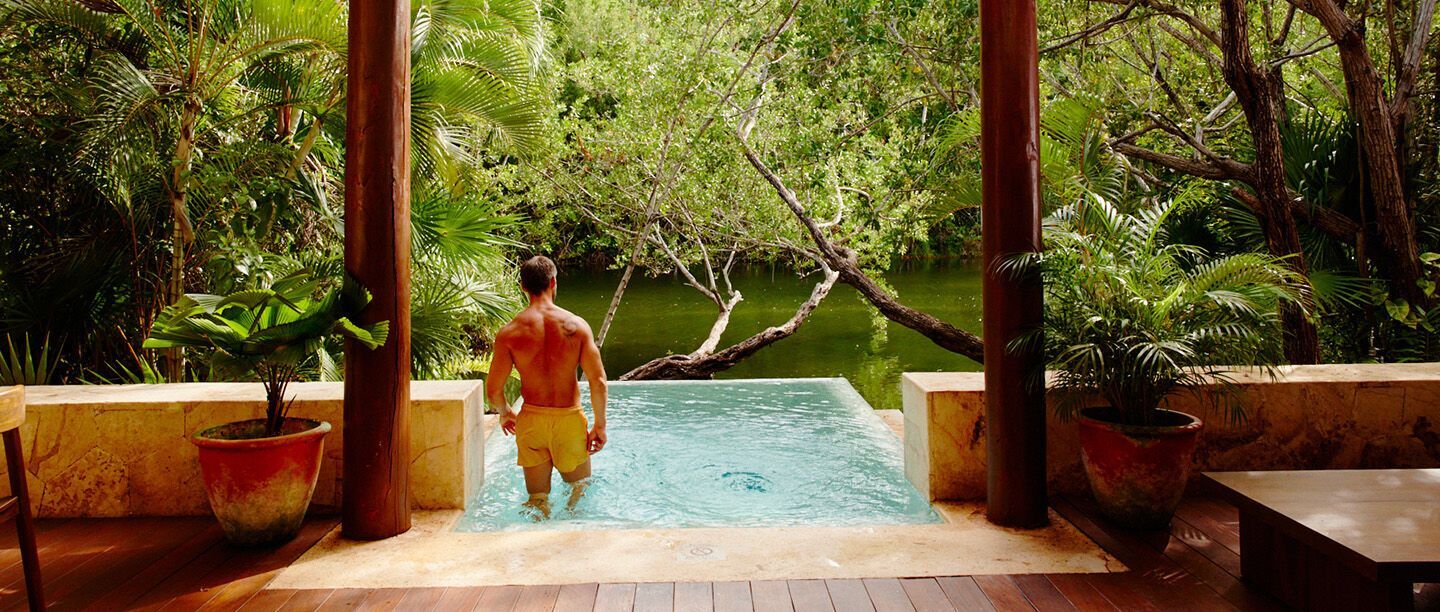 Outlined and stylish luxury without too much pathos looks elegant and sophisticated. This is the kind of gem you can find in the Riviera Maya. The rooms are very laconic and spacious, but there is no doubting their luxury. If you want to hit the bull's eye book the Beachfront Casita Suites. You'll get privacy with a spread. A personal butler will help you with any questions you may have, private beach access will keep the crowds away, and a private in-room pool on the terrace will allow you to enjoy the oasis from the comfort of your own home.
Where do you think you can go from here? Next up is the El Camaleon Presidential Suite. You will be welcomed with two luxurious comfortable bedrooms, plenty of lounge areas and of course a private pool right on the terrace overlooking the beach and the expanse of the Caribbean Sea. Welcome to the paradise of the Fairmont Mayakoba Hotel.
12. Alila Jabal Akhdar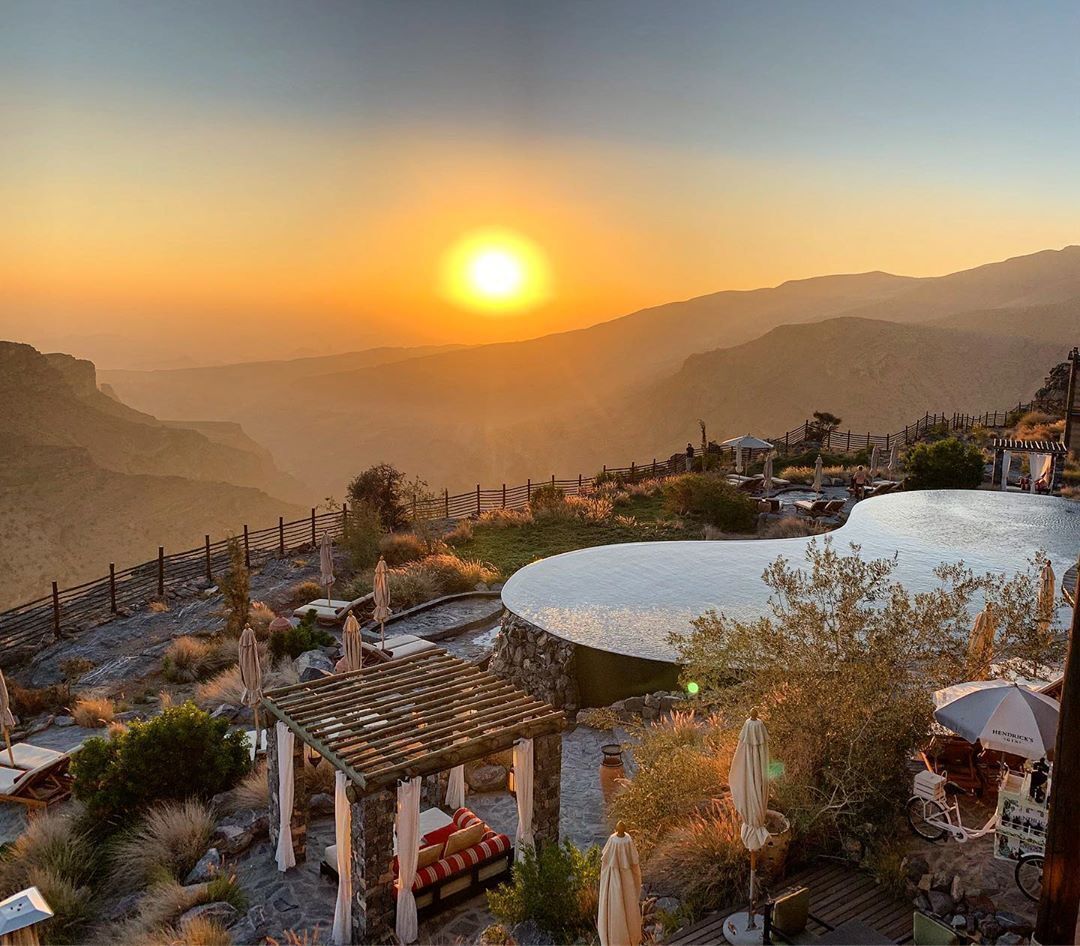 Not Dubai alone as they say. We offer you to taste something new, literally in the neighborhood of the popular and famous city of the Arab Emirates. This location is worth all its five stars and even more. The Al Hajar Mountains sheltering a comfortable haven for travelers will be your main picture in the gallery. Escaping from the crowds and experiencing all the honesty of nature, around modern comforts, will be the right decision if you really want a stunning vacation for two. Ah, yes, the pool. This outdoor oasis on a large terrace will be your paradise under the stars. Just imagine the warm waters touching your bodies and reflecting the bright stars - it's a moment you'll want to stop.
Alila Jabar Akhdar is an oriental fairy tale that will write your novel.
13. Park Hyatt St. Kitts Christophe Harbour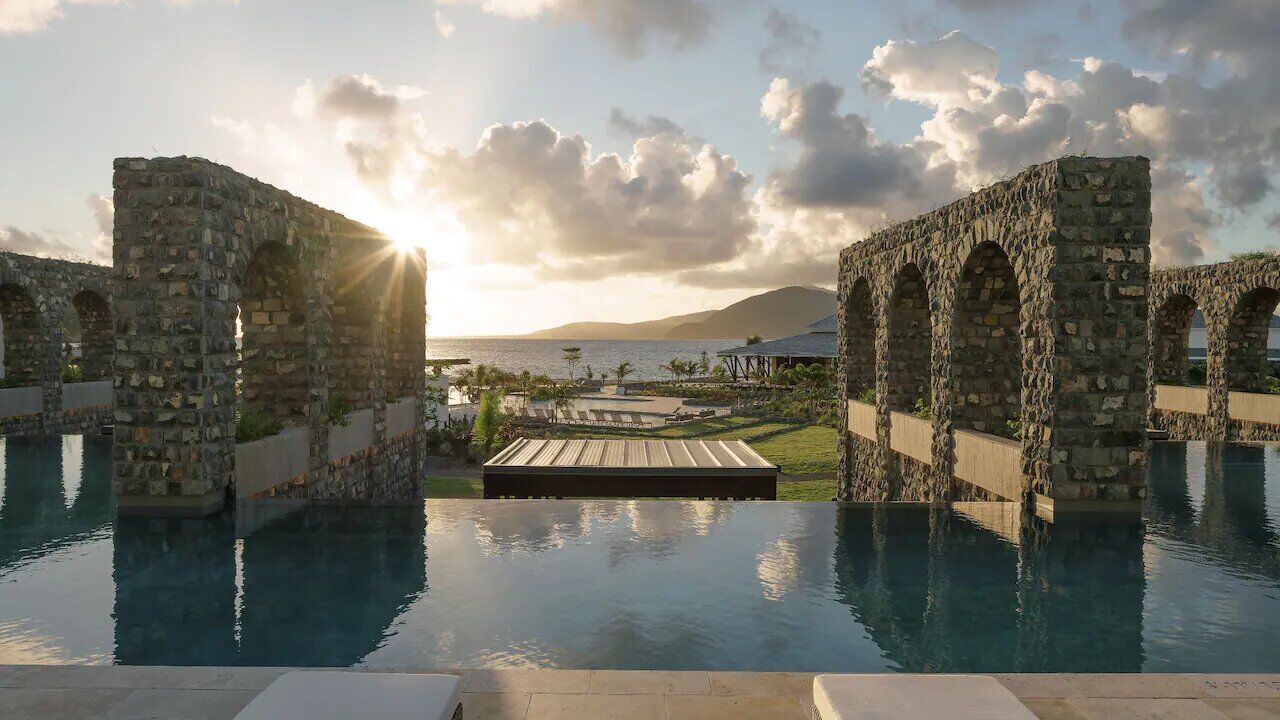 If your feelings are of fragile tenderness, consider a beach resort where you can both have privacy and enjoy good company. Park Hyatt St. Kitts Christophe Harbor offers the best from accommodations to restaurants for a romance that will help develop strong feelings.
You will be able to choose between suites and villas that come with private pools. But, if you're going wabank the three-bedroom presidential villa with a landscaped pool is what you're looking for.
Relax in the spa, participate in activities organized by one of the best hotels with in-room pools and create unique moments just for the two of you. The Park Hyatt St. Kitts Christophe Harbour has everything you need for unrivaled romance.
14. Andaz Mayakoba Resort Riviera Maya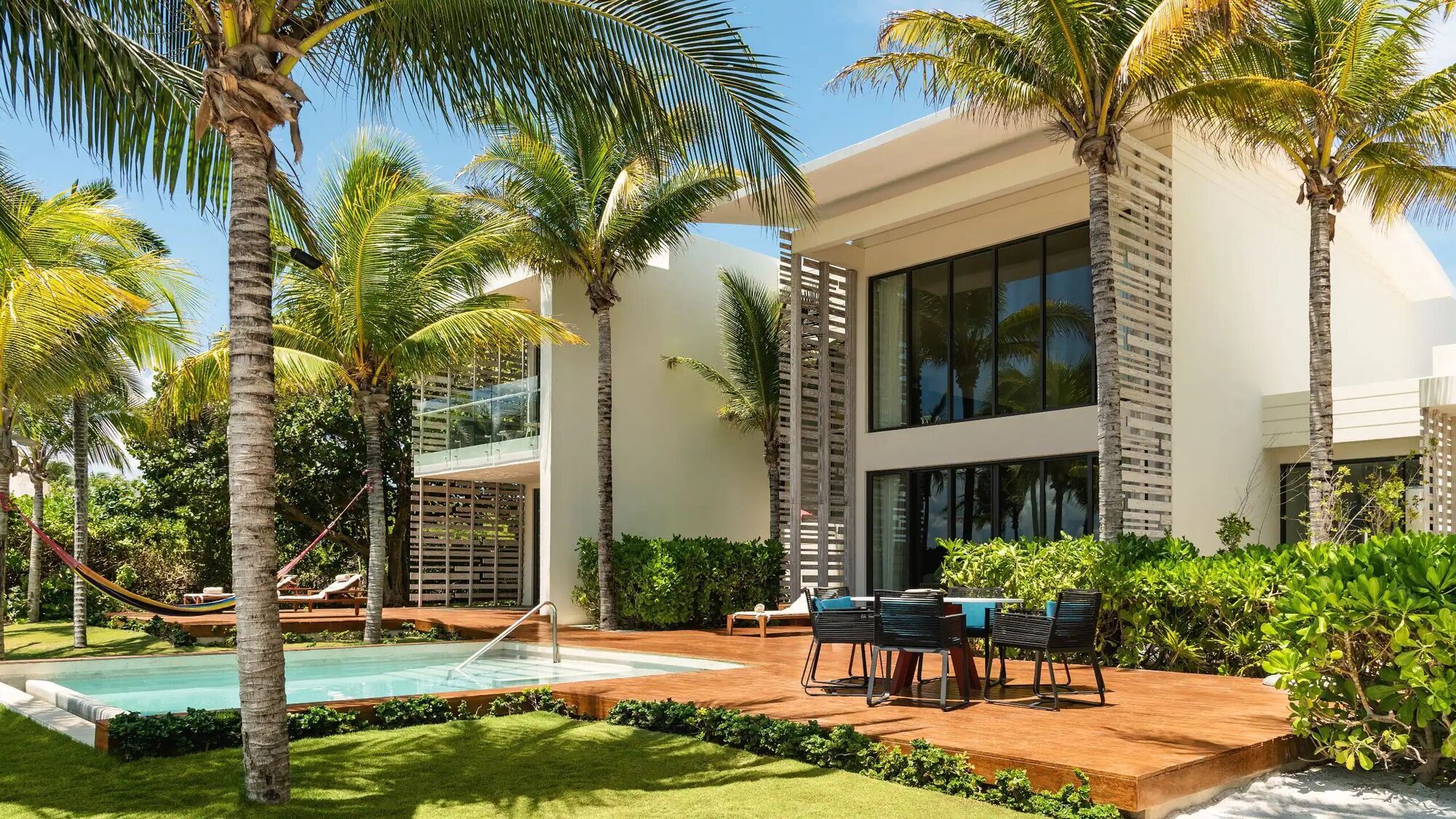 Another lagoon in Riviera Maya with a 4,575 square foot presidential suite. You'll get the comforts of both inside and out. Within your private garden area is an oasis that will be your favorite place filled with romance. The Caribbean Sea will be before your eyes at all times, and the sweet smell of tropical luxury will fill the entire space of your abode with fragrance.
Sleep to the sound of the surf, wake up in privacy and plan your day to the max to have time to visit all the romantic locations of your private pool room at Andaz Mayakoba Resort Riviera Maya.
15. Rosewood Little Dix Bay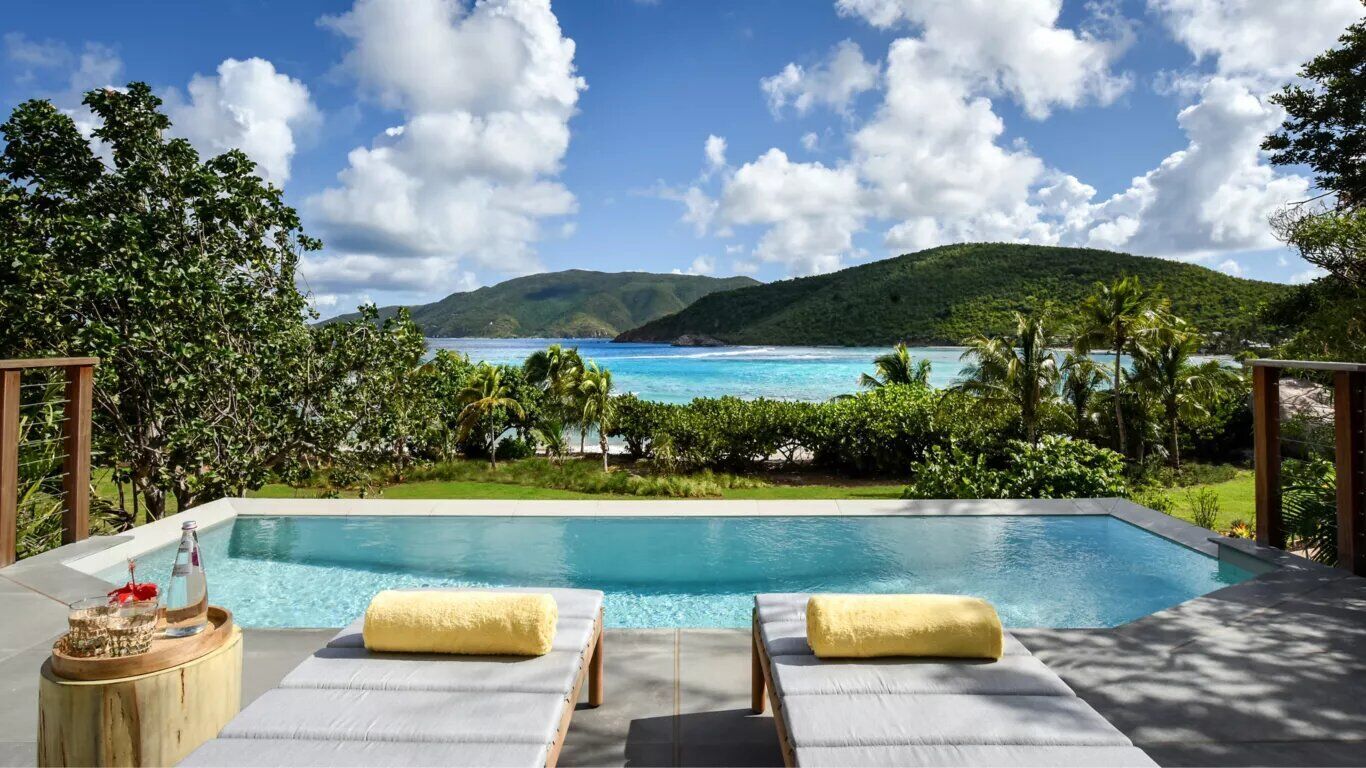 The British Virgin Islands are known for the lushness of their gardens and inspiring scenic panoramas. It is here that you will find the tranquility, leisureliness and harmony of a vacation for two. Suites with private pools are your destination. The patio lounge and large bedroom are perfect for the slogan "alone time". Swim in the pool overlooking the bay, relax with drinks on the cushioned lounge chairs and take romantic walks throughout the resort.
Rosewood Little Dix Bay Hotel is your intimate nest for the weekend and longer.