Flying with a pet: three tips to help pets and their owners travel with ease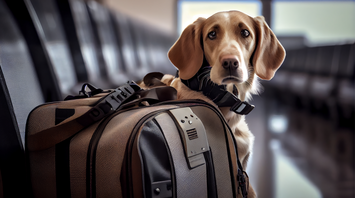 The expert gave advice on how to travel by plane with animals. Source: Freepik
Adam Golder and his wife Kirsty, the couple who founded the pet charter service K9 Jets, shared their tips for flying with pets. The couple considers animals to be part of the family, so they take care of their comfort.
For those who want to take their pets with them, Golder shared three tips with Insider. They will help make the flight more enjoyable and relaxing for four-legged friends and their owners.
Reduce the portion before the flight
To prevent your pets from having to go to the bathroom frequently, you should reduce their portions in advance and allow them to relieve themselves before the flight. It will be easier for both pets and their owners.
Increase physical activity
It's easiest to fly while sleeping, so you should exhaust your pet well with activities before the flight. Then the four-legged passenger will have no choice but to fall asleep on board.
Take a place to rest with you
It can be a blanket or a sleeping place your pet is used to. Familiar things will dull the feeling of stress and help your pet feel safer.