'Death Zone' on Mount Everest: Singaporean mysteriously disappeared at the summit after getting separated from group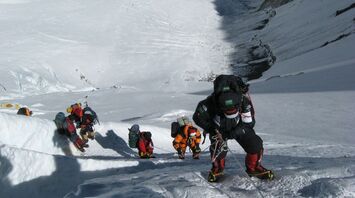 Everest. Source: David Mark from Pixabay
Singaporean mountaineer Srinivas Sainis Dattatreya went missing after climbing to the top of Mount Everest on Friday morning 19 of May.
A search for the missing tourist has been organized since Saturday. In a petition, his cousin Divya Bharat wrote that Srinivas seems to have suffered frostbite and altitude sickness during the descent, according to Сhannel News Asia.
The tragedy occurred after the Singaporean got separated from the rest of his group and "fell at about 8,000 meters, probably on the Tibetan side of the mountain."
He was reportedly last in contact with the base camp at about 8,500 meters. At the same time, his Sherpa guide managed to reach Camp IV, the last camp located between Mount Everest and Mount Lhotse.
The relatives of the missing tourist demand to organize a special rescue team trained to operate in such a dangerous area, as well as to ensure that the entire rescue operation is not hindered by diplomatic documents. Today, search and rescue operations continue.
New victims on Mount Everest
According to AFP, two more climbers have died on Mount Everest, bringing the number of deaths on the mountain this climbing season to nine. It has been confirmed that a Malaysian and a Chinese climber were the latest to die.
Every spring, an average of about five climbers die on Everest. But this year, the death toll has almost doubled from just over halfway through the season.
The area above 8,000 meters is known as the "death zone" where thin air and low oxygen levels increase the risk of altitude sickness and is notorious for its difficult terrain.
According to official data, more than 900 people will attempt to climb to the top. According to the Nepal Tourism Department, more than 400 climbers have already reached the top since last Saturday.