Business class for the price of regular class: how to save money when travelling on a luxury jet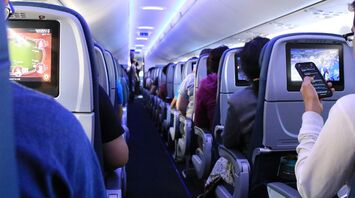 On board the aircraft. Source: Orna Wachman from Pixabay
For business travellers, the services of JSX, a state-owned charter operator, can be a great alternative to first-class flights.
Among the advantages of JSX flights are free drinks, a maximum of 30 people per flight, and a 20-minute window from the parking lot to the plane seat, Lifehacker writes.
And it is about the same price as a first class flight, sometimes even cheaper. However, one of the disadvantages is that JSX destinations are not as widely available as regular airlines, as there are only 26 seats and a limited number of destinations.
Although JSX services are much cheaper than flying on a typical private jet, they are still not as cheap as flying in economy class. But you can find flights that are about the same or cheaper than some first class and business class travel.
What are the benefits of flying with JSX
Arriving 20 minutes before your flight (or 40 minutes for an international flight) seems to be one of the company's main strengths. When you arrive, most locations will have a free valet available to park your car. You don't even need to come with a boarding pass, as a member of staff will hand it to you upon arrival.
Also, a maximum of 30 people on board means no long queues, less competition for the washroom, easier check-in and faster security. In terms of seating, passengers on the E145 are seated in their own single aisle.
All flights will feature free high-speed Wi-Fi, complementary drinks, cocktails, beer, wine, snacks, power outlets at every seat, and free travel with pets.
How much do JSX flights cost?
JSX flight fares vary depending on the location and the level you choose. They have a popular cheaper level called "Hop On" and a higher level called "All In". The main difference is that on the higher tier you get an additional free baggage check-in (i.e. a maximum of three pieces of luggage), free flight changes, refundable flights, and free seat selection (so you can choose individual seats for aircraft with limited seats).
The price of their lower tier flights can be lower than some first class flights. For example, you can find a one-way ticket from Austin to Las Vegas for $249, while the cheapest option to do the same flight on the same day in first class is $379 from American Airlines (and that's not a direct flight).