The best rooftop bars in los angeles, from poolside oases to open-air parties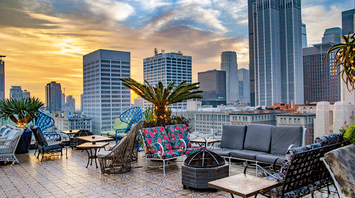 Taste the best drinks in the open air. Source: Image Perchla.com
Stellar drinks, tasty appetizers, an elevated atmosphere and stunning views of the City of Angels can all come together in one place: the coolest rooftop bars in Los Angeles California. There are so many open-air spots in this city, that it's hard for visitors to choose between the booze or the view. We focused on establishments that emphasize their drinks over restaurants with full menus. These top rooftop bars in LA are truly worth paying a premium price for their cocktails. The fantastic views will make you fall in love with this city all over again, and if you're new here, get a feel for its extraordinary atmosphere.
Enjoy a cocktail and appetizer while taking in the breathtaking views at one of the 15 best rooftop bars in Los Angeles from Santa Monica to Hollywood.
1. Perch LA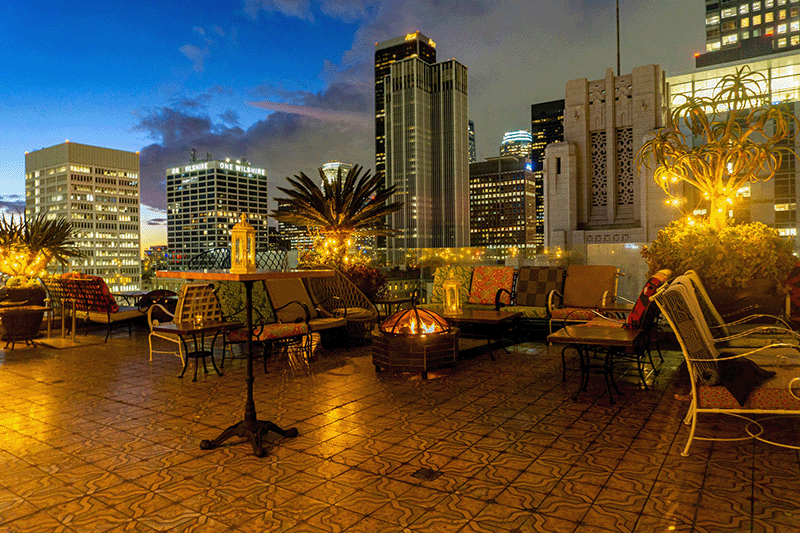 One of the most beautiful and popular rooftop bars in Los Angeles, combining drinks with bistro fare, is located in historic downtown and charms its visitors with a boudoir-style interior. Patterned tiles on the floor, tubs of trees and comfortable chairs complement the magical view of the city's skyscrapers. This fashionable French-inspired establishment is spread over two levels on the 15th and 16th floors and offers a wide selection of Parisian and signature cocktails, wines, weekend brunches and dinners. In addition to an indoor bar with plush sofas and eclectic decor, there is a pleasantly elegant outdoor patio with many cozy fireplaces. The rooftop bar on the 16th floor is open from 5 p.m. (12 a.m. on weekends) until close. Stop by weekdays from 4 p.m to 6 p.m for happy hour or in the evening for a drink and live jazz bands and DJs.
2. Broken Shaker
This rooftop spot at the Freehand Hotel in downtown Los Angeles is considered one of the best rooftop bars in the world. The casual aesthetic establishment, located on the pool terrace, has been honored with two James Beard Awards. The trendiest hotel patrons and the city's youth flock to this colorful palm tree-lined spot to cool off with tropical cocktails paired with tasty bar snacks like chicken wings, burgers and falafels. Eclectic drinks are infused with homemade elixirs and exotic ingredients like dragon fruit syrup, black pepper or celery infusions. Prices are reasonable and the bar is open until 2 a.m on Friday and Saturday nights (on other days it closes half an hour earlier), so it's one of the best places to watch the sunset over the city and have a great time in the late afternoon.
3. Mama Shelter
The boutique hotel's colorful rooftop bar and restaurant provides diners with an iconic view: the panorama of Los Angeles on one side and the famous Hollywood sign on the other. The terrace space is filled with colorful tables, banquettes and large sofas for relaxation, where you can comfortably sit under bright umbrellas while waiting for drinks and snacks. The cocktail list offers a wide range of specialty cocktails, beers and wines. The rooftop also provides a menu with homemade food for lunch, brunch or dinner and large plates and appetizers for drinks. You can play foosball, attend a yoga class in a designated area, and on warm nights dance to DJ sets or watch classic movies on an outdoor screen. Enjoy a cocktail at this rooftop bar daily from 12 p.m to midnight (until 2 a.m on Friday and Saturday), but the kitchen closes an hour or two earlier.
4. Upstairs
A great choice for a casual night out is the rooftop bars at the Ace Hotel in downtown Los Angeles. This spot is popular with the stylish crowd for meeting up with friends or sitting down for a drink with coworkers after work. There are two bars, plenty of seating and even a fireplace on the lively terrace, but to get a good seat with a cool view, get there early, as it's crowded and there are lines on weekends. The menu is full of classic cocktails and specialty versions, and you can order a $100 punch for a large group. They're complemented by great Middle Eastern appetizers like ricotta toast and spicy lamb flatbread. In the evening, the crowd is drawn by DJ performances in a variety of genres, so if you want to get in on something specific, check out the program of events on the hotel's website beforehand. Upstairs is open daily from 11 a.m to 2 a.m.
5. Bar Bohemien at Citizen Public Market
On the rooftop of Citizen Public Market is one of the best rooftop bars in Los Angeles. Its interior has an open atmosphere with vaulted ceilings and arched windows, as well as retro decor with leather bar stools and 1920s brickwork. The modestly sized space opens out onto a partially shaded patio with a beautiful view of Culver Boulevard. It's a great place to meet with friends or admire the sunset during a romantic date. The drink list includes craft cocktails, wine and beer. But what you should definitely try here are the specialty cocktails with interesting names and ingredients created by local master bartenders. For an appetizer, grab a plate of tapas or French inspired meat boards. The bar is on a first-come, first-served basis and is open from 3 p.m. to 12 a.m. Tuesday through Thursday, 1 p.m. to 12 a.m. on Saturdays and a reduced schedule on Sunday and Monday.
6. Bar Funke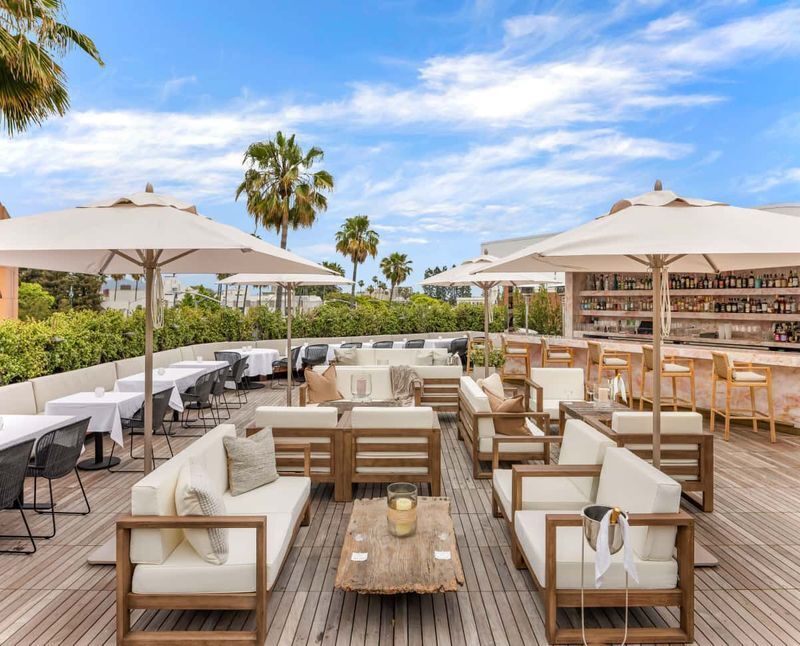 The stunning rose quartz bar sits atop a three-story rooftop restaurant in the heart of Beverly Hills, opened by one of L.A.'s top chefs, pasta and pizza master Evan Funke. It serves great premium cocktails and appetizers, but the main pasta dishes can only be savored on the restaurant floors. The entrance to the bar is open exclusively to restaurant patrons, so no reservations are necessary. You can go up to it by elevator to finish the evening with a drink after dinner in the restaurant or wait here for a free table. The menu features classic cocktails like negronis, spritzes and espresso martinis, as well as an array of appetizers like sashimi, focaccia and burrata. The drink prices are above average, but the gorgeous setting and the view of the sunset behind the Hollywood Hills justify them. It's a good place to end the evening in comfy chairs under the stars while socializing with friends or coworkers.
7. High Rooftop Lounge
What could be better than enjoying a colorful sunset over the Pacific Ocean with a cocktail in hand? There are surprisingly few beach sky bars in Los Angeles, making this lounge atop the Erwin Hotel particularly popular. The bar's interior resembles an extension of Venice Beach below, with large umbrellas and couches for lounging. But the difference is that there are cozy warm plaids and hot drinks for chilly evenings. The bar menu includes great specialty cocktails and several California beers, as well as great appetizers and weekend brunch offerings. During the day, you can relax on the gorgeous terrace with relaxing drinks (there's even sunscreen on the menu in case you're here for a safe tan), and at night, listen to live DJs. The bar is open from 3 p.m. (1 p.m. on weekends) to 9 p.m. (until 11 p.m. on Friday and Saturday).
8. L.P. Rooftop Bar
At the intersection of La Cienega and Melrose streets in West Hollywood, above the restaurant is one of the largest rooftop bars hollywood in Los Angeles. This multi-story space was created by two experienced Australian restaurateurs. The name EP & LP is a reference to 12-inch and 7-inch vinyl records, and this musical theme continues in the trendy Hollywood atmosphere here. It's where the stylish crowd gathers for beautiful drinks and stunning scenery. But while the dress code is casual at the beginning of the week, from Thursday night onwards the spacious terrace becomes a full-fledged, crowded club where the public flock to socialize. Patrons are treated to a global menu of appetizers and an assortment of handcrafted cocktails (check out the "Bubble Tea Party" section of the menu). The bar is open on a first-come, first-served basis, but reservations are also available. It is open from 4 p.m. (12 p.m. on Saturday and Sunday) until 2 a.m.
9. Desert 5 Spot
One of the most original cool rooftop bars in Los Angelesis named after a wildflower of the Mojave Desert and is reminiscent of a roadside country saloon in Tinseltown. The bar attracts a casual-looking crowd who are looking for relaxation with a vibrant aesthetic, breathtaking views and strong cocktails and don't mind wearing a cowboy hat. It's a place for a relaxed evening with plenty of outdoor areas and tables outside and inside with live rock or country style music. Closer to nighttime, the sky bar transforms into a more lively and stylish LA hangout. A house band plays here every night starting at 10 p.m., and the small space in front of the stage turns into a dance floor with a transition to the patio. The drink list consists of colorful and refreshing signature cocktails based on tequila and mescal, as well as a small selection of beer and wine. The drink names pay homage to the work of famous country musicians. Food isn't on the menu, but you can grab a few appetizers at Ka'Teen on the first floor of the hotel. The bar is open Thursday through Saturday from 8 p.m. to 12 a.m. (Wednesday from 7 p.m.), and a "cowboy" dress code is encouraged.
10. LA Cha Cha Chá
This gorgeous rooftop bar-restaurant in the Arts District balances fun and beauty and helps you escape from the familiar Los Angeles to the city from "La La Land". The tropical corner on the top of the hotel of the same name brought the atmosphere of Mexican "Cha Cha Cha Terrace" into the heart of the City of Angels (on the website of the bar you can even see a photo report how this transition took place). It's the right place for a sit-down with friends with mescal cocktails or a romantic date, as well as for business meetings. The 11.5+ square foot rooftop is filled with palm trees, cacti and garlands hung over small tables and wicker furniture. It offers a wide selection of Mexican food and wine, with a decent variety of hotel classics with tequila and mescal taking center stage on the menu. This LA rooftop bar la is closed on Mondays and open from 5:00 p.m. to 10:00 p.m. - 11:00 p.m. on all other days, with additional hours from 11:00 a.m. to 3:00 p.m. on Saturday and Sunday.
11. Calabra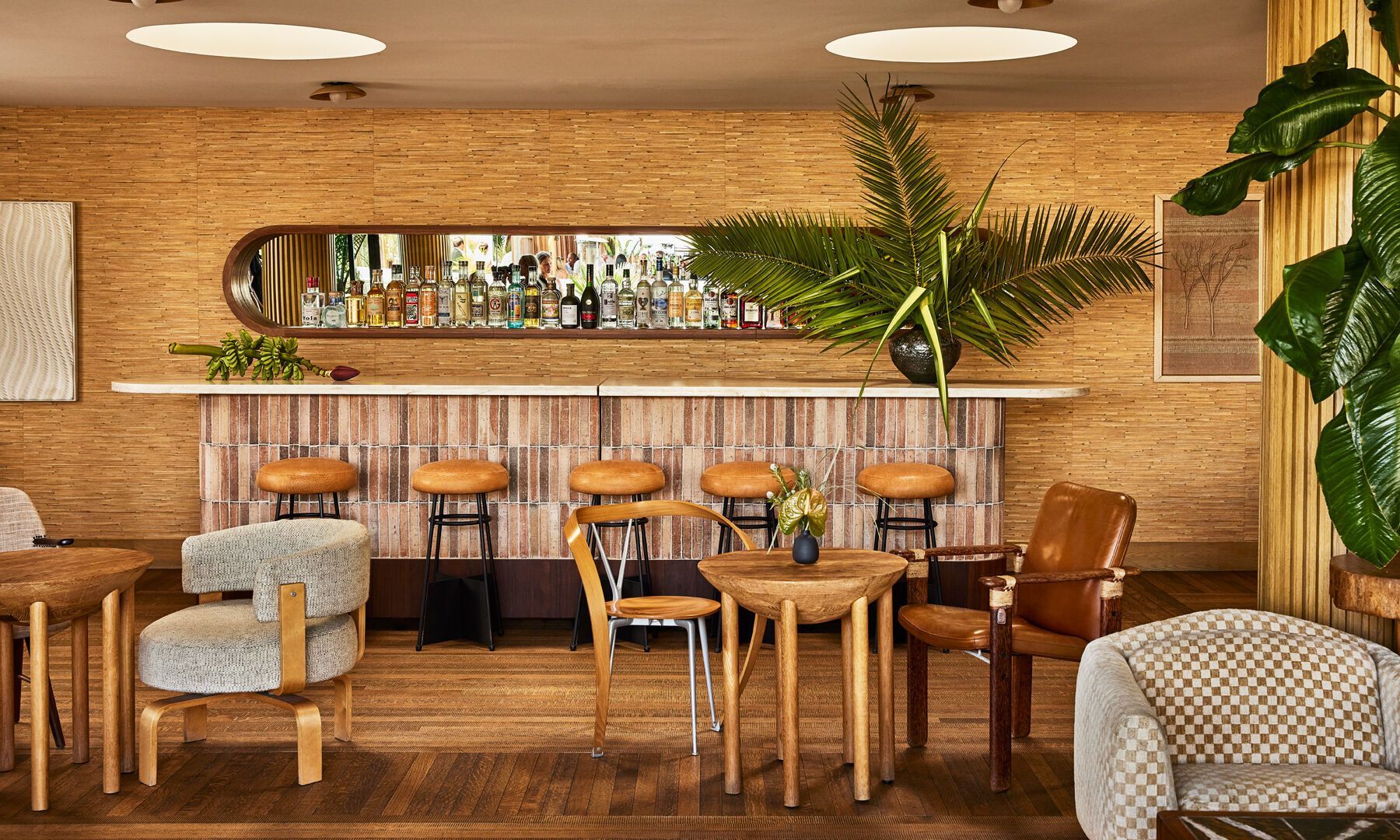 Even from the entrance to the Proper with lobby bar, visitors are greeted with a casual boho vibe, but the real LA party happens upstairs at one of the coolest rooftop bars has to offer. With a cozy lounge, quirky furniture, lush greenery, and hidden poolside alcoves, this lounge looks like an impeccably designed oasis a few blocks from the Pacific Ocean. If you want to impress someone visiting Los Angeles for the first time, invite them to this bar with gorgeous views of Santa Monica. It serves delicious Mediterranean and California cuisine that goes in addition to an extensive list of wines, cocktails and other spirits. The cocktails are light and quite expensive. The chic setting and elegant atmosphere of this sky bar is perfect for a romantic date or a nice evening with friends in Los Angeles. It is open from 8 a.m. to 1 a.m. on Friday and Saturday (until 12 a.m. on other days).
12. Canopy Club
Another stunning view of Los Angeles from the rooftop bar and restaurant at the Shay Hotel in Culver City, Los Angeles. Visitors here are served light cocktails and California-style dishes. This is the place to lounge on a lounge chair and sip a refreshing drink by the pool with thoughts of Miami or Palm Springs: bright umbrellas, wallpaper with huge green leaves, juicy orange accents - just add sand and rocks to make you feel like you're at the beach. Canopy Club provides poolside service all day, but as evening falls, most visitors move to the bar for snacks and drinks. The lively atmosphere is conducive to spending time socializing and making new acquaintances or dancing. This place is suitable for a get-together with friends or a date, as well as a work happy hour. The bar is open from 7 a.m. to 11 p.m. daily (until 2 a.m. on Friday and Saturday).
13. Onyx at Hotel Shangri-La
The indoor-outdoor rooftop lounge at Sonder The Beacon Hotel in Santa Monica offers glamorous Hollywood style by the Pacific Ocean. It's the only one among all the best Los Angeles rooftop bars that overlooks the beach, the local pier and the ocean. During the day, it's like a casual place to grab a bite, a drink and relax after a day at the beach. But after 8 p.m., it transforms into a nightclub: the atmosphere becomes more lively and the dress code requires a more strict smart casual look. The ideal time to visit this open-air venue is early in the night, but first you should stop by for happy hour on weekdays from 4 p.m. to 6 p.m., and then enjoy a stunning sunset. The drink menu is extensive, and the small plates of assorted appetizers are carefully chosen to accompany it. Onyx is open daily from 4 p.m. to 11 p.m. (until 2 a.m. on Friday and Saturday).
14. Harriet's Rooftop
This glitzy rooftop bar at The 1 Hotel in West Hollywood on famed Sunset Boulevard is known for its appeal to celebrities and influencers not only in Los Angeles and all of California, but to audiences far beyond. The indoor and outdoor space is decorated with dark maroon awnings, white and dark green striped furniture, marble accents, greenery and garlands that frame an unrivaled panoramic view of the city. The beverage selection features signature cocktails made from fresh and seasonal ingredients, a selection of beer and wine, complemented by delicious expensive appetizers, and Sunday brunches. Unlike other rooftop bars in Los Angeles that come alive during weekend parties, here the club atmosphere prevails most nights of the week. The bar is open every day except Monday from 5 p.m. (12 p.m. on weekends) to 2 a.m.
15. Spire 73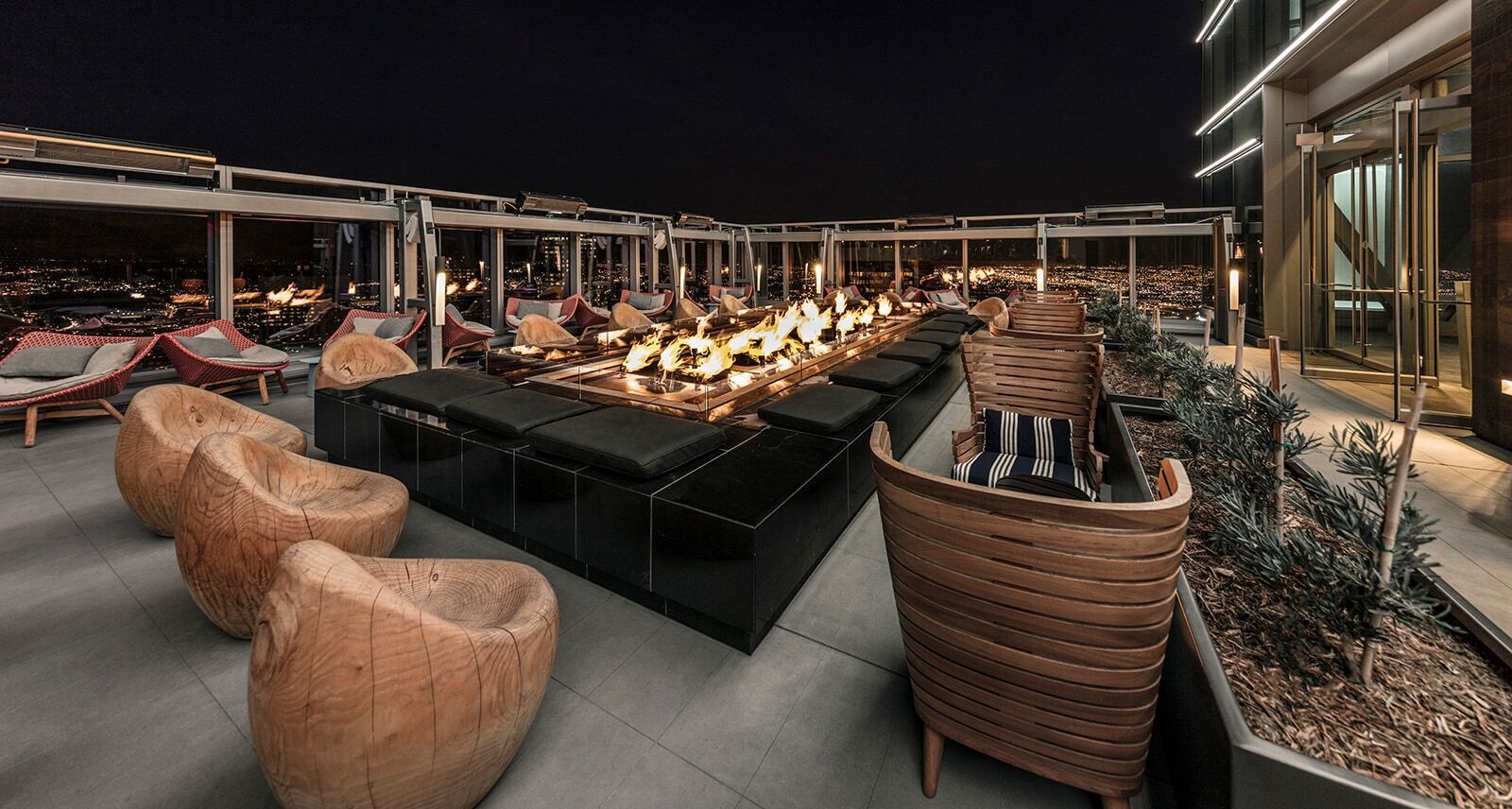 Luxury, fine drinks, and fantastic views are the formula for the success of Spire 73 Bar, a rooftop establishment at the InterContinental Los Angeles Downtown that can be considered the highest outdoor bar in the Western Hemisphere. There are plenty of stylish seating options - from classic bar stools and comfy couches to chairs right on the edge of the terrace - and cozy spots for bonfires, as the wind can be quite noticeable at this height. The sky bar on the 73rd floor provides access to unrivaled panoramas of Los Angeles. The menu includes appetizers, such as Thai shrimp and fried striped bass, and several main courses. The drink list is generous with specialty and classic cocktails, a selection of spirits, champagne, beer and wine. The bar is open daily from 5 p.m. to 12 a.m., it is recommended to book a table in advance.