The heat will scorch the earth: the UN warned of an incredible temperature jump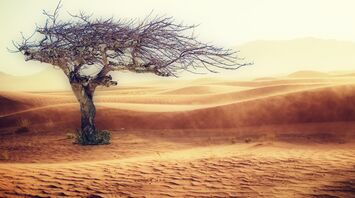 Desert. Source: Anja Pixabay
In the near future, temperatures may surpass previously recorded records. Among the reasons is the El Niño phenomenon, which heats up certain areas of the Pacific Ocean.
The UN warns of the threat of global temperature rising "to unknown limits" in the next five years. The calculations are correct with a probability of 98%, writes Еl Рais.
The UN is confident that this will have far-reaching consequences for health, food safety, water management and the environment.
At the same time, on the opposite side of El Niño, the La Niña phenomenon contributes to lower temperatures. However, the influence of the La Niña effect ended in March 2023, and conditions characteristic of an El Niño episode are projected to set in in the coming months.
The scientists' conclusions are based on data from several powerful climate research centers. And in each issue, global warming forecasts are worsening and even higher temperatures are predicted.
It is noted that in 2022, the average global temperature has already exceeded the pre-industrial average by about 1.15 degrees Celsius.
Now, a report from the Meteorological Bureau and WMO warns that there is "a 66% chance that the global average annual surface temperature will temporarily exceed pre-industrial levels by more than 1.5 degrees for at least one of the next five years.
This signals a serious wake-up call about the path that humanity has taken. It emphasizes the need to reduce greenhouse gas emissions, the main culprits of which are fossil fuels (oil, gas and coal).
It is noted that only three years ago, when the 2020 ballot was presented, the probability that the 1.5-degree barrier would be exceeded on time was 24%. Now it's 66%. And if we go back a little further, in 2015 (when the Paris Agreement was signed), the probability of exceeding this limit was almost zero.
In addition, the WMO Secretary-General focused on the particularly "dramatic" situation in the Arctic, a region of the planet that is warming faster than the rest of the planet. The WMO analysis points to "disproportionately high" warming in the Arctic.
"Compared to the average from 1991 to 2020, the temperature anomaly in the Arctic is projected to be more than three times the global average anomaly," the study adds. And this situation, in turn, may contribute to further intensification of global warming, as some experts fear.