From Jakarta to Bandung in 40 minutes: Indonesia to launch superfast train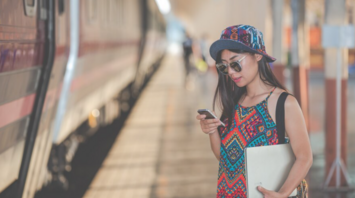 Railways in Asia. Source: freepic
Indonesia will launch an ultra-high-speed train called "Whoosh" to connect Jakarta with Bandung, the densely populated capital of West Java province. The project is sponsored by China.
Travel time between the cities will be about 40 minutes. This will be the first high-speed railroad in Southeast Asia, APnews reports.
The project, called "One Belt, One Road," has finally overcome delays and cost problems.
It is noted that the project started in 2016 but was delayed due to land acquisition disputes, environmental concerns, and the COVID-19 pandemic. Indonesia preferred China to Japan. The project was financed by a loan from the China Development Bank for 75% of the cost.
Initially, this railroad was estimated at $4.3 billion, but later the cost of the project increased to $7.3 billion.
The train is 209 meters long and can accommodate 601 passengers. Interestingly, the cars have been adapted to the tropical climate of Indonesia and are equipped with a highly efficient security system capable of responding to potential threats such as earthquakes, floods, and other emergencies.
How much will the ticket cost?
The one-way ticket price per passenger is expected to range from $16 for second class to $22.60 for VIP seats.
Passengers traveling to Bandung city center will need to take a feeder train from Padalarang station, which will add another 20 minutes, with an estimated cost of about $3.20.
There are plans to build a 750-kilometer high-speed train line that crosses four provinces on Indonesia's main island of Java and ends in the country's second largest city, Surabaya.
It is reported that commercial operation began on Monday, October 2. Indonesian President Jodo Widodo has already traveled on the bullet train to inaugurate the 142.3 kilometer section of the road.
The joint venture said that the trains will be the fastest in Southeast Asia with a high speed of up to 350 km/h. It is noted that the Chinese Railways has agreed to transfer its technology to Indonesia so that in the future the country's high-speed trains can be built domestically.
In turn, the country's President Jodo Widodo traveled by train and called for a shift from cars to mass use of railways. In this way, the authorities are trying to reduce traffic congestion and pollution in Jakarta and Surabaya.