Top 7 best botanical gardens in L.A. from huge and exotic parks to rooftop oases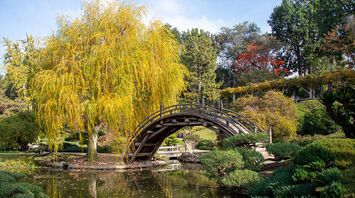 Los Angeles has gardens dedicated to specific regions or countries of the world. Source: Image by Huntington.org
L.A. botanical gardens can be a quick solution if you want to spend time outdoors in the middle of nature but are not ready for a long drive. These green oases are perfect for a relaxing stroll with the family or quiet leisure time alone. With an abundance of plants native to California and imported from around the world, they provide a year-round peaceful atmosphere for relaxation amid a bustling, noisy city. Many botanical gardens - from large fields of flowers to modest public parks and hidden green gems - can be found near Los Angeles or in the city itself.
Enjoy floral attractions, stretch your legs on a scenic stroll, and explore the diverse flora and fauna at the best botanical gardens in L.A.
1. Huntington Library, Art Museum & Botanical Gardens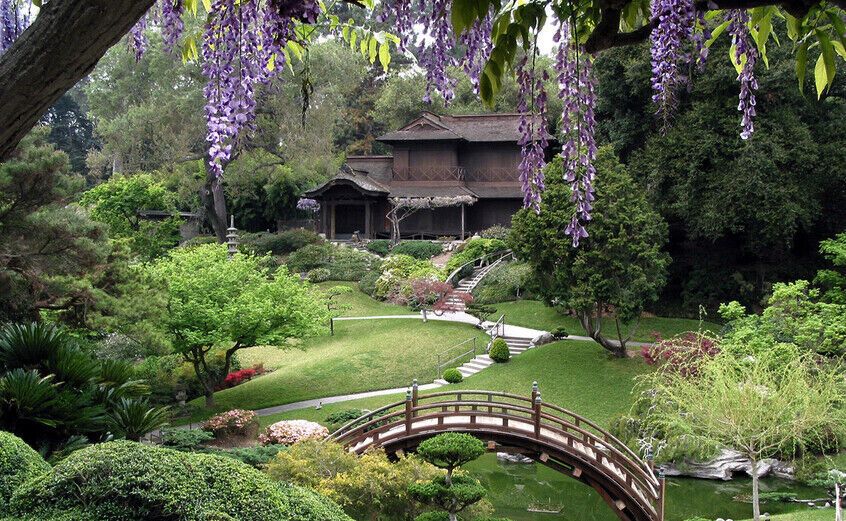 It is undoubtedly one of the most famous botanical gardens in Los Angeles. This is the legacy of entrepreneur Henry Edwards Huntington and his wife Arabella Huntington. The first thing visitors see is the main library, which includes more than 6 million books. Some of the most important ones, such as the earliest edition of Chaucer's Canterbury Tales or the Gutenberg Bible can be seen in the exhibition hall. The main house, built in the early 20th century, houses an impressive art collection, including works by Gainsborough, Blake, Turner and Reynolds.
But the main attractions of the place are outdoors. The 207 acres (120 of them are open to the public) of one of the most beautiful gardens in Los Angeles are divided thematically: the Desert Garden with cacti and succulents, which is more than a hundred years old; the Shakespeare Garden with the atmosphere of old England; the quiet and soulful Japanese Garden with a bamboo forest or the Garden of Flowing Fragrance in Chinese style with pagodas and pavilions.
Reservations are required for weekend and holiday visits. The garden is closed on Tuesdays, opening from 10:00 to 17:00 on other days. Admission prices range from $13 to $29 depending on age, benefits and day of the week. The entry is free for children under 4 years old.
2. Descanso Gardens
This botanical garden in Los Angeles, California, boasts one of the largest collections of camellias in the Western Hemisphere, having over 600 varieties. They are best seen from mid-February through early May. A quick tour of the garden can be taken on the Enchanted Railroad on a 1:8 scale replica of a diesel train. You can discover the beauty of this top-rated garden on foot only. Stroll along the cobblestone paths of the Japanese Garden to enjoy Asian plants like Japanese maples, black pines and azaleas, stand on the wooden arch bridges to look for koi carp in the ponds, and see cherry trees in bloom from March through early May. A lake with a great area for wildlife watching, which covers about 5 acres, is just outside the rose garden. There is a hedge maze on the northern part of the rose garden that children will love. Check out the Ancient Forest to see plants that have existed since the time of the dinosaurs, including endangered ones. This park also has an art gallery and hosts a variety of events, exhibitions and light installations.
Descanso Gardens welcomes visitors from 9:00 a.m. to 5:00 p.m. daily. The entry fee is $15.
3. Los Angeles County Arboretum and Botanical Gardens
One of the most unique public gardens in Los Angeles County is located in the center of the historic Rancho Santa Anita in the city of Arcadia. The 127-acre site is a magnificent place to walk to get closer to nature, overflowing with stunning scenery and having several themed gardens. For example, the Water Conservation Garden showcases Mediterranean plants, while the Crescent Moon Farm features drought-tolerant plants from around the world. The Rainbow Snake Garden leads a winding path along Australian plants rare to Los Angeles. The Tropical Green House features a collection of exotic plants from hot countries, including several thousand orchids. In addition, visitors will find picturesque gardens of roses, perennials, herbs, fruits and vegetables, as well as water gardens with pools, lilies and benches under the shade of trees. Another hallmark of this L.A. garden is the wild peacocks that were introduced here in the late 1800s. Since then, they've acclimatized well and feel like the real masters here.
Tickets must be purchased online. The cost is $15 for adults. It is open from 9:00 am to 5:00 pm. daily.
4. Storrier Stearns Japanese Garden
One of LA's most stylish botanical gardens is the perfect option for a great weekend outdoors. It was created as the garden of a private estate and has been hidden from view for decades. This nearly two-acre Japanese oasis is centered around a traditional tea house and was created in the late 1930s by landscape designer Kinzuchi Fuji. Today, it is the master's last and only surviving work. Its current structure is a meticulous restoration after a fire in 1981, following the original sketches and photographs. Today it is a quiet and peaceful place with a lush garden around two ponds, four bridges and a 25-foot-high cascading waterfall in the heart of Pasadena, associated with Zen and tranquility.
Online reservations are required to visit the garden. It is open Friday and Saturday from 3:00 pm to 7:00 pm and Sunday from 10:00 am to 4:00 pm. The entry fee is $12. It is free for children under 12.
5. South Coast Botanical Garden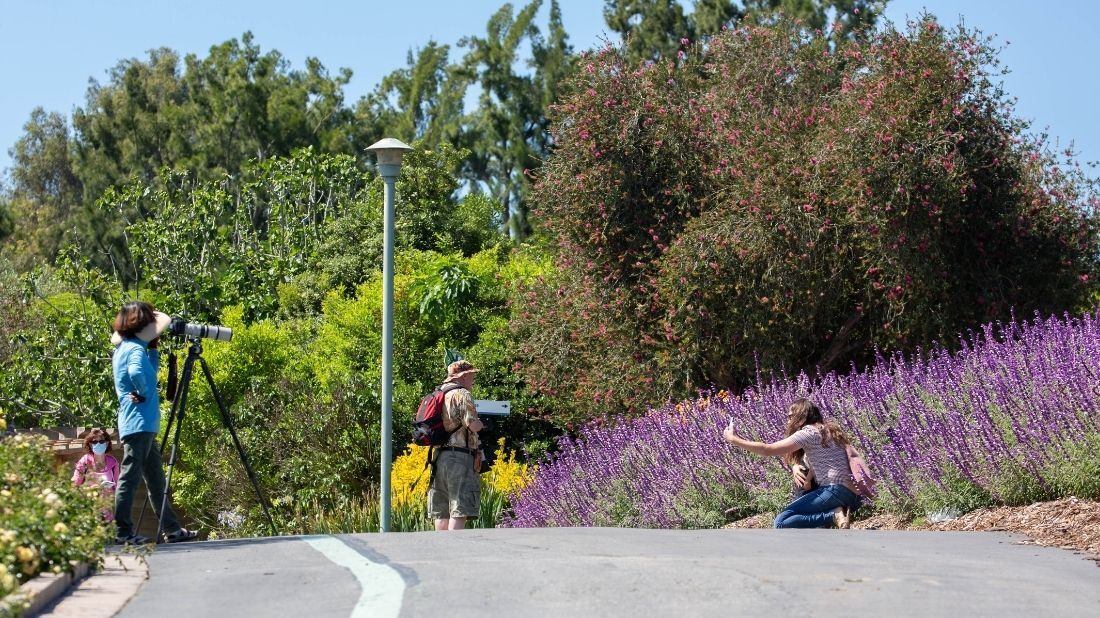 This Palos Verdes spot may not be as big as other best gardens in Los Angeles, but it has earned the nickname "The Pearl of the Peninsula" due to its wide variety of plants (there are over 2,500). Visitors are presented with a mixture of flora from Southern California, Australia, South Africa, the Mediterranean and specialized areas such as desert and Japanese gardens. Unlike other gardens in L.A., the emphasis here is put on drought-tolerant plants rather than lush greenery. The 87-acre area also includes a rose garden, tropical greenhouse, tropical butterfly pavilion and a grove of fig trees. A wonderful addition for families with children is the Children's Garden with a charming dollhouse and plants with nursery rhymes.
The Botanical Garden is open from 8:00 a.m. to 5:00 p.m. daily. The entry fee is $15. Online reservations are required.
6. Greystone Mansion
The 55-room Tudor-style mansion is located in Beverly Hills and was built by oil tycoon Edward L. Doheny. The surrounding grounds are occupied by superb English gardens. The site is now owned by the city and is available to the public as a public park. The management company makes the most of the estate's mysterious history to entice visitors, hosting ghost tours and interactive performances.
But the main attraction to visit in this L.A. garden is the surrounding area of the mansion, which includes a central Italian Renaissance fountain with cypress and poplar walkways and flowerbeds that bloom most of the year. When designing the landscape, designer Paul Thien added terraced gardens, stone carvings and water features. There's plenty of natural beauty to enjoy at any time of year, including perfect lawns and hilly slopes covered in daisies, as well as topiaries and fish pools.
Entry is free, but reservations are required. The garden is open Wednesday through Friday from 10:00 am to 4:30 pm.
7. Blue Ribbon Garden at the Walt Disney Concert Hall
The Disney Concert Hall is hard to miss, but not everyone knows that it harbors a "hidden gem", which is a small but lush rooftop garden above the concert hall. It's a true oasis to relax in silence and observe the cityscape. At 34 feet high, it offers a great view of the Los Angeles Central Library, the Hollywood sign, and the San Gabriel Mountains if the weather is good. The garden covers nearly an acre and is filled with lush greenery that blooms almost all year. Here you can stroll among the blooming trees, sit in the shade during lunch, take a photo shoot, and toss a coin into the porcelain fountain called "A Rose for Lilly." This local attraction features a large porcelain rose with a mosaic of Delft porcelain and tiles in the shape of a blooming rose and is dedicated to Disney's late wife Lillian, paying tribute to her love of Royal Delft roses and porcelain vases.
Entry is free when there are no events in the concert hall. This L.A. garden is open from 7:00 a.m. to 10:00 p.m., but access can be closed an hour and a half before the show and then reopened a half hour to an hour before the show ends.