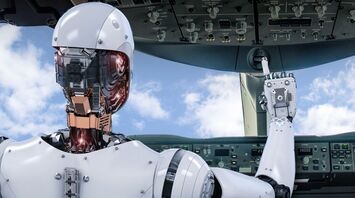 It may be only one pilot. Source: vividcomm.com
Passenger planes of the future will have pilots with artificial intelligence. That is the opinion of Tim Clark, president of Emirates Airlines. He called for the development of this technology at a rapid pace. At the same time, he expressed confidence that there would always be a human pilot in the cockpit.
"You can see an airplane with one pilot. Is it possible to fly an airplane on a fully automated basis? Yes, you can, technology is at an all-time high right now. But in my opinion, there will always be someone in the cockpit," Clark said.
The head of flight safety at Balpa Pilots Union, Joji Waits, supported his position and explained in more detail why an airplane cannot be controlled by AI alone. A human pilot makes a huge contribution to flight safety, he said.
"A qualified pilot is part of a complex safety system that reduces risk and keeps passengers safe. Pilots are much more than just airplane drivers – they are skilled professionals who are part of a vital safety system that ensures passengers, crew and cargo arrive safely at their destination," Clark said.
The specialist explained that pilots must be navigators, engineers, technicians, meteorologists, and customer service managers.
"Pilots deal with other crew members – ground crew, cabin crew, air traffic control, and passengers - and that's not all part of the job. A pilot has to be able to communicate well, not only in aviation terms but also on an interpersonal level, and relay information to passengers," added Waits.
He stressed that in addition to being responsible for his passengers, the pilot is also fully responsible for the entire crew on board. And understanding their needs, flight time constraints, rest requirements, and production agreements, and supporting them in their relationships with passengers is a vital part of the job that is not available to the AI.