Popular resorts in Washington: Top 18 locations for relaxation and entertainment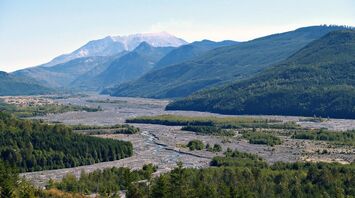 The endless natural beauty of the state. Source: Image Brigitte Werner/Pixabay
From cozy cottages on the picturesque Pacific coast to historical complexes among the amazing mountains, the Evergreen State can offer a wide range of vacation destinations for every taste. It's impossible not to fall in love with Washington, especially if you love nature. You can find everything here: sprawling green forests, sparkling lakes, numerous national park trails, bustling cities filled with restaurants, museums, and interesting attractions. Located on the west coast of the United States, Washington also offers access to the coastline. It is not surprising that some of the most popular leisure options are whale and killer whale watching in season and kayaking tours on the ocean.
Whether you're planning to spend time with the kids mountain biking and exploring the area in search of adventure, or you want to make a romantic escape to a place with a luxurious spa complex, the best resorts in Washington are waiting for you. All you have to do is choose the best option using the following list.
Suncadia Resort
Occupying more than six thousand acres of mountain forest in Cle Elum, Suncadia Resort is one of the most popular resorts in Washington State and is open to the public throughout the year. Key amenities available to guests include:
a world-class day spa, Glad Spring Spa;
three championship golf courses
a large Suncadia Club fitness center with water slides and a swimming pool
several restaurants offering a wide range of dishes prepared with local products.
In addition, there are more than 40 miles of winding hiking trails from the resort, so you can explore the rich landscapes of the region if you wish. Suncadia Resort is centered around a majestic Lodge-style building that includes 250 rooms in various configurations. It is also possible to stay at the Suncadia Inn, which has only 14 apartments and four suites, or book separate self-contained lodges.
Rosario Resort and Spa
One of the top resorts in Washington, DC is located in Eastsound on the coast and even has its marina. Rosario Resort and Spa boasts its museum dedicated to the shipbuilder Robert Moran, reflecting the peculiarities of his life and outstanding achievements. The building of Moran's mansion, built in 1906, is also worthy of attention.
There is also a day spa and a conference center, so the resort is often chosen for corporate retreats. Rooms of various sizes and configurations are scattered throughout the complex, but each offers consistently beautiful views, from Orcas Island to Cascade Bay.
Rosario Resort and Spa is the perfect choice at any time of the year, whether you're planning a family weekend or taking time for each other while enjoying a romantic vacation in the Eastside.
Sun Mountain Lodge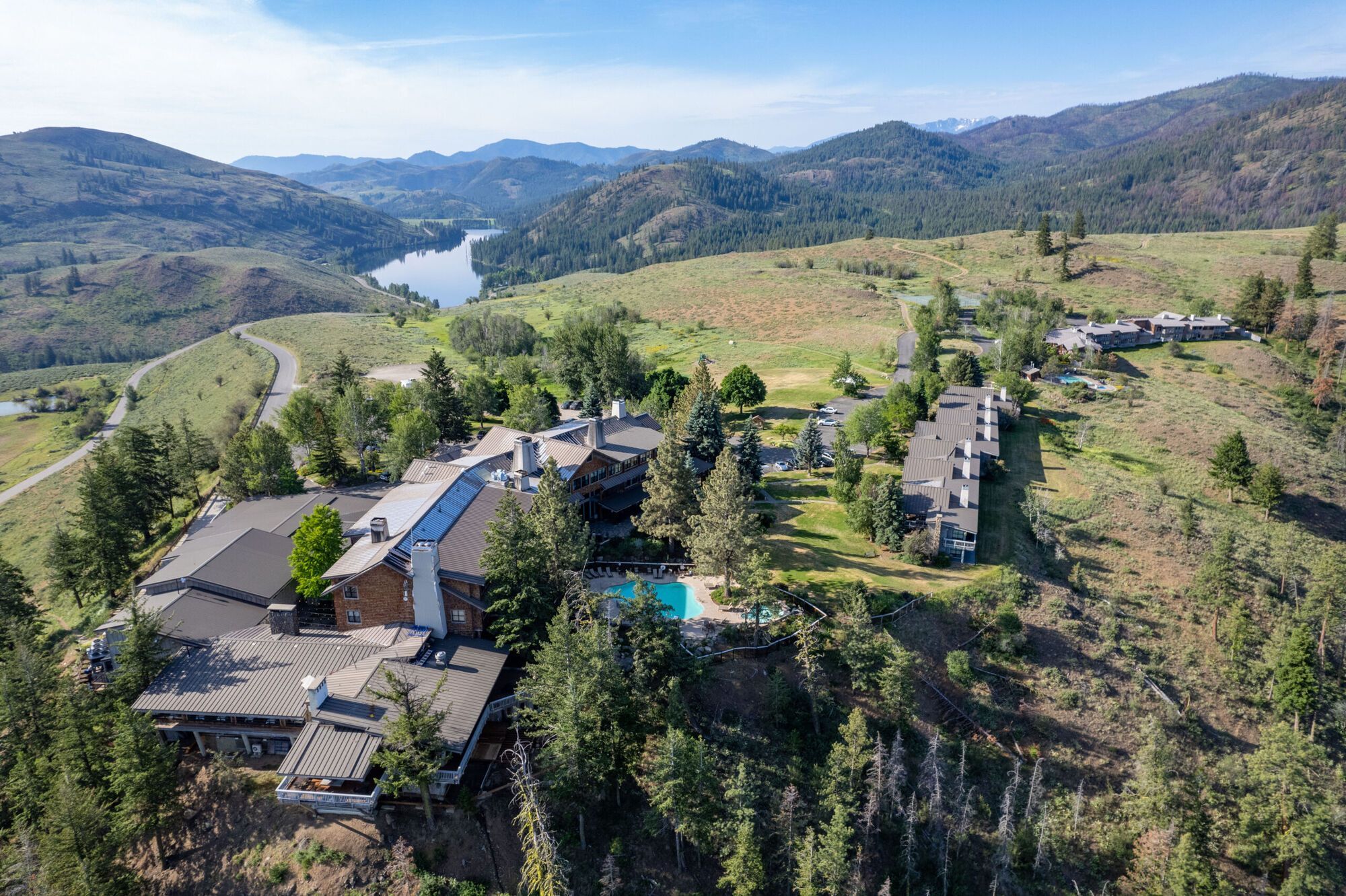 Located in the beautiful Methow Valley, Sun Mountain Lodge blends harmoniously into its natural surroundings and is perfect for a romantic getaway or an exciting family adventure. This Washington resort is open year-round, so you can plan a vacation for any season. In addition, Sun Mountain Lodge offers a variety of activities regardless of the time of year, including horse riding, and swimming in a private lake spanning 120 acres. There is also an intricate network of hiking trails for those who like to walk in the open air, tennis courts, and interesting cycling routes.
There is a luxurious spa center, a game room, two outdoor swimming pools, and hot tubs open all year round. We recommend visiting the popular restaurant, so it's worth booking in advance.
You can choose to stay in the main house, which offers extraordinary views of the valley, or choose the rustic Gardner Lodge with private terraces and lots of woodwork. Regardless of configuration and location, the rooms are equipped with all the necessary amenities. There are separate private lodges scattered around the grounds, offering the best views of the beautiful Methow Valley.
Ocean Crest Resort
Ocean Crest Resort is one of the most beautiful resorts in Washington that has been welcoming guests for over 50 years. The complex is located on a secluded part of the coast in Moclips, where the beach meets the forest. Ocean Crest Resort offers experiences for every taste and is an ideal choice for both romantic and family vacations.
A wide variety of comfortable rooms is available for guests, which can accommodate up to eight people and offer consistently beautiful ocean views. There is an on-site restaurant serving gourmet cuisine that pairs perfectly with award-winning wines. Other amenities include a spa and an indoor pool, and a variety of massage services are available.
West Beach Resort
Among the best resorts in Washington is West Beach Resort, located on the west side of Orcas Island. The complex has been operating since 1938 and is still a popular destination. The resort is perfect for groups of any size because, in addition to cottages and self-contained houses, there are places for camping and RV accommodation.
Thanks to its location on the coast, West Beach Resort offers unlimited opportunities for outdoor activities such as fishing and boating. You can also book a whale-watching excursion that starts from the pier or take a walk along the hiking or biking trails that run from the campground. The wide range of leisure options makes West Beach Resort an ideal choice for a fun-filled family vacation.
Salish Lodge and Spa
This beautiful Washington resort boasts a prime location near one of Washington's most beautiful waterfalls, Snoqualmie, so the views are literally breathtaking and fall in love at first sight. In addition, guests of Salish Lodge & Spa have the opportunity to fall asleep to the soothing sounds of water while lying on a comfortable memory foam mattress. The majestic design of the building itself is also noteworthy, blending harmoniously into the environment and featuring elegant décor typical of the Snoqualmie Indian tribe and the Northwest Pacific region. Accommodation options include 86 luxurious rooms in a contemporary style. The suites include gas fireplaces, access to patios and balconies that offer fantastic views.
The complex has several dining options. A specialty of the restaurants is the famous country breakfast, which includes homemade biscuits with honey straight from the hotel's own beehives. After activities such as skiing or hiking trails, it is worth visiting the day spa with a full range of modern treatments using local ingredients.
Willows Lodge
As soon as you step into the lobby of Willows Lodge, you are enveloped in a warm and charming Northwest atmosphere. The popular Washington resort is located on five acres of wooded landscapes in a 40-minute drive from Seattle. Its location on the picturesque banks of the Sammamish River adds to the romantic appeal of the complex.
The resort offers accommodation in cozy, bright rooms with fireplaces, large baths, and balconies that offer extraordinary views. The on-site restaurants are so great that you will want to come back here again and again. For example, Barking Frog offers Pacific Northwest and American cuisine, and Herbfarm is best for a romantic dinner. To unwind, be sure to book some spa treatments, as well as visit the indoor sauna and pool for relaxation.
Alderbrook Resort & Spa
Water aerobics in the heated pool, geocaching or treasure hunting, hiking, and much more - this gorgeous Washington resort offers plenty to do for nature lovers and beyond. Alderbrook Resort and Spa, located on the banks of Hood Canal, is just a two-hour drive from Seattle, so you can count on maximum privacy away from the hustle and bustle of the city.
A comfortable stay is ensured through full-service hotel rooms or private cottages surrounded by majestic pine trees. In addition, Alderbrook Resort has a restaurant serving dishes made from local ingredients and the freshest seafood caught in the region. For maximum relaxation, visit the spa with a huge selection of treatments, first enjoying an active vacation on the waterfront, where you can rent a boat or paddleboards, book seaplane tours, and more.
Semiahmoo Resort
Given the beautiful views, comfortable rooms, world-class amenities, and prime location, it's no surprise that Semiahmoo Resort is among the top 18 resorts in Washington. This beautiful complex is located on the shores of the bay of the same name, offering a variety of accommodation options - from standard rooms to suites.
There are five dining establishments, a day spa with a hairdresser, and a fitness room. In addition, guests have access to the Arnold Palmer-designed country club with a swimming pool, tennis courts, and the Semiahoo golf course.
Great Wolf Lodge and Water Park
If you are looking for the best Washington resort for families, we recommend staying at The Great Wolf Lodge. The cozy complex is located in Grand Mound and boasts not only comfortable, modern rooms, but also the largest indoor water park in the entire state with an area of 56,000 square feet. Other on-site amenities include:
eight restaurants, including Dessert Bar and Starbucks;
a shopping complex;
Kiddie Day Spa for children and a day spa for adults;
a fitness center.
In addition to standard rooms, you can stay in themed suites decorated in a cave or log cabin style, with bunk beds, a fireplace, and spacious bathrooms. Bookings also include passes to the water park and various children's activities.
Skamania Lodge
Nestled between Hood River and Portland on 175 acres of manicured grounds, Skamania Lodge offers spectacular views, upscale service, and comfortable accommodations. The upscale Washington resort offers a wide range of amenities, including:
golf and disc golf courses;
zip-lining;
a network of hiking trails;
two restaurants;
a day spa center;
room service.
Not far from the Skamania Lodge, you can find many recreational activities for every taste - from rafting to fishing. You can stay in one of the 254 rooms with views of the Columbia River or choose a separate cottage or even a real treehouse.
Slipstream Lady Mountain Resort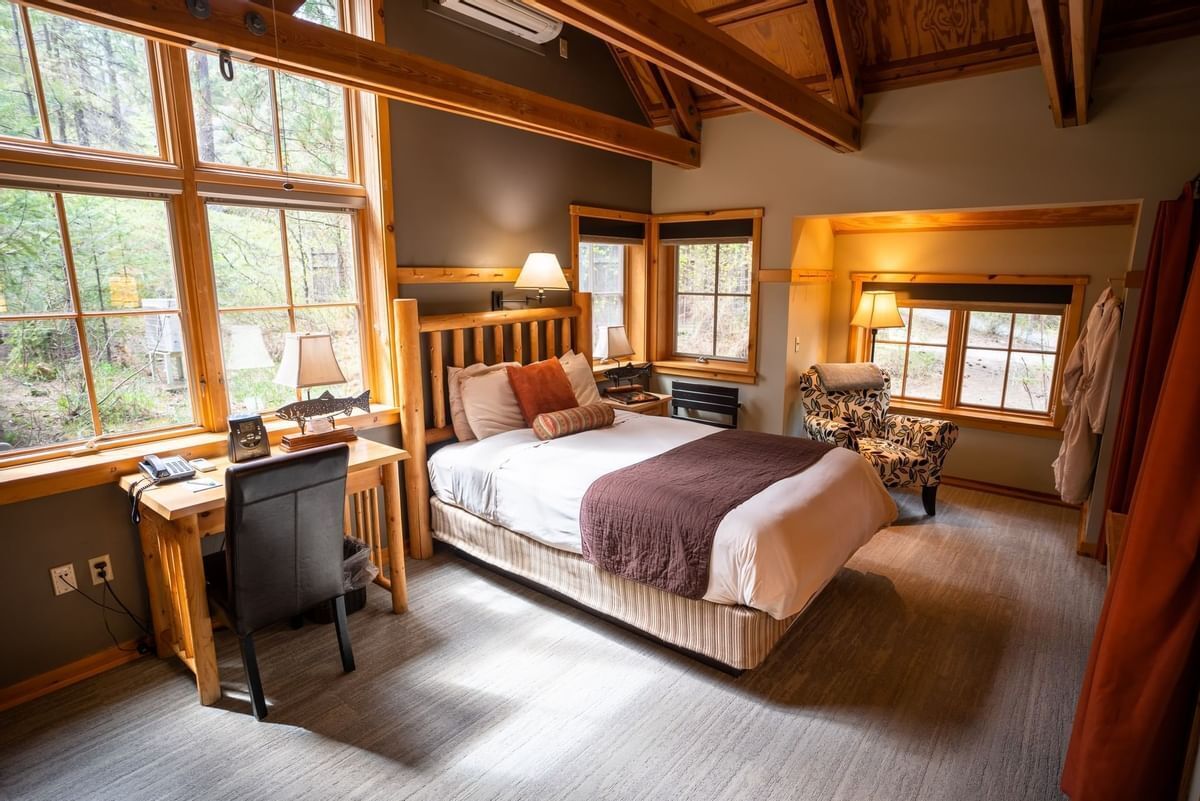 This popular resort in Washington State is nestled among the amazing Cascade Mountains, offering a unique experience inspired by nature. The Sleeping Lady Mountain Resort is decorated with natural materials, such as eco-friendly wood. The onsite restaurants serve dishes prepared with local produce, and the full-service day spa offers relaxation with modern treatments.
Available in a variety of configurations, the apartments are elegantly decorated and reflect the values and cozy atmosphere of Sleeping Lady Mountain Resort. If you are traveling in a large group, you can book a separate cottage designed for the company.
Edgewater Hotel
If you're looking for something truly unique, head to Seattle. The Edgewater is the only above-water hotel in the city, located atop the pier of sparkling Elliott Bay. The luxury complex in the heart of Seattle is decorated in the style of a luxurious mountain lodge. The apartments offer beautiful views of the city and water, and music lovers can stay in the Beatles Suite, where their favorite band once stayed. Also worth a visit is the Six Seven restaurant, which serves Pacific Northwest cuisine. The reservation price includes access to the fitness center, bicycle use, and access to a record player and records.
Campbell's Resort
One of the top-rated resorts in Washington, located in Chelan, has been operating since 1901, welcoming generations of visitors. Campbell's Resort is located on the shores of the lake, and guests have access not only to sandy beaches and clear water but also to excellent service honed over more than a century.
Thanks to a wide range of apartments in various configurations, you can stay here both in large groups and spend time with just the two of you, enjoying the privacy. The cozy, atmospheric restaurant serves gourmet cuisine, and the Bellamia Spa offers a full range of modern treatments to inspire relaxation.
Little Creek Casino Resort
Little Creek Casino Resort offers accommodation both in standard hotel rooms and in an RV park. Stylish and comfortable apartments are equipped with TVs, personal coffee makers, safes, and refrigerators. For those who appreciate luxury and maximum privileges, there is a presidential suite with a king-size bed, a spacious living room with a dining table, and a hot tub for two people. In addition to a vibrant casino, guests have access to an 18-hole golf course, arcade games on large screens, and a day spa.
Doe Bay Resort & Retreat
Built on 37 acres of pristine waterfront on the San Juan Islands, Doe Bay Resort and Retreat is an amazing resort in Washington, which is equally suitable for those seeking maximum relaxation and outdoor enthusiasts. The complex consists of individual houses, campsites, and even traditional yurts, so you can choose the best option for your upcoming adventure.
If you want to explore the surrounding waters and islands of San Juan, you can rent kayaks and even book whale-watching excursions. The resort also provides access to a variety of outdoor activities, a yoga studio, massage treatments, and a sauna. In addition, in August, the resort organizes the massive Doe Bay Music Fest, which has been held for more than a decade.
Mountain Home Lodge
For a relaxing family vacation, Mountain Home Lodge is the best place to stay, located in the mountains on a picturesque meadow thousands of feet above Leavenworth. Can you already imagine the unforgettable views that await you? To enjoy the surrounding landscapes, be sure to hike the many trails; hiking poles are available for your adventure at no charge.
In winter, the resort can only be accessed by a special "snow coach" bus, which adds to its romanticism and allows for maximum privacy. You can book a cozy, spacious rustic-style cottage that includes a fireplace and a Jacuzzi. The price of your stay includes breakfast and snacks; lunches and dinners are available on request.
Northern Quest Resort, Airway Heights
When staying at the best resort in Washington, you can forget about worries and boredom because the amount of entertainment available to guests is really impressive. Northern Quest Resort is located near Spokane, offering accommodation in large and comfortable suites. There is a luxury spa, many retail shops, numerous restaurants, and a swimming pool on-site. The complex is especially suitable for family vacations, as children and even adults will be delighted with the Cyber Quest and Kids Quest resort area. Various shows are organized here all the time - from concerts with the participation of stars to comedy performances. In addition, every summer there are open-air performances that attract many visitors, so it is worth booking in advance.