Top 10 best beaches in Washington. Sea and freshwater beaches in D.C.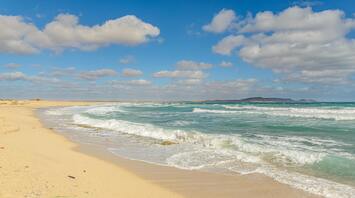 Waters of the Atlantic Ocean, near Washington, D.C. Source: Image Petr Danaj/pexel
Summer in the city can be exhausting and exhausting. You want to plunge into cool bodies of water, feel the warmth of the fine beach sand and get a bronze sea tan. But there is no time for vacation and spending a lot of money now is not worth it. The best coastal beaches in Washington, DC, will gladly fill your need for water coolness and you don't have to leave DC.
All you have to do is choose your favorite spot by learning about the conditions and scenery at the local beaches. The most beautiful beaches in Washington state are in our top picks. Read about the comfort of parking, cost of entry and entertainment available on the coasts. We have compiled for you the top 10 best beaches in Washington state.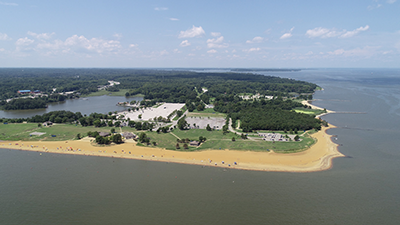 1. Sandy Point Park sandy beach
An hour and a half drive and you're at Sandy Point State Park, located on the northwest shore of the Chesapeake Bay in Maryland. There is a large parking lot near the park. Which is very convenient because there are quite a few visitors. Admission to the park will cost you from $3-5 per person or $15 per car.
On the territory of Sandy Point you will find convenient toilets and showers, as well as a store where you can buy a lot of different things from souvenirs to things you need on the beach.
Despite the crowded nature of the park, the long sandy beaches allow everyone to sit comfortably and not feel like a herring in a jar. And the numerous water activities make being on the beach much more interesting. You can take a boat ride, snorkel and swim on mattresses. Fishing is allowed in the park. During the season there are lifeguards on duty, which makes it especially safe for children.
Those who haven't had enough fun all day can stay overnight at the campsite. For picnics, there are designated covered areas and equipped barbecues. Visitors are especially advised to try the crab dishes prepared in local cafes.
Even out of season, the coast is great for walks and romantic get-togethers.
The view of the bridge is mesmerizing.
Many people complain about the large amount of trash on the beach and in the park, so please keep the area clean while you are there. Remember, you must start with your own cleanliness. Then Sandy Point State Park, with its stunning Bay Area scenery, will long be a joy for the people of planet Earth.
Sandy Point is a famous beach in Washington state.
2. Colonial Beach Rules
A little more time from D.C. by car (about 1 hour and 45 minutes) and you are in the neighborhood of Colonial Beach. Here is the second largest beach in the county, named with the same name as the city. Coziness and strict rules are the motto of this coast, so it is also called a family beach.
Parking here is as simple and spacious as possible. Residents leave their cars for free, the license plates of their cars are already included in the database of parking machines, subject to timely payment of tax for the current year. But guests and those who are not found in the database will have to pay for the parking space, which are divided into two zones:
zone 1 - parking $2 per hour or $20 per day
zone 2 - parking $3 per hour or $25 per day
large vehicles - $35 per day
free 15-minute parking spaces
free handicapped spaces if you have a sticker on your car
The beach is clean enough and has boardwalks that you can walk to the store with all sorts of necessary goods, coastal restaurants and bars.
A sign with the rules is on the beach, but before you go as a family to the beach, read in advance to avoid mishaps:
No grills or campfires
Please do not litter.
No golf carts or vehicles
No alcohol on the beach
No fishing allowed between 10:00 a.m. and 6:00 p.m.
No pets on the beach
But even with such strict guidelines, the beach is popular and interesting because the entertainment at Colonial Beach is plentiful. Many festivals and events are held on the coastal area. Although personal barbecues and campfires are prohibited, the beach has a designated area with a fire pit and tables around it. You can take part in the events and entertainment organized in this place. Lovers of relaxing on the water we recommend to rent a boat or go on a small boat cruise with an organized dinner. You will have to pay extra for parking and think about where to stay overnight, as it is very difficult to enjoy all the possible activities that Colonial Beach has to offer in a day.
The Colonial Beach website is very handy for paying for parking in advance. You will find detailed information about all the applications and payment methods.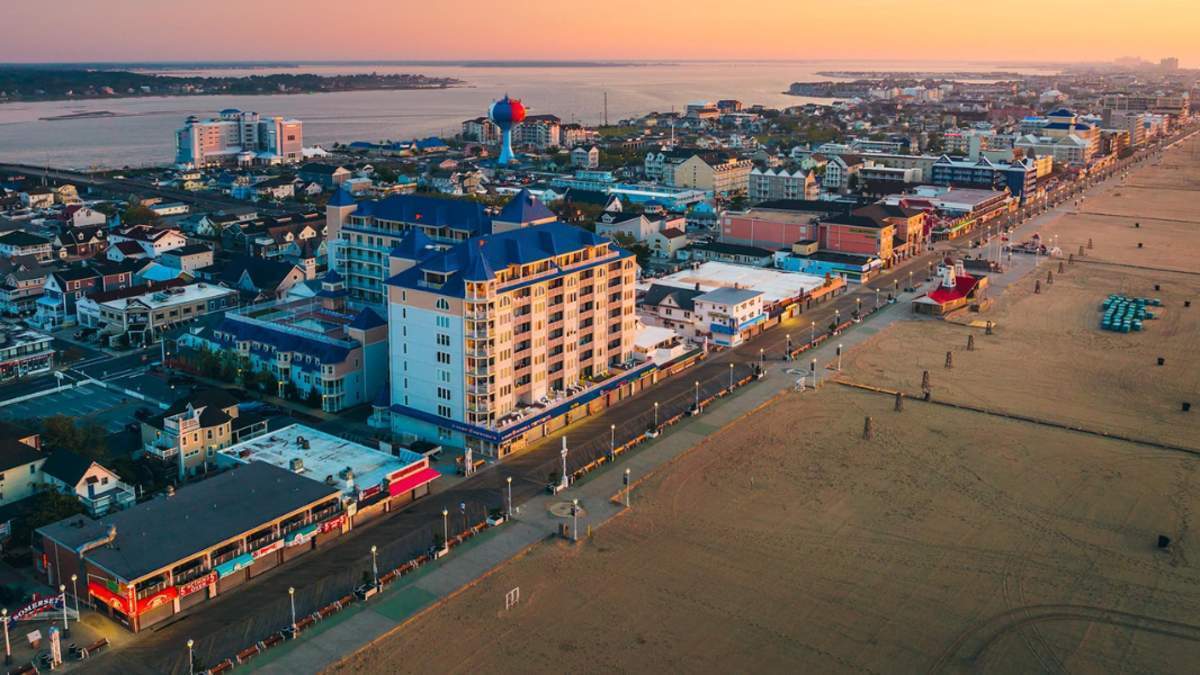 3. Ocean City Family Beach
Washington beach vacations are good in the town of Ocean City. It's a convenient place for a classic family vacation with kids. The three-hour drive from D.C. is worth it. The three-mile long beach provides comfortable accommodations. Plenty of entrances from the street to the sandy area, keeps the miles from winding up. And plenty of waterfront restaurants and cafes won't leave you hungry.
Of the attractions near the beach area is the famous carousel with 45 hand-carved wooden animals. Rental stations for equipment for various water sports - a lot, so you will not get bored.
What to consider:
comfortable showers and toilets are located on both sides of the beach, so if you are in the middle of the beach, be prepared to walk if necessary
Frequent waves can make it difficult to relax, but there are small bays behind the organized beach, which can save the situation
Every year, Ocean City hosts the White Marlin Open, a fishing tournament for anglers who love to hook a White Marlin. Several prize categories and impressive cash prizes draw huge numbers of participants. The tournament is held in mid-August and lasts an entire week.
There are lifeguards on duty at Ocean Beach during the season, which gives a little peace of mind when visiting with children. A great beach to build sand, castles, sunbathe and play beach volleyball.
A bit away from the beach, kids will enjoy the Jolly Roger amusement park, mini golf and the quirky Ripley's World.
4. Rehoboth Beach Entertainment
120 miles and nearly three hours drive, and you're in Bordwalk, Delaware. During the summer season, the town buzzes with beachside atmosphere and tourist attractions. The neighborhood is filled with all kinds of brands, theme stores, and gift stores. Bars, restaurants, cafes - everything works to satisfy the needs of the most demanding guests.
Active daytime life in Bordwalk spills over, unabated, into nightlife.
Rehoboth Beach is the best beach in Delaware. It has everything for a comfortable holiday: showers, toilets, umbrella and sun lounger rentals. Near the beach, hotels are conveniently located so you can extend your weekend.
Rental equipment for water sports and very soft sand - will not let you get bored, just relax and unwind. In the summer season on the beach work lifeguards, and the entrance to the territory is free. On weekends the coastal area is quite crowded, so if you want a little break from society, get out on weekdays.
Bordwalk is home to the Funland and Beach Arcade amusement parks, so go for a stroll through the parks if the beach sunshine is enough for you.
5. Dewey Beach Music Beach
A little south of Rehoboth is Dewey Beach. It is not as crowded as its neighbor, so a quieter and more measured vacation is available here. The list of beach services is also diverse. Enjoy paddle boards, kayaks, pontoon boats, and jet skis.
Dewey Beach has earned its second name, Music Beach. There are organized live music performances and numerous music festivals every night of the beach season. The Fiddlers Festival and the Elvis Festival have made the beach recognizable and popular.
In addition to musical events, the beach hosts many entertainment programs for all ages. The beach offers yoga and picnicking.
The city, a short walk from the beach, offers shopping and dining opportunities.
If the active waves of Atlantic water don't let you relax, explore the secluded pockets of Rehoboth Bay and other Washington state beaches.
6. The Calm Waves of Lewis Beach
Visit the best beach to visit in Washington state.
Lewis Beach is even larger than Rehoboth. And its territorial location, at the end of Delaware Bay, avoids the rough Atlantic waves. Families with children love this sandy beach. The calm waters and lifeguards on the beach are just what you need to unwind a bit.
Parking prices are quite high, so you should come for the whole day, an hourly stop will be quite unprofitable. Remember to park in the right direction to avoid a high fine. The beach area is clean and equipped with showers, changing rooms and toilets, as well as special mats to help people with walking problems get to the water.
While staying at Lewis Beach in Delaware Bay, watch the Cape May-Lewis Ferry run back and forth to New Jersey and Delaware every hour. And in town, you'll be entertained by Lewis Park, take a walk, find lots of interesting stores and try some delicious ice cream.
Another unique attraction for you at the beach will be exploring the sand islands formed at low tide. You can find clams, a variety of shells, hermit crabs and crabs.
Sunsets along the coast are simply marvelous.
7. Promenade along Bethany Beach
Less than three hours of driving, and you're in a cozy town on the shores of the Atlantic Ocean. Bethany Beach is very long. Its sandy area accommodates a fairly large number of people, feeling completely free. The beach area is public, but that still doesn't make it particularly crowded.
Bethany Beach's special attraction is a wide wooden boardwalk, half a mile long and slightly elevated. So the promenade along the shoreline is a separate amusement for anyone who visits the beach. Equipping the decking with sprinklers, will allow you to move quietly from beach recreation to shopping and restaurants, washing the sand off your feet.
Parking near the beach is chargeable, and can only be paid with a credit card. Visitors recommend paying by 4 hours as a good average time to relax.
You can take a snack or picnic to the beach so you don't have to run far because of the length of the shoreline. Jet ski and bike rentals, will help you get around faster on both water and land. Nearby, you'll find mini-golf courses and equipped barbecue areas. And the evening music and organized entertainment will take you from work to relaxation.
The best family-friendly beach near Washington, D.C., is a great place to stay for a few days. There are accommodations for every budget.
8. Horseback riding on the coast of Assateague Island
Visiting Ocean City, you can visit a stunning corner in the midst of the Atlantic Ocean. After crossing the Verrazano Bridge, you'll find yourself on Assateague Island. Wild sandy beaches, unbridled waves, and boundless ocean. This picture may not be as spectacular for swimming, but for an exotic walk in the company of wild horses, it's a godsend. This island is Assateague State Park, which tourists quickly came to love for walks and relaxing in solitude. Camping is not uncommon here. This allows you to take your time exploring all of the park's trails and increase the percentage of encounters with wild horses.
Fans of surfing and kite surfing and kayaking catch good waves on the coast. And fans of panoramic photos and birdwatching, can take the brightest content from the top of Assating Lighthouse.
9. Seafood delicacies at Virginia Beach
If anyone has earned the name of the most popular beach near Washington, it is Virginia Beach. For many, this resort town has become a favorite traditional summer getaway. And even a four-hour drive from Washington, DC, does not stop those who want to get the most out of a beach vacation. The list of activities in both the city and on the coast is endless. So is the list of attractions that simply can't be avoided at once. Let's answer the basic questions when choosing a summer vacation area.
What to see near Victoria Beach?
Rudy Inlet
Virginia Beach Aquarium
Atlantic Amusement Park
Cape Henry Lighthouse
Boardwalk
What to occupy the children at Victoria Beach?
Military Aviation Museum
First Landing State Park
Virginia Aquarium
Grommet Island
Ocean Breeze Water Park
What to do in Victoria Beach?
Get a tan on the perfect beach
Explore art
Surf
Surfboard
Cycle to the best spots in Victoria Beach
And that's just an abbreviated list of where you can have fun. Add to that restaurants with a variety of seafood dishes and snacks. Tours of Virginia's breweries are a separate journey and a palate-pleaser. Nightclubs with various music festivals, skateboarding, volleyball, basketball and golf courses. Water adventures, including kayaking, boat rides on the bay, jet skis, tubing and all for you.
What about your four-legged friends? There's plenty to do here, too. Dogs are allowed on a certain part of the beach in summer. And the whole beach before 10 a.m. and after 6 p.m. The same story with a promenade, walk freely with the favourite pets 6.00 to 19.00 - well, than not a fairy tale?
Lodging for every taste and wallet. Different parking options. This diversity in services has made Virginia Beach Resort accessible to students, families with children, and hitchhikers alike, as well as those who prefer an all-inclusive lifestyle.
Visit the website to book your lodging or learn more about Virginia Beach's services.
10. Breezy Point amenities for the little ones
A very cozy and comfortable beach in Maryland, too, could be one of your favorites. Especially if you have very young children. Moderate waves and a swimming area bounded by netting plus lifeguards. The beach area is only a half-mile, which gives you a good view. And the equipped playground for kids will give you a chance to swim too. Showers, toilets, picnic tables and a grill are a good set for families. From the 200-meter pier you can go fishing, and in the camping areas you can stay for a couple of days.
Keep in mind that access to the park is limited to a limited number of visitors, due to the small area. Plan your arrival early to make sure you are among the lucky ones. It won't be difficult, as Breezy Point is only an hour's drive from Washington, DC. Breezy Point rounds out the list: beaches near Washington state.